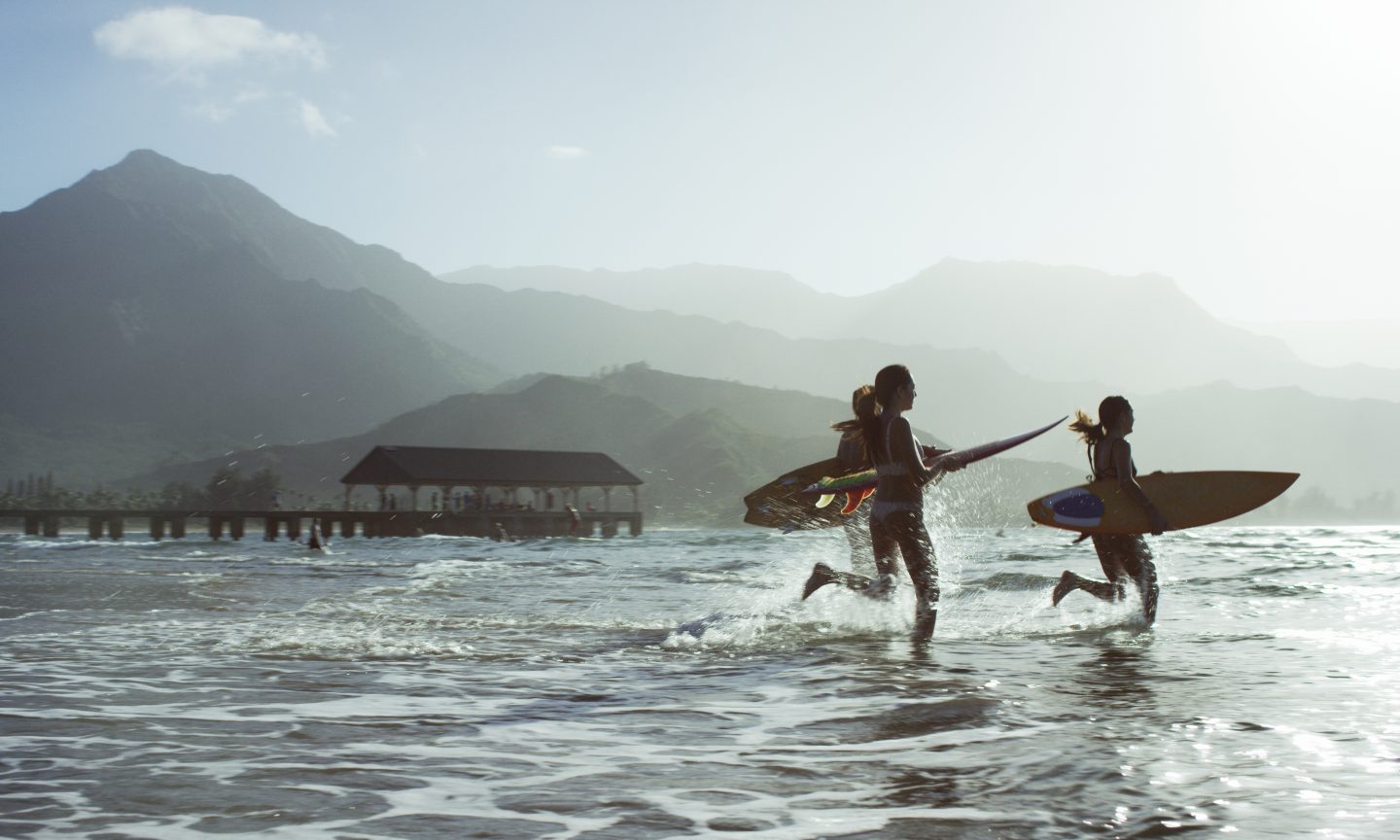 »
COVID-19 updates:
For many living in the 50th state, Hawaiian Airlines is an excellent and practical choice: With hubs in Honolulu and Maui, it's one of just two airlines that offer inter-island flights in Hawaii. It also offers top-notch amenities, such as spacious lie-flat seats in first class and complimentary meals for all passengers on long flights.
If you fly frequently on Hawaiian Airlines, participating in its loyalty program, HawaiianMiles, is a no-brainer. You'll rack up miles each time you fly, which can help you cover free flights in the future. Here's how it works.
NerdWallet Guide to COVID-19
Get answers about stimulus checks, debt relief, changing travel policies and managing your finances.
In this guide
How much HawaiianMiles are worth
Based on our most recent analysis, NerdWallet values HawaiianMiles at 0.9 cent apiece. To determine the value of reward miles, we compared cash prices and reward redemptions for economy roundtrip routes across several destinations and dates. We divided the cost of the cash ticket by the cost of the reward ticket to determine a "cent per mile" value for each flight, then averaged this value across several flights and dates. Read more about how we arrived at these figures.
This is, therefore, a baseline value for HawaiianMiles, based on real-world data collected from hundreds of economy routes, not a maximized value. In other words, you should aim for award redemptions that offer 0.9 cent or more in value from your HawaiianMiles.
To determine the value of your miles for specific flights, divide the cash value of the ticket (less any applicable taxes/fees if you redeem miles) by the number of miles required for the flight. So if the ticket would cost either $100, or 15,000 miles + $10 in taxes/fees, the math would be as follows:
($100 – $10) / 15,000 = 0.006, or 0.6 cent per mile.
How to earn HawaiianMiles
Unlike most major U.S. airlines, Hawaiian awards miles based on how far you fly, not how much you spend on tickets. Its frequent-flyer miles, in other words, really are miles. That makes the process of earning miles a lot simpler. The value of HawaiianMiles varies based on how you redeem them, but generally, you should be getting at least 0.9 cent per mile. Remember to keep your account active so you don't lose your rewards. Miles expire if you go 18 months without earning or redeeming more miles.
Earning hawaiianmiles when you fly
Hawaiian Airlines' distance-based rewards system is fairly straightforward: When you fly 1 mile, you earn 1 mile. You can also get a 50% bonus on your miles if you fly business or first class, according to the airline. And if you have elite status, you could earn additional bonuses. (
to learn more about elite benefits.)
Earning hawaiianmiles with a credit card
The easiest way to rack up HawaiianMiles quickly is to sign up for Hawaiian Airlines® World Elite Mastercard®, the airline's consumer credit card. It comes with an outstanding sign-up bonus that's enough to cover certain round-trip flights.
The card also comes with other solid benefits:
3 HawaiianMiles per dollar spent on Hawaiian Airlines purchases

2 miles per dollar spent on gas, dining and grocery store purchases

1 mile per dollar spent on all other purchases

One-time 50% off companion discount

A $100 discount for a companion's ticket each year

Complimentary first checked bag
The card's annual fee is $99.
Buying additional miles and status
Hawaiian Airlines sells miles for about 3 cents each — a relatively high price. However, if you need just a handful of miles to purchase a valuable award ticket, it could be worth it. These standard purchased miles don't count toward elite status, but you can pay to qualify for elite status separately if you want.
Buying up to elite status is less costly if you're already close to qualifying, and more expensive if you're not. If the value you'd get out of elite benefits outweigh the cost of leveling up, paying for this status could be a decent option.
How to redeem HawaiianMiles
When you earn enough miles, you can redeem them for flights on Hawaiian Airlines. Here are the different award seat fares the airline offers, from least to most expensive:
The Saver and Flex fares for each class offer identical benefits. The only difference is the cost. When demand for a certain flight is high, you may have to pay the Flex fare, which is more expensive. Depending on the cost of a cash ticket, this may not end up being a good use of miles, so always compare before you book. You can also purchase upgrades to first and business class with miles, if you choose.
If you carry the Hawaiian Airlines® World Elite Mastercard®, you qualify for discounts on flight awards through the airline. You'll have to log on to your account — the one linked to your card — to see these fares.
Good redemption options
You'll get the most value for your HawaiianMiles by redeeming them for first or business-class tickets on select partner airlines.
This isn't the easiest option, to be sure. Unlike with other airlines, you need to make reservations by phone when booking partner award travel through Hawaiian Airlines, which can be cumbersome and time-consuming. Sometimes, it can also be difficult to find available award seats. But if you can manage it, redeeming this way is usually a great method to get an insanely good value out of each mile. You can read more about which award flights are available on Hawaiian Airlines' website. Here are some solid options:
ANA offers a luxurious business class experience, complete with lie-flat seats, fine dining options and lounge access. For example, in mid-March 2018, if you paid cash for such a roundtrip flight from Kona, Hawaii, to Tokyo, it would have set you back about $11,700. If you bought it with 155,000 miles instead — the rate Hawaiian Airlines offered — you'd get about 7.5 cents per mile (without taking taxes and fees into account). That's an excellent value.
Korean Airlines offers top-notch business class (or "prestige" class) service, offering spacious seats that lie flat, premium lounge service and, on some flights, access to an on-flight bar space. With HawaiianMiles, you can cover a trip between the U.S. and Korea for just 200,000 miles. Booking a trip like that with cash in mid-March 2018 would have cost about $3,700. Essentially, that would get you a respectable 1.9 cents a mile, without taking taxes and fees into account.
Flying from London to Johannesburg, South Africa, on Virgin Atlantic's Upper Class — which features fully flat beds, lounge access and tasty in-flight meals — would have cost the equivalent of about $8,400 when booking with cash in mid-March 2018. Paying for it with 125,000 Hawaiian Airlines miles instead would get you an excellent 6.7 cents per mile (without taking taxes and fees into account).
Booking a round-trip business-class flight from Brisbane, Australia, to Bangkok for mid-March 2018 would have cost the equivalent of about $4,100. You could also snag that flight for 200,000 HawaiianMiles, though. Taxes and fees aside, that gets you a solid 2 cents per mile. Virgin Australia business class also features three-course meals on long flights, lounge access and either lie-flat beds or generously reclinable seats.
Bad redemption options
When you're getting less than 0.9 cent per mile of value, take it as a sign: That redemption option just isn't that good. Here are a couple you should watch out for.
On some Hawaiian Airlines flights, it's hard to get more than 1 cent per mile. Say, for example, you were booking a round trip from San Francisco to Kona, Hawaii, in mid-March 2018 for travel at the end of May. That would have cost about $590 in cash. If you paid with miles, it would cost 60,000 miles, plus $11.20 in taxes and fees, with a Coach Saver award. With that redemption, you get a little less than 1 cent per mile — not terrible, but not great, either. You can do better.
Among all of Hawaiian Airlines' partners, JetBlue is the only one with consistently poor redemption options. While the airline doesn't limit award seat availability, it's nearly impossible to get more than 1 cent per mile when booking through it. A $300 flight booked with JetBlue would cost 40,000 miles, for example. Taxes and fees aside, that gets you less than 0.8 cent out of each mile. Thumbs down.
HawaiianMiles program status levels
When you fly frequently with Hawaiian Airlines, you can qualify for more benefits and bonuses through its "Pualani" statuses. The airline offers two tiers of elite status:
Elite status becomes active about 48 hours after the miles that qualify you for it post to your account. That status lasts for the remainder of the calendar year and the full calendar year following that. So, if you earn status in June of 2020, your status will remain valid for the rest of 2020 and the entirety of 2021.
Because some Pualani membership benefits are Hawaii-specific, this status is most valuable to people living in Hawaii. For example, the status comes with access to Premier Club lounges in Hawaii as well as simpler access to flights to neighboring islands, both of which are benefits that are easier to make use of when you're based in the state of Hawaii.
(Pualani, by the way, is the name of the airline's mascot, the woman who appears on the tails of its airplanes. The word means "heavenly flower," and the airline refers to her as Pualani, Flower of the Sky.)
BENEFits at each level
Each tier of elite membership qualifies for different levels of benefits. See how these goodies stack up on the chart below.
How to earn HawaiiAn Airlines elite status
You can attain Pualani status by earning "elite-qualifying miles" or flying a certain number of segments in a calendar year, or by paying to uplevel your status.
Elite-qualifying miles include:
Miles earned by flying on Hawaiian Airlines
Elite-qualifying miles do not include:
Miles earned on a co-branded credit card

Bonus miles earned through elite status or fare class bonuses
Here's what you need to earn elite status.
| Qualification requirements | | |
| --- | --- | --- |
| To earn this status, you must EITHER earn this many eligible miles | | |
| OR fly this many eligible segments | | |
Airline partners
Hawaiian Airlines isn't part of one of the three major airline alliances (Star Alliance, Oneworld and SkyTeam), but it has a valuable network of airline partners.
You can earn HawaiianMiles with select airline partners by using your membership ID when flying on these carriers:
All Nippon Airways (select flights)

Korean Air (select flights)
Unlike some major airlines, Hawaiian Airlines doesn't allow you to book award flights with partners online. Instead, you need to call the reservation line and have your membership number ready. Check the airline's award chart to see how much these seats will cost in miles. You can book award travel through these partner airlines:
The airline keeps partner award travel simple: It offers only round-trip award tickets for these airlines, not one-way, multicity or stopover flights. Except for JetBlue, these airlines also limit the availability of award seats on each flight, so it might be tricky to nab one. But if you can find a flight that's worthwhile, redeeming for partner travel can be quite valuable.
Credit cards that earn HawaiianMiles
Hawaiian Airlines offers two co-branded cards, one for consumers and one for businesses. Both help you earn miles through the airline's loyalty program.
Hawaiian Airlines® World Elite Mastercard®
3 HawaiianMiles per dollar spent on Hawaiian Airlines purchases

2 miles per dollar spent on gas, dining and grocery store purchases

1 mile per dollar spent on everything else.

Annual fee: $0 intro for the first year, then $99.
The Hawaiian Airlines® Business MasterCard®
3 HawaiianMiles per dollar spent on Hawaiian Airlines purchases

2 miles per dollar spent on gas, office supply stores and dining purchases

1 mile per dollar spent on everything else.
How to Maximize Your Rewards