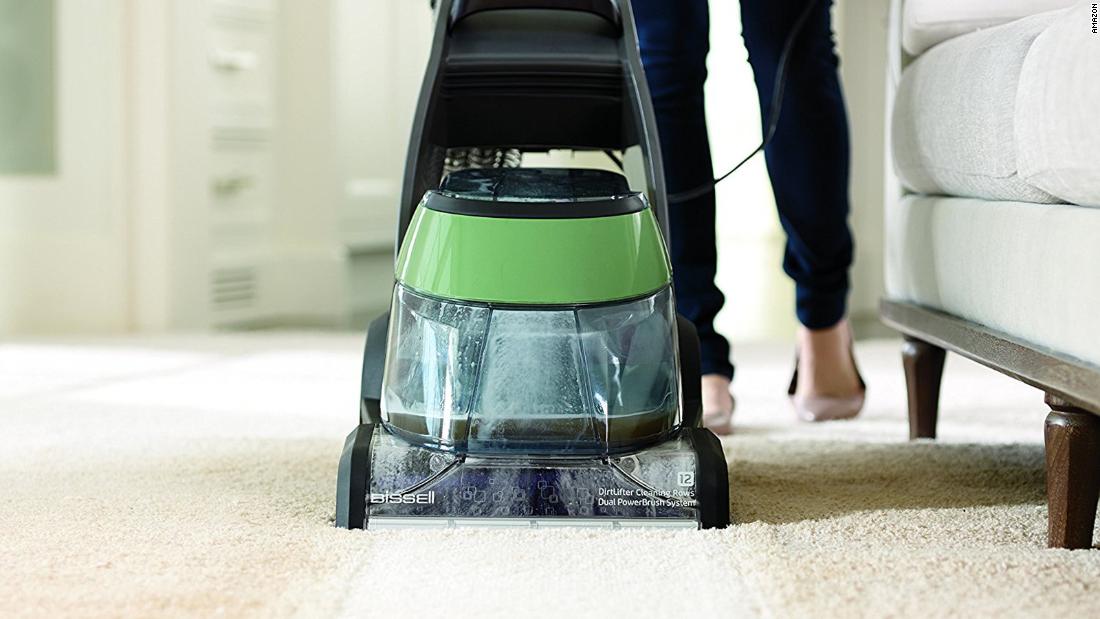 Story highlights
Make your cleaning routine easier by using these 10 powerful tech gadgets
Top picks include iRobot's Roomba 690 and the Alfawise window-cleaning robot
Your cleaning routine is about to get way more high-tech. From Roombas to heavy-duty carpet cleaners, smart gadgets and innovative tech in the home space can make the drudgery of deep cleaning less tedious — and even better, more hands-off, so you can ensure your home is sparkling clean with just a fraction of the effort.
Below, we've rounded up the top picks in our cleaning arsenal, which range from an automatic grill cleaner that can help you prep for outdoor barbecues, to an electric spin scrubber that can reach the nooks and crannies in your bathroom.
And once your home is scrubbed up and ready for spring, you can get to the fun part: cleaning your tech (digital and physical) and sprucing up your space with some fresh, decorative accents.
Home cleaning products
Gladwell Gecko Robot Window Cleaner ($149.95; amazon.com)
Cleaning your windows, both inside and out, can be a grueling task, especially if you have hard-to-reach windows. That's where Gladwell's Gecko Robot Window Cleaner comes in. This tiny, lightweight, remote-controlled device fitted with brushes is designed to give you squeaky-clean windows no matter where they're located. Simply pop the device onto the window of choice (either inside or out), ensure the safety rope is fastened to prevent the robot falling, and it's off.
iRobot Roomba 690 ($349.99; irobot.com)
We've waxed poetic before about the iRobot Roomba 690; this mighty vacuum cleaner can pick up dirt, debris and dust even in the harder-to-reach spots, like under your bed or couch. When we tested the item, we were impressed with its smart capabilities, namely Amazon Alexa and Google Assistant integration and its designated app, all of which can send the robot cleaning even if you're not home. Other notable features include its Dirt Detect Technology, which can pick up on the areas of your home that need a bit deeper cleaning, and the gadget's easy assembly. Handheld vacuum cleaning will soon be a thing of the past.
iRobot Braava Jet 240 ($199.99; irobot.com)
Once you're done sweeping or vacuuming, mopping comes next. Don't worry, iRobot makes a device that can do that for you too. The company's Braava Jet 240 is designed to wet mop, damp sweep or dry sweep hard floors. Much like the Roomba 690, it can tackle the tough areas of your home, as it's designed to clean the tighter spaces like under and around toilets, below cabinets, and in tight corners of your kitchen and bathroom. It also can be controlled by the integrated app, so you can schedule cleaning at your convenience. As an added bonus to those who want the best of both worlds, a vacuum cleaner and a wet mopper, the iRobot site offers a deal on the pair ($495; irobot.com) which can be paid for as low as $44 a month with Affirm.
Grillbot Automatic Grill Cleaner ($89.95; amazon.com)
One of our favorite pastimes is ighting up the grill and relaxing over burgers, hot dogs and grilled veggies. Of course to do so, you'll need a clean grill that will get the job done. In anticipation of your outdoor parties and barbecue sessions, use an automatic cleaner that will safely clean your grates hands-free. Grillbot's Automatic Grill Cleaner, for example, does just that; the device's internal computer can direct the robot back and forth over your grill. After the job is done, simply pop the brushes off and place them in the dishwasher for even more simplified cleaning.
Bissell DeepClean Premier Pet Upright Carpet Cleaner ($229.99; walmart.com)
Pet owners know all about the hassle of carpet upkeep when there's a dog, cat or other furry friend roaming the home. For stained carpets or ones that need heavy-duty odor removal, consider a deep-cleaning carpet cleaner such as Bissell's top-rated device. The Premier Pet carpet cleaner is designed to rid your carpets of muddy paw prints, hair and other caked-in dirt to yield professional-quality results. It does it with 12 rows of dual rotating power brushes that dig deep into the fibers of your carpet. Surround suction helps dry your surfaces fast, too. With these capabilities, it's no surprise the cleaner has received a 4.5-star rating from almost 200 Walmart customers.
Homitt Electric Spin Scrubber ($49.99; amazon.com)
While most of the devices we've featured make cleaning a more hands-off process, the Homitt Electric Spin Scrubber takes on some tasks that have to be hands-on and makes them less strenuous. The cordless tub and tile scrubber puts in the elbow grease for you while cleaning your bathroom, and helps you avoid spending much time in an uncomfortable position. (The company notes this is ideal for those who have back pain or arthritis.) The device features three brush heads: a round bristle one for your bathtub or sink, a flat one for your tile floors or furniture, and a corner head brush for window edges or tighter spots. The scrubber lasts 50 minutes on a single charge. After you adjust the arm, brush handle and brush head for the task at hand, simply switch the device on and control the direction of the tool while it does all the hard work for you.
Digital cleaning products
Parallels Toolbox ($19.95 a year; parallels.com)
We didn't forget about cleaning up your tech, new or old. Parallels Toolbox is a simple app that brings a wide array of tools that can speed up simple tasks and streamline your computer's contents. It's available for macOS or Windows and is an affordable subscription at just $20 a year. This app will sit on the toolbar (top on macOS and bottom on Windows) and gives you one-click access to record screen shots or videos of your screen, find duplicate files, free up RAM and more. The ability to easily find duplicates is a quick way to free up storage, and clearing out RAM can improve load times.
Decluttr (decluttr.com)
If you're like me, you might have some old tech stuff, Legos and DVDs hanging around your house. But while you're in the spring cleaning spirit, it's a good idea to check out Decluttr. It will buy your old phones, games, Legos, CDs and DVDs — maybe not every single thing, but getting cash for items that are just collecting dust is always a good thing. Decluttr makes it really simple by letting you fill a box and use the provided return label to send it out.
Whoosh! 3.4-oz Screen Cleaner and Cloth ($9.99; amazon.com)
Chances are your phone is with you every second of every day, and it gets hit with a lot of stuff throughout the day. You never know what the wind might be carrying or what your hands might have picked up, and phone screens can be pretty dirty. Whoosh screen cleaner is a nontoxic and odorless spray cleaner for all your tech, smartphone included.
PhoneSoap 3 ($59.99; phonesoap.com)
This two-in-one box can charge your smart phone and clean it, while also giving you well-deserved (and maybe much-needed) time away from the device. Inside, your phone gets blasted with UV-C light, which kills up to 99.99% of the bacteria living on your phone, according to the companys. PhoneSoap says UV light is harmless to your phone, and encourages you to leave the case on, since that's full of germs too. So you can just plug your phone in at bedtime and close the lid, and in the morning your phone will be fully charged and germ-free. You can see our full review here.
Note: The prices above reflect the retailers' listed prices at the time of publication.