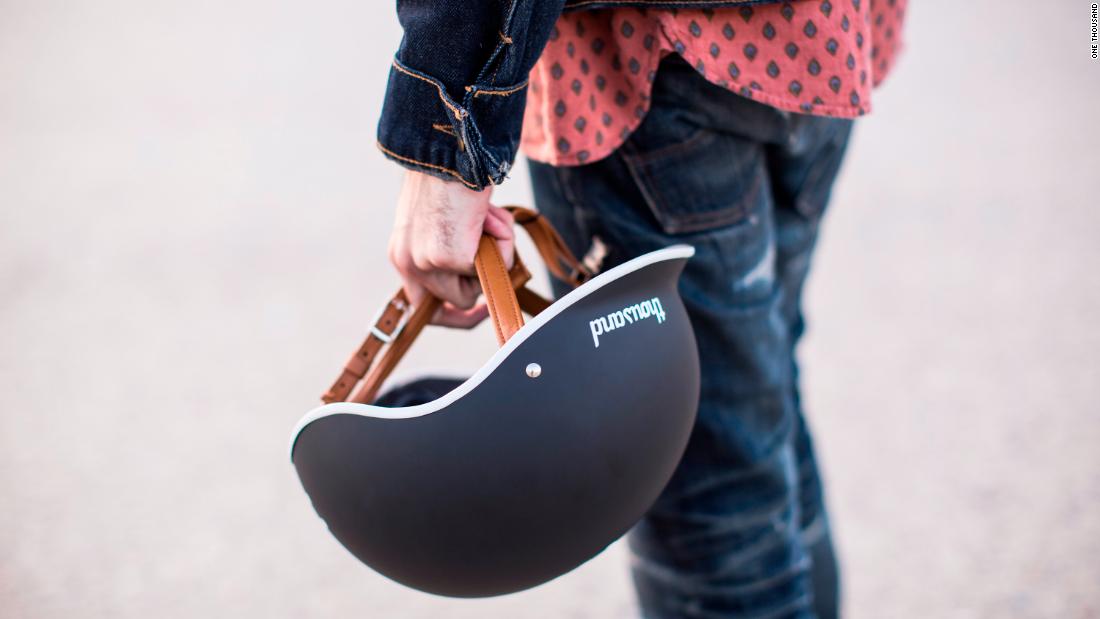 Story highlights
We've rounded up cycling gear for those who are serious about biking.
These products include top-rated workout clothes, bike lights and more.
It's important to have the right gear to keep you safe when cycling. A helmet is at the top of that list. Simply put, they can save your life should you happen to have an accident.
In fact, experts at Northwestern University have broken down the numbers to show how vital helmets are when it comes protecting cyclists. In the U.S. alone, more than 500,000 people a year are treated in emergency departments for bicycle-related injuries. The experts also say that "roughly 700 people die from these injuries — but an estimated three quarters of them would have survived if they had been wearing a helmet." That number is seriously tragic — especially since the estimate means that 525 people's lives each year could have been saved if they'd worn a helmet.
We've rounded up our top three helmet options that are both stylish and effective at helping riders to stay safe and protected when in the saddle, along with other cycling gear.
The Thousand Anti-Theft Helmet ($85; amazon.com)
Safety first is definitely a rule to live by when biking in big cities and near traffic. But for bikers who want to maintain a certain aesthetic, protective helmets can sometimes be a less flattering look than going without. When we set out to find a stylish biking helmet, we turned to the Thousand brand for sleek and protective headgear. Available in three neutral colors that match most any bike, this adult helmet has a cool retro look with a padded interior for a custom fit. And there's a Secret PopLock feature so that you can leave your helmet locked to your bike rather than having to carry it with you. To read more about the Secret PopLock feature, head over to the Thousand website.
Giro Revel Unisex Helmet (starting at $29.96; amazon.com)
Into the more serious cycling look? The Giro Revel helmet is the way to go. This model, available in several different colors, is a top-rated head protector that's perfect for your next intense ride. A reliable helmet, with over 700 user reviews on Amazon and a 4.5 out of 5-star rating, this model was made using soft impact-resistant foam inside and a hard polycarbonate shell on the outside. To help keep you cool, this model has 22 vents, and its unisex fit means anyone can give it a go.
Schwinn Thrasher Helmet ($21.96; kmart.com)
Available in two colors, this helmet is adjustable so that it will fit comfortably and has 21 integrated flow vents to help keep you cool. The built-in visor provides increased shade while riding so the sun won't inhibit your vision and the moisture-wicking pads help keep your head dry.
More cycling gear to shop:
As cyclists, we need a do-it-all bag that fits comfortably and can withstand the elements while carrying our daily essentials. For commuters, we'd recommend this waterproof option from Chrome Industries ($150; chromeindustries.com) since it has a laptop sleeve and several compartments for keeping things organized. For added visibility, there's a reflective webbing on the exterior of the bag so drivers and pedestrians will see you.
The Herschel Supply Co. Backpack ($99.99; bloomingdales.com)
If you're after a more casual backpack option, we'd recommend the Herschel Supply Co. Little America Studio Collection backpack. This Canadian company, which makes a whole slew of stylish and functional bags, has been manufacturing quality products since 2009, with this model as one of the brand's most sought-after styles. What makes the Little America Collection so great is that these bags are spacious enough to carry everything you need (including laptops up to 15 inches) while also being lightweight and comfortable to wear.
Mirrycle Incredibell Bicycle Bell ($1.90; amazon.com)
At first, a bike bell might not seem like a necessity. But it really is. When you're biking down busy streets, a bell tone is just the right frequency for others to hear. And since we're all about the safety-first biking life, that is enough reason to buy one. This model by Mirrycle is the No. 1 best-selling bike bell on Amazon and has 1,248 reviews from satisfied customers. Now available in eight different colors, the Incredibell was made to look stylish and keep you safe.
Chrome Industries markets this messenger bag as one that's "built for the city" and we couldn't agree more. This bag comfortably sits over one shoulder and has a waterproof exterior. With a foam-padded shoulder strap and a cross-chest load-stabilizing feature, this pack was made to stay in place when taking turns and hitting bumps. The quick-release strap has a buckle that allows you to hit one button to remove the bag in a flash. This style is available with reflective features that will help ensure you're visible.
The BV USA Quick-Release Bike Light Set ($8.79, originally $20; amazon.com)
Another safety-first product, this bike light and LED tailgate set is available through Amazon, where it has over 5,000 customer reviews and an average 4 out of 5-star rating. Clearly a very important safety feature for those biking after dark, this light set is weather-resistant and stays charged for up to 80 hours. The LED headlight and taillight require zero tools to install and each has three modes so that you can choose your desired brightness.
Roam Phone Mount ($9.88; walmart.com)
Looking for a convenient way to read your maps, listen to music, and check the time while biking? The Roam phone mount is a reliable option for holding most phones, including the iPhone 6s/6s Plus, iPhone 7/7 Plus, Galaxy S7, and other phones that measure up to 3.5 inches wide. Also available via Amazon, this phone mount is a No. 1 best-selling product and received over 3,500 reviews from satisfied customers.
BV USA Bicycle Saddle Bag (starting at $9.89; amazon.com)
The perfect solution to digging around for your keys and wallet, this BV USA bicycle bag sits directly under your seat and keeps your belongings within reach while biking. Another best-selling product from Amazon, this handy seat bag has reflective trim and a place to hang your taillight for added visibility. With more than 1,800 reviews from satisfied customers, this product is a great buy for your next biking adventure.
4ucycling Unisex Padded Shorts (starting at $9.99; amazon.com)
When in the saddle, it's important to sit comfortably. These unisex biking shorts from 4ucycling are made from breathable mesh fabric with padding on the underside for added seat cushioning. In hot weather, these shorts are the perfect lightweight option with ultra-thin, water-resistant fabric that also helps to reduce wind resistance. Another top-rated Amazon product, these shorts fit both men and women.
Oakley sunglasses for both men and women
There are few things that make you look hardcore like a stylish pair of athletic sunnies. Oakley is a long-time leader in making sunglasses for active people — no matter how sweaty or intense the sport. On the left, we have the Oakley Flak 2.0 XL Sunglasses (starting at $160; moosejaw.com) for men. This model has 8 base lens technology, meaning they wrap around your face more than a lot of sunglasses do, which enhances your peripheral vision and shields from sunlight while protecting against the elements. Then, on the right, we have the Oakley Women's RPM Squared Sunglasses ($149.95; moosejaw.com). This semi-rimless pair was made to resist impact and stay in place, even when you turn sharp corners while cycling.
Note: The prices above reflect the retailer's listed price at the time of publication.