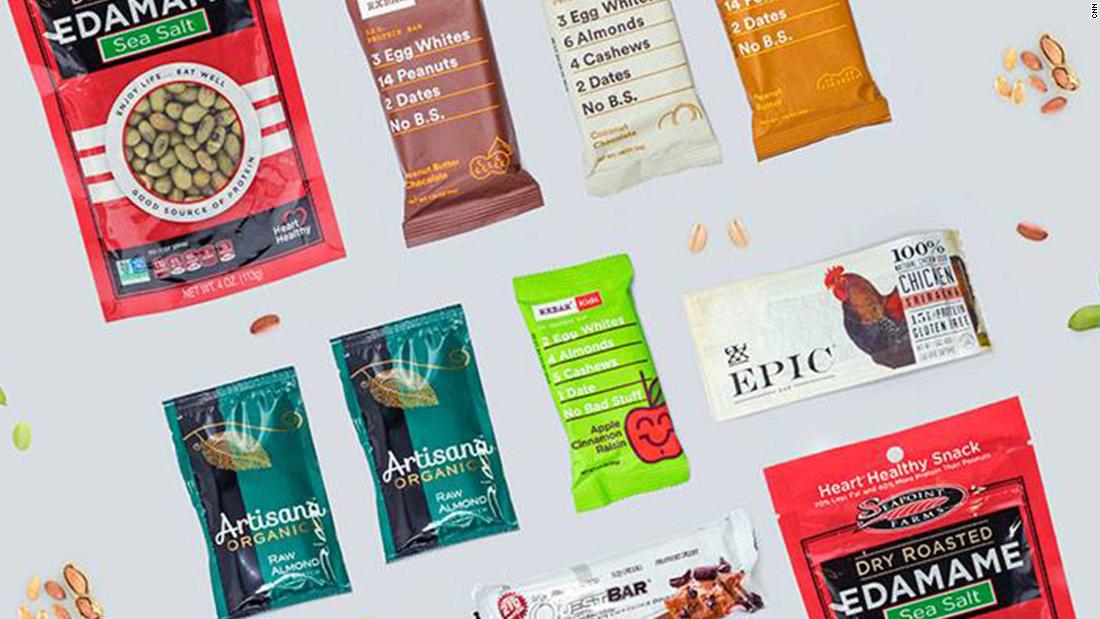 Story highlights
Shop these protein-rich snacks for healthy eating on-the-go
Here, we have roasted edamame, grass-fed jerky, protein bars and more
Getting an adequate amount of protein per day should be a priority — and not just for gym enthusiasts and body builders. Everyone can benefit from having better-fueled muscles and a satisfied appetite (since protein makes you feel fuller for longer).
Depending on a number of factors, including your weight and level of activity, it could be that you aren't eating enough protein or that you aren't eating it at the most optimal times throughout your day. For instance, when it comes to timing your protein intake, WebMD recommends having a protein-rich snack after working out, since protein allows your muscles to grow and recover faster to help improve results in the gym.
Determining how much protein you should have daily is a simple calculation. According to the Recommended Dietary Allowance, you should have 0.36 grams per pound of body weight per day. So, if you weigh 150 pounds, that'd be 54 grams. Of course, depending on how much you exercise and whether you're trying to build muscle, you can up that amount to meet your needs.
Since many of us are on the go and have busy schedules, the tricky part often involves choosing healthy, protein-rich snacks that are convenient to carry around. Think jerky, snack bars made from nuts and fruits, and other delicious options that will help you to stay fuller for longer and keep your body feeling strong.
Below are some of our favorites, based on their ratings, ingredients, and our own taste-testing.
Note: The prices below reflect the listed retailer's price on the date this article was published.
GoMacro MacroBar, Organic Vegan Protein Bar ($31 for pack of 12; amazon.com)
These are some of our all-time favorite protein bars. Not only are they vegan and gluten-free, but they're also full of good-for-you ingredients that are loaded with protein. For instance, the peanut butter chocolate chip flavor pictured here has 11 grams of protein in one bar. Not too shabby.
Artisana Organics Almond Butter squeeze packs ($20; amazon.com)
This almond butter from Artisana is made using only almonds, making it a rarity among nut butters, which often have added sugar and oil mixed in. This delicious, creamy spread is made using only raw, 100% organic ground California almonds. Packaged in 1.06-ounce packets, this protein-rich snack (7 grams of protein per packet) can be toted along and consumed wherever, whenever.
RXBAR Whole Food Protein Bars ($11.88 to $79.99; amazon.com)
The RXBAR, a healthy take on traditional protein bars, was created by two best friends who set out a few years back to make a soy-, dairy- and gluten-free snack. They succeeded when they mastered the RXbar formula. Their secret? Simply made snack bars with very few ingredients that are clearly labeled so that consumers know exactly what they're eating.
With each bar, customers are promised a wholesome, paleo-friendly snack with zero added sugar and a generous amount of protein.
For instance, the Peanut Butter & Jelly bar (shown above) was made in a mini size for kids (or a small snack for parents). Inside, there's two egg whites, four almonds, five cashews, one date, and "no bad stuff," according to the label. With that, you're getting 130 calories, seven grams of protein, three grams of fiber, and five grams of healthy fats. This smaller mini bar comes in Chocolate Chip, Berry Blast, and the aforementioned Peanut Butter & Jelly ($19.30 (pack of 16); amazon.com).
For adults, RXBARs come in many different flavors. When it comes to taste, we were most fond of the Coconut Chocolate flavor ($6.89 (pack of 4) , target.com), which has 12 grams of protein, three egg whites, six almonds, four cashews, two dates, and "no B.S.," according to the label. With that, you're eating 210 calories, nine grams of total fat, six grams of fiber, and 14 grams of sugar.
Epic All Natural Meat Bar (12 pack) ($25.62; amazon.com)
A best-seller among the various jerky products sold through Amazon, the Epic All Natural Meat Bar in Chicken Sriracha is made with whole muscle meat protein for a filling snack that's easy to tote along. We're fans of the Epic Bar brand for its commitment to making whole, all-natural products without sugar, gluten, grains, soy, or dairy. The Epic philosophy when it comes to its many meat-based products is to create food that imitates its most natural state. The company has created a whole line of products using beef, venison, wild boar, lamb or bison, combined with dried fruit, nuts, seeds, and creative spice blends to create flavorful, protein-rich snacks. This particular snack, made from chicken, offers 15 grams of protein per serving and has chia seeds for a nutty taste.
Quest Nutrition protein bar (12 pack) ($33.74; walmart.com)
With over 12,000 reviews averaging 4 of 5 stars on Amazon, there's no denying that Quest protein bars have quite the following in the fitness community. They're sold at most nutrition shops and available via Amazon. If you can comfortably digest dairy, try these chocolate chip cookie dough bars made from whey isolate, a milk-based protein source. With just 4 grams of carbs, 200 calories, and 20 grams of protein per serving, this is a sugar-free option you can feel good about eating.
Seapoint Farms dry roasted edamame with sea salt, 4-ounce pouches (12 pack) ($20; amazon.com)
A crunchy snack with lots of flavor, this roasted edamame snack is rich in soy, low carb, low fat, and high in protein. Sprinkled on a salad or eaten straight from the bag, this healthy and delicious snack delivers a whopping 13 grams of protein per serving. Made from all natural ingredients, this top-rated snack received more than 350 reviews from satisfied Amazon customers who ordered their roasted edamame snacks straight from the online retailer.
Perfect Bar Original Refrigerated Protein Bar (8 pack) ($24; amazon.com)
The Perfect Bar is a whole new take on your traditional meal replacement bar. They're packed with superfoods and are bursting with flavor. This particular variety pack comes with 8 different flavors. The best part is, these bars are refrigerated so they're fresh and cold each time you eat one. When it comes to taste, Perfect Bars are made with freshly ground nut butters and organic honey, making them the perfect combination of nutty and sweet.