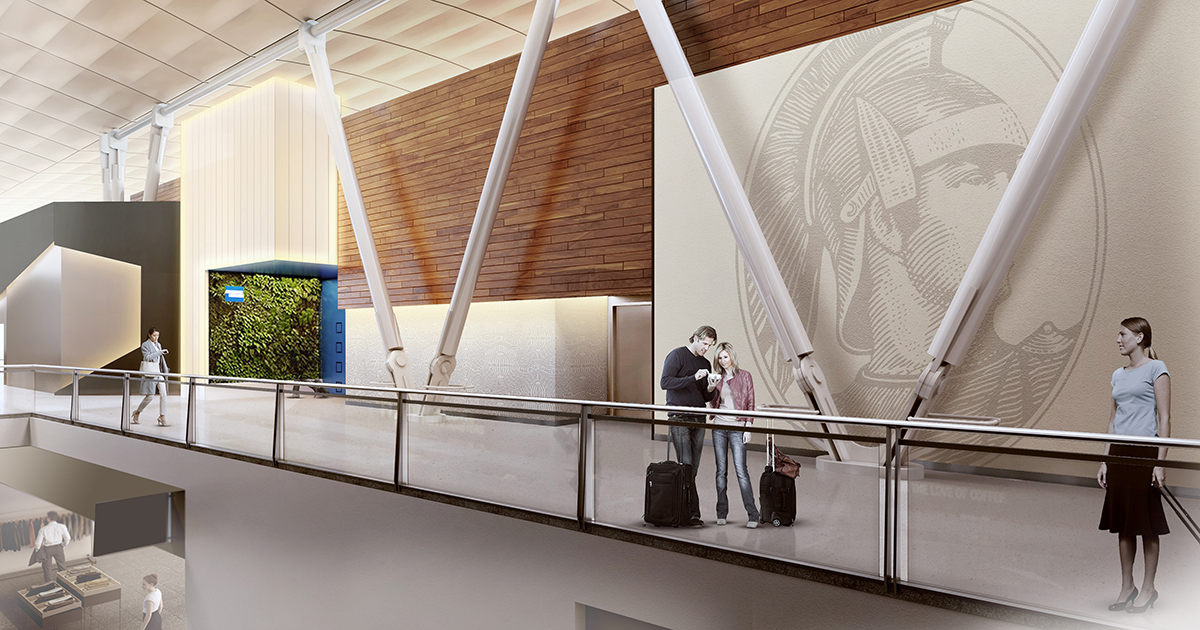 American Express is working on its latest — and biggest — addition to the Centurion Lounge portfolio.
This lounge, which is at John F. Kennedy International Airport, will be the largest in the Centurion network, delighting New York travelers tired of fighting for a spot at JFK's Terminal 4, which serves over 21 million passengers annually.
Before you plan to work a visit to the luxury lounge into a future trip, here are five things you can expect.
1. Access is limited
You won't be able to enjoy this 15,000 square foot lounge spread over two levels if you aren't a cardholder of The Platinum Card® from American Express or a Centurion member, or traveling with someone who is.
Centurion Lounge access for American Express Platinum cardholders is one of many perks of the card, which comes with a hefty $550 annual fee. Obtaining the Centurion card will be a little more difficult, as this card — targeting big spenders — is primarily invitation-only.
» Learn more: Everything you need to know about AmEx Centurion Lounges
If you do have one of these cards, you will need your credit card, your boarding pass for same-day travel and a picture ID to enter the JFK lounge.
2. You can bring guests
Traveling with friends or family? Platinum cardholders can bring two guests into the lounge, and Centurion members can bring two guests or their immediate family members. If you're traveling with more than two companions, you will pay $50 for each additional person.
» Learn more: Credit cards with airport lounge access
Well-mannered pets are welcome with a few minor restrictions, such as not letting them loose in the buffet area. Pet access may be limited depending on local laws and restrictions, so always check before traveling.
3. Don't expect to freshen up after your flight
With private, clean shower stalls in a number of their locations, Centurion Lounges were a favorite for travelers after a long flight. But in March 2019, American Express changed the Centurion Lounge access policies for Platinum cardholders. Now, you can only visit the Centurion Lounge before your flight (but no more than three hours prior to departure) or during layovers. Gone are the days of a quick refresh upon arrival.
4. New Centurion Lounges are popping up around the world
Currently, there are nine Centurion Lounge locations. The JFK lounge, while it may be the largest, probably won't be the newest for long. American Express is also opening Centurion Lounges in Denver, Los Angeles, London-Heathrow and Charlotte, North Carolina.
Beyond the soon-to-be 14 Centurion Lounges, Platinum and Centurion cardmembers have access to American Express's entire Global Lounge Collection, which provides entry to over 1,100 airport lounges worldwide.
5. Not all lounges are created equal
For casual travelers, airport lounges seem like a mysterious world of quiet luxury, with reliable Wi-Fi, clean bathrooms and other wonders often lacking in public areas of airports.
» Learn more: Why you should be using airport lounges
But for those travelers who frequently use lounges, they know some are better than others. American Express is still hush-hush about the JFK Centurion Lounge's specific amenities, touting "spectacular views of the airfield" and "one-of-a-kind design elements." But Centurion Lounges typically offer gourmet snacks, premium bar, high-speed Wi-Fi, power stations, large flat-screen TVs and staff to help with your travel arrangements. Some lounges come with extras, including hot meals, showers and spas.
How to maximize your rewards
You want a travel credit card that prioritizes what's important to you. Here are our picks for the best travel credit cards of 2019, including those best for:
Planning a trip? Check out these articles for more inspiration and advice:
Credit cards with airport lounge access
So you've got airport lounge access? You sure?
How to make the most of your Priority Pass