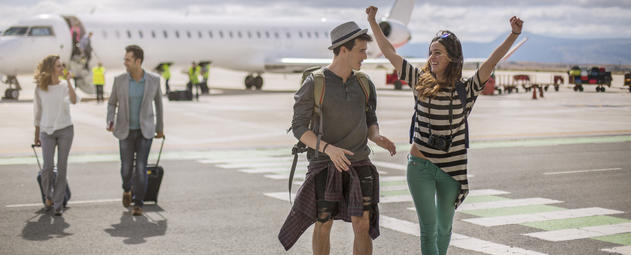 Seeing the world is a priority of mine, but I also have to take care of the responsible stuff, like saving for retirement and a down payment on a home. Enter travel rewards credit cards: my preferred method for Champagne travel on a beer travel budget.
After more than two years of strategizing and building up our stashes of credit card rewards points, my husband and I took heavily discounted vacations in 2018 — New Zealand and Australia in February, and Japan in December.
Here's how.
» MORE: NerdWallet's best travel rewards credit cards
Step 1: Stack rewards from multiple sources
A sign-up bonus plus a year of spending on one card will get you far, but mixing and matching rewards from multiple cards is how you end up with a six-figure stash of points. Here are some of the credit cards that contributed in some way to our trips last year:
For flights on American Airlines: We each earned miles thanks to several American Airlines co-branded cards, including the Citi® / AAdvantage® Platinum Select® World Elite™ Mastercard® and AAdvantage® Aviator® Red World Elite Mastercard®.

My husband had gotten the U.S. Airways Dividend Miles Mastercard before it was announced that the airline was merging with American. Once news of the merger went public, he rightly figured his remaining 13,000 U.S. Airways points would eventually end up in his AAdvantage account.

For hotels: Hilton- and Hyatt-branded credit cards took center stage for our trips. We each carried cards including the Hilton Honors™ Surpass® Card from American Express (since rebranded as the Hilton Honors American Express Ascend Card) and The Hyatt Credit Card (since rebranded as the The World Of Hyatt Credit Card). We also transferred 7,000 Chase Ultimate Rewards® points to Hyatt to close a points gap. We earned those points with my Chase Sapphire Preferred® Card and both of our Chase Freedom® cards.
In some cases, we added each other as authorized users of our cards to double our point earnings, and we also had a few small-business cards in the mix because my husband and I both have been self-employed.
We couldn't combine our points into one AAdvantage account for free, so we took turns booking flights (for both of us, at the same time) out of our respective accounts as our point balances allowed.
» MORE: Chase Ultimate Rewards®: How to earn and use them
Hilton and Hyatt allowed us to connect our cards to one account per loyalty program — so essentially, my husband and I share one Hilton rewards account and one Hyatt rewards account. This made it easier to build up a large pool of points to redeem later. (Note that you can transfer Hilton points to other members for free in 1,000-point increments up to a limit each year. World of Hyatt Points can be combined into one account, but there's some paperwork involved and it can take up to four weeks.)
» MORE: American Airlines AAdvantage program: The complete guide
Step 2: Strike while the iron is hot
As you can see from the list of cards above, some of them don't exist anymore or have been rebranded. Credit card issuers constantly change the terms of their rewards programs, and airlines and hotel chains can merge or move from one issuer to another.
That means that an opportunity to get in on a sweet sign-up bonus may be limited, so it pays to keep up.
After pouncing on the U.S. Airways Dividend Miles Mastercard to get a generous sign-up bonus as part of an in-flight offer, my husband later transferred his remaining U.S. Airways miles to AAdvantage when the merger was complete. He then canceled the card, waited a year, and then got the AAdvantage® Aviator® Red World Elite Mastercard® to earn even more.
Step 3: Redeem strategically
Don't squirrel away your points forever — the real fun begins when you spend them and can start anticipating a real, live vacation that would have cost you $10,000 but now costs less than $2,000. Here's how we cashed in our credit card rewards:
New Zealand and Australia
Flights
My husband cashed in 160,000 AAdvantage miles for two round-trip tickets on American Airlines. It broke down to 40,000 miles per travel leg, per person (we flew from Washington, D.C., to Auckland and back to D.C. from Sydney).
He then used American Express Membership Rewards points for the flight from Auckland to Melbourne on Qantas. He had snagged The Platinum Card® from American Express when it still had a 100,000-point welcome offer, and then later got the The Blue Business℠ Plus Credit Card from American Express to keep his Membership Rewards account active after he closed the The Platinum Card® from American Express to avoid paying the annual fee.
I spent 20,000 of my AAdvantage miles on our flights from Melbourne to Sydney on Qantas. At the time, you could get 10% of your redeemed miles back (up to 10,000 per year) through the AAdvantage® Aviator® Red World Elite Mastercard®, which we put to good use later for our Japan trip.
» MORE: Citi, Barclays rolling out big changes to American Airlines cards
Hotels
Generous friends in Auckland provided a free place to stay for two nights, and we paid for the remaining three nights in cash. We cashed in Hilton points to stay at a DoubleTree in Melbourne. For Sydney, we combined Hyatt points, and Chase Ultimate Rewards® points transferred to Hyatt, with free nights earned through my sign-up bonus and my husband's card anniversary to cover three nights at a Hyatt Regency (we paid $330 for a fourth night).
Transportation
We paid cash for a few one-day car rentals for day trips in both countries. I highly recommend you test your driving-on-the-left skills on the Great Ocean Road!
Japan
Flights
Between what was left after booking our previous trip and the 10% of our redemptions we got back, we had enough AAdvantage miles between the two of us for one round-trip ticket and one one-way ticket. We paid $1,200 for the remaining one-way ticket.
Hotels
We booked a hotel in Kyoto on Hotels.com because there weren't any well-located Hilton or Hyatt options. If you book 10 stays on Hotels.com, you get a free night in the future, so our four nights at this hotel will count toward that.
Having used solely our Hilton cards for a year and spending the then-necessary $15,000 minimum, we earned a night at the gorgeous Hilton Osaka. Would it have been more lucrative to put that year's worth of spending on other cards? Maybe, but the award night perk was worth it to us. There's no "right" way to maximize rewards; it depends on what's important to you.
We spent five nights in Tokyo at the Hyatt Regency, which isn't as fancy as the nearby Park Hyatt with the bar from the movie "Lost in Translation" — but there are three chandeliers in the lobby that are worth considerably more than I am. Much like we did in Sydney, we combined free nights from our Hyatt cardmember anniversaries, earned points and transferred Chase Ultimate Rewards® points. Any savings immediately went toward drinks at the Park Hyatt.
Transportation
We paid $515.50 for two seven-day Japan Rail passes. My husband reimbursed part of the cost with his $300 annual travel credit from his Chase Sapphire Reserve®.
Where are all of these credit cards now?
You don't have to take it quite this far to book a really amazing vacation at a deep discount. After all, keeping track of multiple cards can be difficult, and if they carry annual fees, you'll want to make sure you're getting enough value out of them to justify the cost. (We have since downgraded several of our cards to no-annual-fee versions, and in some cases we've outright closed accounts — though that can carry its own drawbacks.)
You can get started just by snagging a large sign-up bonus or two. A few years ago, my husband and I did just that. We each got our own Chase Sapphire Preferred® Card and Chase Freedom® cards, and between those four sign-up bonuses, we were able to stockpile more than 100,000 Chase Ultimate Rewards® points.
But the more familiar you get with travel cards and loyalty rewards programs, the more creative you can be with redemptions. Transferring rewards, for example, is a great way to finally spend those last 5,000 points you've been holding onto.
Even if you only cover the flights or the hotels with points, it's a win that will leave more money in your budget for future travel.
What's next?
Want to take action?

See NerdWallet's best travel credit cards

Want to dive deeper?

Learn how to choose a travel credit card

Want to explore related?

Find out how to get started with frequent flyer programs