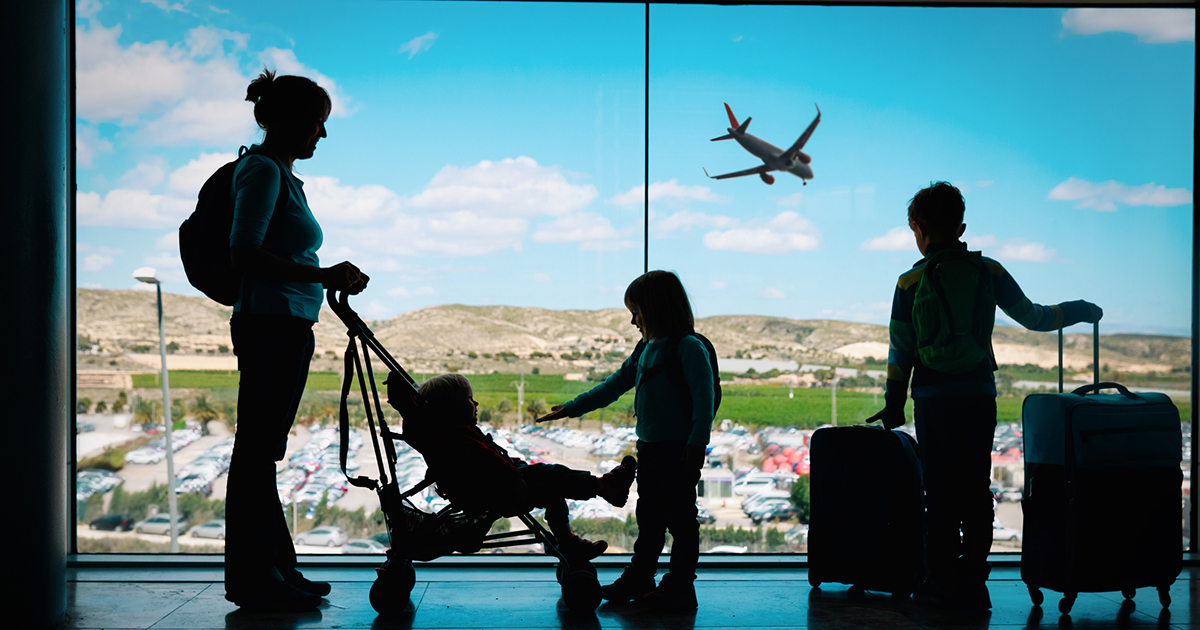 Summer can be an expensive time of year to travel, especially with the family. Those pricey plane tickets (and additional baggage and in-flight fees) for you and the kids can add up.
But Frontier Airlines is offering some opportunities for families to fly together for cheap through their ongoing Kids Fly Free promotion. The airline has added new dates through the fall and a chance to win a vacation to Legoland in Florida. Here are the details.
What is the Kids Fly Free promotion?
Frontier announced this family-friendly incentive earlier this year, and they've extended the offer for flights through November 2019. Children 14 and under qualify to fly for free on Frontier Airlines with the purchase of an adult fare. This deal is only available to Discount Den members, who have paid a $60 annual fee to unlock Frontier's best fares. The promotion is generally good for select domestic travel on Tuesdays and Wednesdays.
Here's the latest list of 2019 dates that kids can fly free:
April: 2, 3, 9, 10, 16, 17, 23, 24, 30.
May: 1, 4, 7, 8, 11, 14, 15, 18, 21, 22, 29.
June: 1, 4, 5, 8, 11, 12, 18, 19, 25, 26.
July: 9, 15, 16, 22, 23, 29, 30.
August: 5, 6, 7, 13, 14, 20, 21, 27, 28.
September: 3, 4, 10, 11, 17, 18, 24, 25.
October: 1, 2, 8, 9, 15, 16, 22, 23, 29, 30.
November: 5, 6, 12, 13, 19.
Remember, only one child can fly for free per adult fare, and bags or other in-flight add-ons are not included. If you're willing to wait to take advantage of the cheaper travel season in autumn when some kids have fall breaks from school, you might be able to save big on family travel by booking the later dates.
How do I win a free Legoland family vacation?
Frontier Airlines is sweetening the Kids Fly Free promotion by offering one winner a Legoland Florida vacation. To enter, submit a video of your kid's best dance moves on the contest site. The best video wins a grand prize vacation worth more than $3,000. The package includes:
Four round-trip tickets to Orlando International Airport.
A four-night stay at a Legoland Florida Resort accommodation, including a Legoland gift basket and four, two-day Park + Water Park tickets.
A five-day Budget car rental.
A Discount Den membership.
The deadline to enter the contest is April 30, 2019. For a chance at the second prize, which is a $500 Frontier Airlines flight voucher and a Discount Den membership, post your video on social media, use the hashtag #GetToGoDance and tag @flyfrontier.
The bottom line
The Kids Fly Free promotion is great for families who are already Discount Den members and can be flexible with their travel plans. If you're not a Discount Den member and joining won't cost more than what you would pay for your child's airfare, the deal still saves you money.
And entering the contest is worth a shot at getting your kids their wings without being tied to specific flight dates. Otherwise, keep checking the Frontier website, as the eligible flights for kids to fly free are updated regularly.
How to maximize your rewards
You want a travel credit card that prioritizes what's important to you. Here are our picks for the best travel credit cards of 2019, including those best for:
Planning a trip? Check out these articles for more inspiration and advice:
Frontier drops and reduces flight change fees
NerdWallet's top travel credit cards
How to fly with your baby