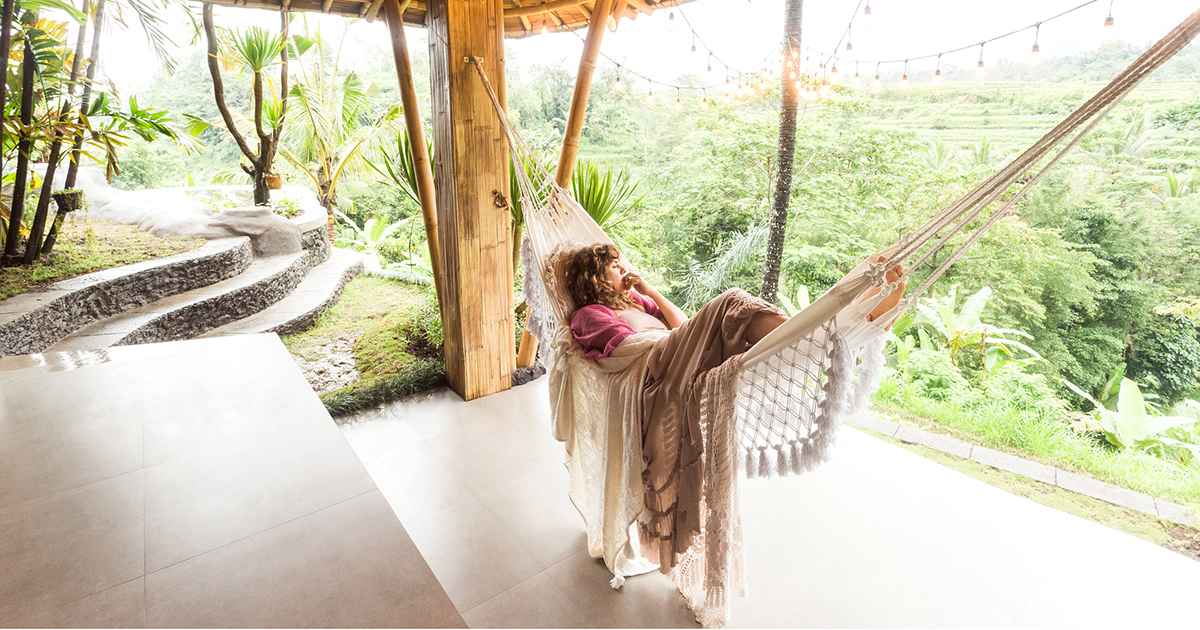 Travel and hotel stays are not easy on the environment. Take a look at that barely-used soap bar in your hotel bathroom that will end up in the trash after one use. Or consider the thermostat that was cranking cool air all day while you were out exploring. Luckily, many hotels and hotel chains are making choices in their building and amenities to reduce waste and save energy.
Here are some of our top picks for hotels that are committed to protecting the environment. You can even use travel rewards points to book.
1. Kimpton Hotel Palomar Philadelphia
Kimpton Hotel Palomar Philadelphia is a testament to the fact that you don't have to sacrifice luxury or location when choosing an eco-friendly accommodation. This hotel and its adjoining restaurant called Square 1682 are Philadelphia's first LEED Gold certified hotel and eatery. The hotel is located inside a refurbished 1929 Art Deco building in Center City, with eco-friendly features like energy-efficient appliances, recycling bins in every room, and a staircase made with reused materials. Use your IHG Rewards points to book a stay at this green boutique hotel for a Philly getaway.
2. Great Wolf Lodge
Get the whole family involved in sustainability with a stay at Great Wolf Lodge. These resorts are best known for indoor water parks, which can keep the kids entertained with their slides, surfing simulator and other poolside attractions. Incredibly, the entire park uses the same amount of water as one Olympic-sized pool, thanks to a sophisticated recirculation and filtration system and meticulous control of the temperature and humidity to prevent water loss through evaporation. The resort also uses low-flow showerheads and toilets and strongly encourages guests to reuse linens. Book your stay at select locations through Chase Ultimate Rewards.
3. The Gardens Hotel Key West
There's inspiration for green living all around at this cottage-style property inside of a botanical garden. The Gardens Hotel Key West has 20 guest suites throughout its historic estate, which has an impressive collection of orchids and a building on the National Register of Historic Places. Their commitment to sustainability is evident in their enormous cistern, which they use to collect rainwater to water their tropical gardens. Guests can also participate in the hotel's composting by contributing organic waste in the in-room containers. A stay at this hotel, which can be booked with Orbucks through the Orbitz Rewards program, also includes free breakfast.
4. Ritz Carlton Kapalua
Hotels in Hawaii often have an even bigger responsibility to protect the unique environment of the islands, and the Ritz Carlton Kapalua in Maui has demonstrated that in both hotel features and programming for guests. The hotel's dining facilities use herbs, fruits and vegetables grown in its organic garden. As part of its Ambassadors of the Environment program, the Ritz Carlton offers local snorkeling, whale watching and hiking excursions for kids and adults with expert naturalists. Guests will also be delighted to find coreless tissue paper rolls, coffee tables made from shredded U.S. currency and reef-safe sunscreen at this property.
A stay at this secluded luxury resort will cost you about 60,000 Marriott points per night. If you're a Marriott Bonvoy member looking for options at a lower redemption rate, you can also check out the Element by Westin line of hotels, which is known for its eco-friendly design, bike share program and electric car charging stations.
5. Vdara in Las Vegas
The flashing lights of Vegas may not scream environmentally friendly, but MGM Resorts has been at the forefront of sustainable building in the city. The Vdara on the Strip is one of the most notable because it has received the highest 5 Keys rating from Green Keys and the Platinum designation through TripAdvisor's GreenLeaders program. The hotel is part of the CityCenter complex, which MGM calls "the largest sustainable development in the world." Thanks to efficient design, the amount of energy saved at CityCenter is equal to the average annual power use of 8,800 homes. The complex even has a fleet of alternative-fuel limousines and Cadillac Escalades. World of Hyatt members can book a free night at Vdara starting at 25,000 points per night.
How to maximize your rewards
You want a travel credit card that prioritizes what's important to you. Here are our picks for the best travel credit cards of 2019, including those best for:
Planning a trip? Check out these articles for more inspiration and advice:
Make your national parks trip an adventure in savings
NerdWallet's top travel credit cards
How to find cheap things to do in any city