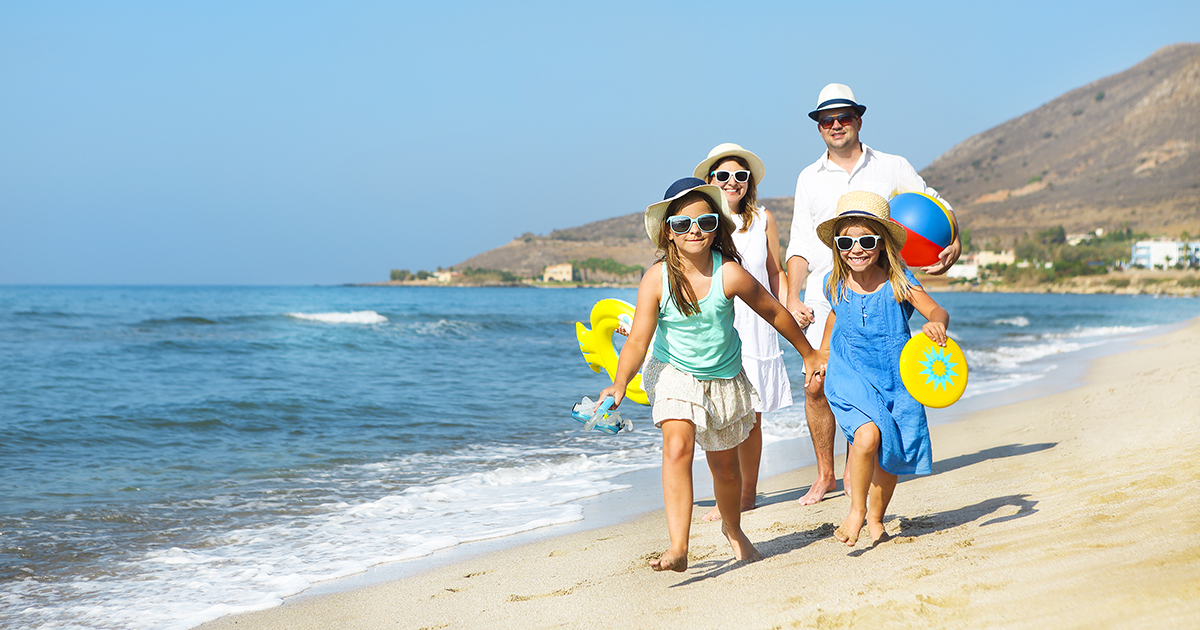 You could have the sun on your shoulders and the sand in your swimsuit, if only you could budget for it. The good news is that your beach vacation doesn't have to break the bank. Here are some tips to get you by the ocean for cheap.
1. Check out less popular beach destinations
When you think of the beach, a list of America's greatest hits might come to mind: Hawaii or Florida or Southern California. Perhaps Cape May in New Jersey or Myrtle Beach in South Carolina are places your neighbors go every year.
For a cheaper beach stay, try widening your focus. Look at destinations known for being less expensive, like Gulfport, Mississippi, or Pensacola, Florida. If you don't mind cooler water, try looking into beaches in the Northeast or Northwest. And if you're not set on saltwater, check out lake or river properties that can give you a similar vacation experience without the oceanfront rates.
2. Travel during off-peak seasons
The price of a hotel room or vacation rental at the beach can vary. To get the best rates, avoid traveling around major holidays like the Fourth of July or Memorial Day, and watch out for annual festivals or events that can drive prices up during certain weekends. Instead, book rooms in the shoulder seasons of late spring or late summer when the weather is still good. If you have the flexibility to travel while students are in school, you could save a lot on accommodations.
» Learn more: 5 ways to maximize "shoulder season" travel
3. Avoid beachfront properties
If you won't be spending much time in your room, there's no need to pay for the ocean view or even an oceanside hotel. Consider what your transportation options are and see if you could save money by finding a vacation rental or hotel a few blocks from the beach. Some beach towns have buses or shuttles that make it easy for tourists to access the waterfront. Or perhaps the vacation rental has bikes or a wagon that you can borrow to make the trek.
And don't limit your search for vacation rentals to Airbnb. You might be able to avoid some of the fees and get a better rate if you rent directly from the owner. Search Vacation Rentals by Owner to find listings.
4. Bring your own beach chairs, umbrellas and toys
By the time you rent a beach umbrella and tip the sunburned teenager who put it up for you, you've probably spent more money than if you had bought your own shade. Save on the beach toys and accessories that you will use for multiple days over your beach vacation by bringing your own. Brand-new beach pails and boogie boards can be expensive if you pick them up at the cheap souvenir store on the boardwalk, so your best bet is to buy them at your local grocery store or order them online before you leave for vacation. You can also try to thrift a beach umbrella or tent.
5. Pack your beach snacks
Those fries and a cold one at the nearest bar on the boardwalk may taste like summer, but the proximity to the beach may mean they come at a premium. Instead, pack your snacks in a cooler and have a picnic. If your vacation rental or hotel suite comes with a kitchen, use it to cook an easy breakfast or dinner for the whole group. It'll be cheaper than eating out for every meal.
6. Share the costs
Beach towns usually have more options for larger accommodations, so see if you and your friends or family can combine your vacations so you can split the costs. Getting a big beach house for everyone and sharing the costs of food you cook there might be more economical than trying to do a beach vacation on your own.
How to maximize your rewards
You want a travel credit card that prioritizes what's important to you. Here are our picks for the best travel credit cards of 2019, including those best for:
Planning a trip? Check out these articles for more inspiration and advice:
5 ways to maximize shoulder season travel
NerdWallet's top travel credit cards
Top family-friendly beach vacations