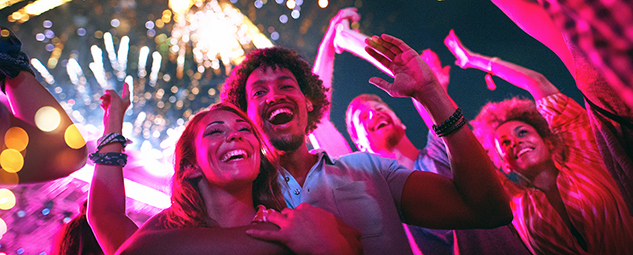 Some millennials won't have to sweat the spending this year to go to some of the most popular cities to celebrate America's birthday. According to data from Priceline, Houston and Dallas are the most popular Fourth of July destinations for millennials and the most affordable overall. The ranking was based off of hotel bookings and prices for July 3 to July 7, 2019.
There's still time to book your own Independence Day getaway. Here's Priceline's most affordable destinations. (Prices and availability are subject to change.)
1. Houston
According to Priceline, the average price of a hotel room in the city is only $95 per night for the Fourth of July weekend. Head over to your hotel after celebrating at the Citgo Freedom Over Texas festival right alongside the Buffalo Bayou in downtown Houston. Enjoy family activities, fireworks, and live music including country superstar Jake Owen. Tickets are $8 until July 3 and then $10 at the door or online on July 4.
2. Dallas
Another destination in the Lone Star state tops the most affordable list, with hotel rooms going for about $111 per night on average on Priceline. Dallas puts on a stadium spectacular for Fourth of July. The Fair Park, where the State Fair is usually held, will have food stands, live music, and games. Then visitors can watch the nighttime fireworks show from the park, or inside the famous Cotton Bowl stadium. Admission is free, but take public transportation if you don't want to pay for parking.
3. St. Louis
The Gateway to the West affords vacationers a budget-friendly Fourth of July. Hotel rooms on Priceline are averaging about $124 per night. You can take part in four days of festivities as part of Fair Saint Louis, starting July 3. Not only can you watch spectacular fireworks at the iconic Gateway Arch National Park, you can also see the 137th America's Birthday parade, a Boeing air show and live music performances from country chart-topper Brett Young and others. The best part? Admission is free.
4. Denver
There are more than 300 hotels on Priceline under $124 per night for the holiday weekend. Don't miss Denver's signature Fourth of July event, which actually takes place a day early. Independence Eve at Civic Center Park features beer and wine gardens and a lights and fireworks show atop the Denver City and County Building. If you're staying the holiday weekend, you might also want to check out the interactive Cherry Creek Art Festival. Both Independence Eve and the Cherry Creek Art Festival are free to attend.
5. Chicago
The average hotel rate in Chicago on Priceline is $165 per night for this Fourth of July weekend. Catch Navy Pier's spectacular fireworks display over Lake Michigan. The pier itself is a popular spot to see the show, but you can also avoid the crowds and enjoy the fireworks from any nearby beach or rooftop.
The bottom line
There are still some affordable hotel rooms for the Fourth of July in some of these major cities. No matter where you plan to celebrate, put your hotel booking on a travel rewards credit card that gives you extra points for travel or hotel purchases. Your sleep in a comfy hotel bed post-fireworks show could earn you points for free travel later.