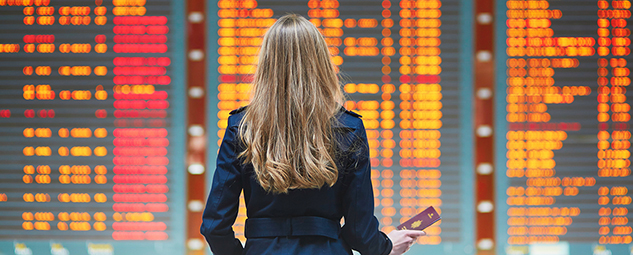 OAG, one of the world's leading providers of travel data, rounded up the airports in North America with the most international routes from June 2018 to May 2019. The ranking is divided by airport size based on seat capacity to show how these hubs compare to similar airports.
If you want to hop across the pond, jet down to the Caribbean, traverse the Pacific or even just visit another country in North America, it's likely you'll fly through one of these busy airports.
Major airports
Toronto-Pearson (YYZ)

New York (JFK)

Miami (MIA)

Montreal (YUL)

Los Angeles (LAX)

Newark (EWR)

Atlanta (ATL)

Chicago-O'Hare (ORD)

Vancouver (YVR)

Houston Intercontinental (IAH)
Seven of the 10 most international airports in North America are located in the United States.
While Toronto's primary airport took the top spot on the major airport list, New York's John F. Kennedy International Airport was next, with 127 international routes. More than 70 airlines operate out of JFK and fly to places as far away as Tokyo, New Delhi and Nairobi. JFK also appeared in OAG's rankings as the fifth-busiest airport in North America.
Miami International Airport came in third on the ranking of the most international airports, servicing 112 destinations abroad. Many of these destinations are in the Caribbean, Central America and South America, along with Europe and the Middle East.
On the West Coast, Los Angeles International Airport took the No. 5 spot with service to 90 international destinations. LAX is a jumping-off point for many destinations in Asia and the Pacific, including places like Singapore and Tahiti. Los Angeles-based travelers also have access to Europe and the Middle East via nonstop flights.
Another New York-area airport serves as a global gateway. Newark Liberty airport has flights to 88 destinations overseas, giving residents of the tri-state area plenty of options for international flying.
Atlanta's Hartsfield-Jackson airport, the busiest in North America, also has a hefty offering of international flights. Passengers flying from or through Atlanta might be headed to one of 80 destinations outside the U.S.
Chicago-O'Hare and Houston Intercontinental round out the Top 10, with service to 72 and 68 destinations respectively.
Large airports
Calgary (YYC)

Edmonton (YEG)

Ottawa (YOW)

Oakland (OAK)

Portland (PDX)

San Jose (SJC)

Houston-Hobby (HOU)

Raleigh (RDU)

Pittsburgh (PIT)

Austin (AUS)
The number of international routes drops significantly from major airports to large airports. Airports in Canada take the top three spots, and more than half of their international routes are to the United States. Oakland is the U.S. airport within the "large" category that has the most international flights: 13 routes, to be exact
Two other West Coast outposts, Portland and San Jose, are tied with 12 international destinations each. Houston's William P. Hobby airport has nine international routes, while Austin, Pittsburgh and Raleigh-Durham airports each have seven.
Travelers might see more seats on international routes at some of these large airports if current trends continue. San Jose, Austin and Raleigh-Durham airports experienced more than 10% growth last year in terms of total seat capacity.
Medium-sized airports
Halifax (YHZ)

Quebec City (YQB)

Winnipeg (YWG)

Toronto-Hamilton (YHM)

Orlando-Sanford (SFB)

Providence (PVD)

Toronto-Billy Bishop (YTZ)

Palm Springs (PSP)

Kelowna (YLN)

Saskatoon (YXE)
The next band of airports service a similar amount of international destinations, with Canadian airports dominating the list.
The bottom line
Living near one of the international hubs that made OAG's ranking could make it much cheaper and more convenient to fly internationally. Large- and medium-sized airports only have a smattering of international routes compared to the major airports. In some cases, it might save you money to drive to a close international hub instead of trying to book an expensive multi-stop journey from your smaller home airport. Keep in mind that some service is seasonal.