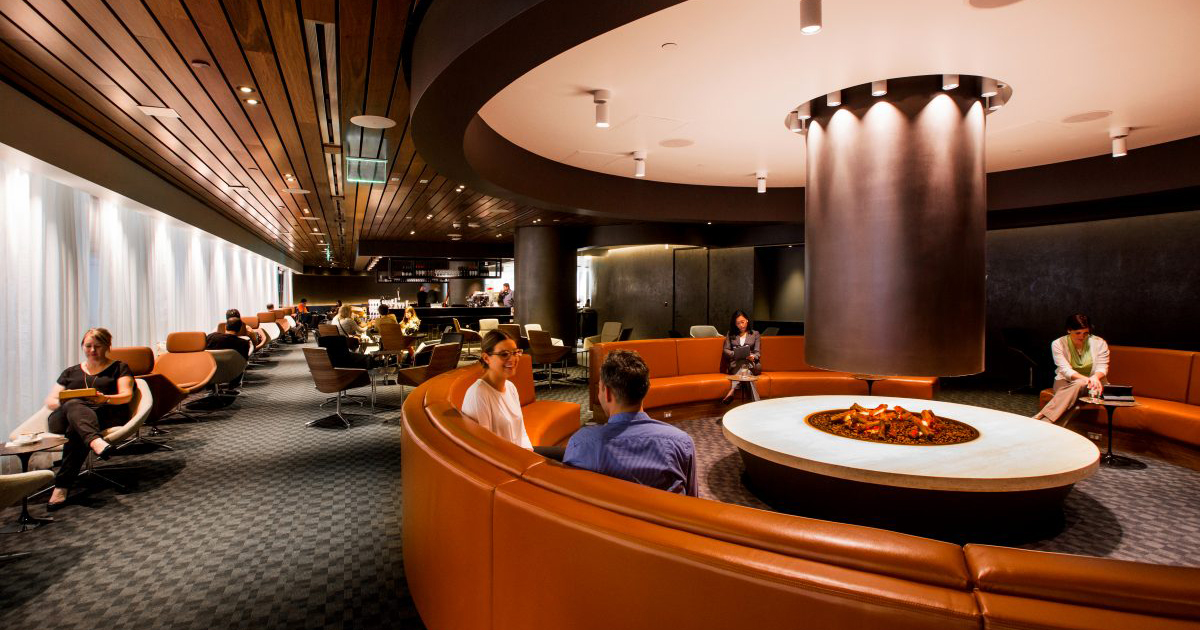 At NerdWallet, we strive to help you make financial decisions with confidence. To do this, many or all of the products featured here are from our partners. However, this doesn't influence our evaluations. Our opinions are our own.
Escaping the hubbub of a busy airport can change the tenor of any trip. Whether it's for business or vacation, an airport lounge is a great buffer against the noise and stresses of traditional air travel.
Qantas Airways, the flag carrier of Australia, has lounges all around the world. Here's how to get in and what to know before you go.
Who has access?
Most lounges restrict access to elite members or those who have certain credit cards, and Qantas lounges are no different. There are three primary ways to gain access. The first is through Qantas Club membership. Qantas Club is a paid membership requiring both a one-time join fee and then a one- two- or four-year paid commitment.
Qantas frequent flyers who aren't club members might occasionally receive complimentary lounge invitations by email in the days before a flight. These invitations will list eligible lounges and flights and must be manually activated online.
Qantas Gold elite members are also entitled to lounge access. Gold status requires 700 status credits for a year of access, or 14,000 lifetime credits for lifetime Gold status. Oneworld Sapphire and Emerald members both receive access to business class lounges.
» Learn more: Baffled by points and miles? Let the 80/20 rule guide you
Credit card access
It's common for certain rewards credit cards to grant access to airline lounges, and Qantas is no different. The following credit cards provide some access to Qantas lounges, but in most cases the number of lounge passes is limited to a handful each year:
Qantas Premier Platinum: 2 Business class lounge invitations yearly.
Qantas Premier Titanium: 2 First class lounge invitations yearly.
BankSA Amplify Signature: 2 Priority Pass lounge visits yearly.
American Express Westpac Altitude Blended Bundle: 2 lounge visits yearly.
American Express Westpac Altitude Black Bundle: 2 lounge visits yearly.
Qantas American Express Ultimate: 2 lounge visits yearly.
Qantas American Express Premium: 2 lounge visits yearly.
ANZ Frequent Flyer Black: 2 lounge visits yearly.
Bank of Melbourne Amplify Signature: 2 lounge visits yearly.
When do you get access?
If you have access to a Qantas lounge through Qantas Club membership, your next flight that day must have a Qantas or Jetstar flight number (QF) in order for you to access the lounge. That doesn't necessarily mean the flight has to be through one of those carriers; all Emirates flights to and from Australia and New Zealand have QF flight numbers, as do many other Emirates flights to destinations around the world.
Partner airlines
Qantas has international business lounges in many destinations around the world. If there isn't a Qantas operated lounge, there's a good chance you'll still have access to one of the many partner lounges. Qantas Club Members receive access to American Airlines Admirals Club Lounges, Alaska Airlines Lounges in certain cities, the Emirates Business Lounge in Dubai, and more.
Can I bring a guest?
Sometimes. If you have access to a lounge via membership in the Qantas Club, or Gold frequent flyer status and above, you may invite one guest and up to two children to the lounge with you. For international travelers, the guest must be traveling on the same flight as you to be eligible to join you in the lounge. If you have access to the lounge via a lounge access pass, you are not eligible to invite a guest.
What about children?
If you have any kids flying with you and you want to invite them into the Qantas Lounge, no worries. For Qantas owned and operated lounges, children 3 and under are granted complimentary access. Children ages 4 to 17 are limited to two, and children ages 18 and up are considered adults and count toward the one-guest-per-membership rule.
If you are seeking access to a partner airline lounge, including American Airlines and Emirates, children count toward regular guest numbers. Other associated lounges vary based on local rules and regulations.
Watch your clothing
Qantas works to keep its lounges welcoming to all of its guests, and to that end there are some dress guidelines guests must follow. Guests wearing casual outfits including sleepwear or beachwear, gym clothing and flip-flops will be denied access to the lounge, Qantas says. Stick with business casual to ensure access.
How to maximize your rewards
You want a travel credit card that prioritizes what's important to you. Here are our picks for the best travel credit cards of 2019, including those best for:
Planning a trip? Check out these articles for more inspiration and advice:
Find the best travel credit card for you
Snag these hotel loyalty perks, even if you're disloyal
Earn more points and miles with these 6 strategies