When I was a kid, my best friend's family got a Volkswagen Microbus. At that time, in the mid-'60s, American cars were land yachts with gas-guzzling V-8 engines draped in acres of chrome. Then, along came this odd-looking van with high seating, a horizontal steering wheel and an air-cooled engine. I wanted one badly.
"

The so-called ID. Buzz, due out in 2022, will rock 369 horsepower from two electric motors and an all-wheel-drive powertrain."
Later, I got my wish. In 1966, my father bought a VW bus and converted it to a camper for us to tour Europe in. Years later, I bought my own VW bus — a second-generation '68 bus, named Basil by the previous owner, a hippie in a tie-dyed dress. My wife and I put all our possessions in Basil and moved to — where else? — California.
I'd thought the days of the VeeDub bus were behind me until I saw a space-age version of my old ride at the Los Angeles Auto Show. Volkswagen, still nursing a black eye from the "dieselgate" emissions-cheating scandal, has rolled out a concept version of an electric Microbus with the tagline "The VW Bus is back." And now it's running high-concept teaser ads. But I ask you: What better way to make VW a warm and fuzzy brand again than to bring back this old favorite?
New tech for an old favorite
As I stood staring at this futuristic vehicle, I couldn't help but hark back to the bus I'd driven to California. While I loved it, the bus was so underpowered it couldn't — as they say — get out of its own way. The first VW bus in the U.S. had just 30 horsepower. Basil had a bit more power than that, but still wheezed as it struggled over Vail Pass in Colorado at more than 10,000 feet.
The new VW bus, the ID. Buzz model, is part of company's planned lineup of electric vehicles dubbed "ID." The first EVs are the ID.3, a compact hatchback, and the ID. Crozz, a crossover, both due out in 2020. A fully self-driving sedan, the ID. Vizzion, is another five to 10 years off.
The ID. Buzz, due out in 2022, is the seventh generation of the lovable old Volkswagen van. It will rock 369 horsepower from two electric motors and an all-wheel-drive powertrain. But that ain't all — VW says its 111-kilowatt-hour battery pack will provide 300 miles of range and recharge around 80% of battery storage in as little as half an hour. Road trip!
Of course, there are also plans for a fully self-driving version, the ID. Pilot, to go into production by 2025. VW says the steering wheel will fold away and autonomous technology will include "pop-up laser scanners in the roof" and a heads-up display integrating augmented reality.
Will it save you money?
With an estimated sticker price of $40,000, according to Car and Driver, the Volkswagen bus would cost more than the base models for similar minivan favorites such as the Honda Odyssey, starting at about $30,190, or the Toyota Sienna, starting at $31,415. However, there is a federal tax credit for electric vehicles — up to $7,500 depending on the car — and state and local perks that can reduce the price.
And then, of course, there's the money you could save on gas. After years of commuting in electric cars — the Nissan Leaf and the Toyota RAV4 EV — I was amazed how much I saved. The ID. Buzz will, no doubt, score well in this category as well. My calculations showed that over three years of driving about 30,000 miles and paying around $4.00 a gallon, I saved $2,925 compared with driving a small hatchback with a gas engine getting 30 miles per gallon. Later, I installed solar panels and my charging costs dropped even more as I enjoyed filling my "tank" with the energy from the sun.
Humble beginnings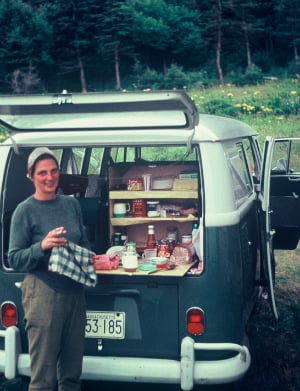 A family friend with the VW Microbus the author fell in love with, circa 1964.
It's hard to mesh visions of the proposed self-driving Volkswagen electric bus with the buses that I rode across Europe in and later owned. What I — and many others at the time — loved about the early Microbus was its simplicity. Maintenance was cheap and, often, self-applied. I carried a toolbox in the back of my bus and a few spare parts. When it quit running I glided to the side of the road, opened the rear hatch and usually found the problem in a few minutes.
Simplicity was part of the initial concept, too. Ben Pon Sr., the first VW importer for the American market, sketched an outline of the Microbus on a napkin during lunch one day in 1947, according to Volkswagen. That napkin's now on display in a museum in Amsterdam — and people still love the iconic bus. In recent years, immaculately restored vintage VW buses have sold for more than $200,000.
But in the U.S. in 1968, a base model cost about $2,200, according to Consumer Guide Automotive. In today's dollars, that's around $16,189, a screaming deal compared with current prices for other minivans. The 2019 Ford Transit Connect passenger wagon, for instance, starts at almost $27,000, while a new Mercedes-Benz Metris passenger van is closer to $30,000.
Of course, it's too early to say exactly how much a new, all-electric bus from VW will cost once it's finally released. But it's hard to imagine it will be anywhere near the price of a mint condition VW Microbus — today or when it was first rolled out.
Can the bus bring back the love?
While it's easy to throw together an eye-catching concept vehicle to generate headlines, VW seems serious about bringing the new bus to the masses. "We want to reignite America's love for VW," Herbert Diess, chairman of the board of management for the Volkswagen brand, said in a statement.
It remains to be seen whether the ID. Buzz, or the much ballyhooed ID. EV lineup — starting with a cool crossover, a practical hatchback and eventually a Tesla Model 3-rivaling sedan — can restore faith in VW. It's also a gamble to try to woo away gasoline-loving Americans, currently hooked on SUVs and pickups, to an EV-heavy lineup. But VW is making a smart bet by wrapping in a time-tested design, which, as VW says, once "put a smile on every face that saw it."
(Top image © 2018 Copyright Volkswagen US; 1964 photo courtesy of Mark S. Chevalier.)