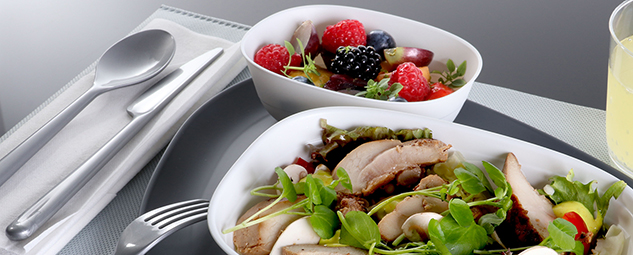 With the rise of basic economy fares and the shrinking of airplane seats, it seems airlines have been taking away what's left of luxury in the main cabin. Now Delta is bringing a little bit of that luxury back.
Economy flyers can expect to see the following new perks starting in November on all international Delta flights more than 6 1/2 hours long, and on some shorter flights as well.
Welcome cocktail
First- and business-class passengers are usually already seated and sipping a drink by the time everyone else is boarding. Now, passengers in economy class will get a free welcome Bellini shortly after departure, made with sparkling wine and peach puree.
Hot towel service and chocolates
Sometimes it's the little things that count. Delta will now offer economy passengers two hot-towel services, one to kick off the flight and another to freshen up before departure. They'll also hand out farewell chocolates during descent.
Upgraded meal options
Delta has redesigned their dinner menu to give passengers more options. Guests will now be able to mix and match appetizers and entrees, which will be served with custom-designed dinnerware and "upgraded cutlery."
There are new recipes, too, inspired by popular first-class dishes like the Harissa shrimp appetizer. That definitely beats the tiny plastic-wrapped processed food in the snack box options on other flights. Entrees will be bigger, too.
Save room for dessert because most international flights will now serve dessert separately from the dinner service.
The bottom line
After years of cutting back, it's rare to see airlines add anything for free to the Main Cabin — in fact, for years airlines have been introducing charges for things that used to be standard perks, such as checked bags and seat selection.
Delta's new economy-class experience bucks that trend in a big way and could apply pressure for other airlines to follow suit. Another improvement you can expect to see in Delta's future is the rollout of new earbuds and headsets for international flights.
These additions sweeten the deal for international Delta flyers, especially those who are flying nearly for free with their SkyMiles. We'd like to see more upgrades for the economy passengers on domestic flights as well.
Photo courtesy of Delta Air Lines.