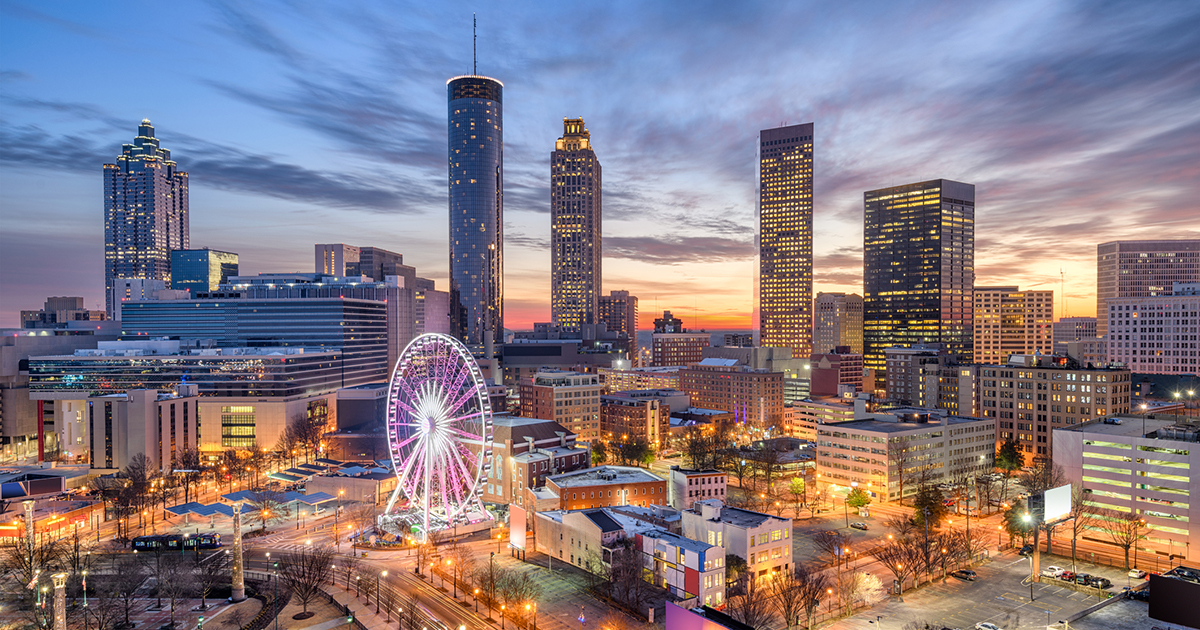 Delta Air Lines is giving customers in some of the biggest U.S. cities more flying options. Earlier this month, the carrier launched new service from Atlanta to Burbank, California, connecting two major cities for film and television production. Later in the year, Delta will also add nonstop service from New York-JFK to Houston.
Here's what you should know about the new routes:
Atlanta to/from Burbank
With the addition of this twice-daily service, Delta now has flights to Atlanta from four Los Angeles-area airports, including LAX, Orange County and Ontario.
Burbank is less crowded than the jam-packed LAX and closer to where much of the movie magic happens. For people in the entertainment industry strongholds of Burbank and Hollywood, this new Delta route provides a more convenient departure airport for work travel to Atlanta, where so many films are produced these days.
Passengers will fly on a Boeing 737-700 aircraft with more than 120 seats. During the flight, they'll have plenty of entertainment options. Passengers can watch movies and TV shows from the seat-back entertainment and take advantage of free messaging. There are also Wi-Fi access, power ports and complimentary snacks and drinks.
Schedule
Departs Atlanta at 8:55 a.m. and arrives in Burbank at 10:29 a.m.

Departs Atlanta at 7:10 p.m. and arrives in Burbank at 8:44 p.m.

Departs Burbank at 11:10 a.m. and arrives in Atlanta at 6:42 p.m.

Departs Burbank at 9:40 p.m. and arrives in Atlanta at 5:04 a.m. (next day)
New York-JFK to/from Houston
Making business travel easier is also the reason Delta is adding new nonstop service between New York-JFK and Houston-Intercontinental, starting Oct. 27, 2019.
The new flights will complement the current schedule of five daily flights between Houston and New York-LaGuardia. JFK offers connections to destinations that LaGuardia doesn't serve, including flights all over the world.
Passengers on this route will fly aboard an Airbus 220, which is one of the newest airplanes in Delta's fleet. Economy tickets on this flight will buy the widest Main Cabin seats Delta offers, with personal power ports and seat-back screens. The airplane also has large overhead bins and windows.
Schedule
Departs Houston at 11:58 a.m. and arrives in New York at 4:22 p.m.

Departs Houston at 6:22 p.m. and arrives in New York at 10:45 p.m.

Departs New York at 8:00 a.m. and arrives in Houston at 11:19 a.m.

Departs New York at 2:55 p.m. and arrives in Houston at 6:14 p.m.
The bottom line
Delta is growing its presence in major markets. Thanks to Delta's economy class perks like free entertainment and messaging, the new routes are good news for everyone from first class to the back of the plane. Delta SkyMiles members who can benefit from the convenience of Burbank or JFK have the most to gain, particularly if they can redeem miles from a Delta credit card for a flight.