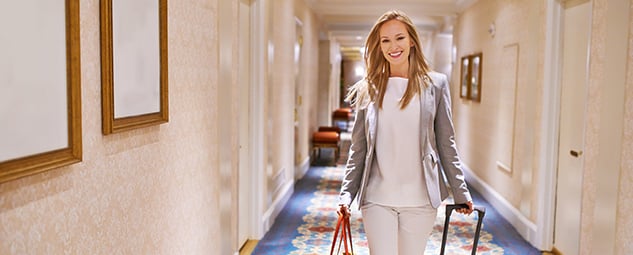 If you're an elite member of United Airlines' frequent flyer program, you can be a VIP in Marriott's loyalty program, too. Or, if you're a high-level elite with Marriott, you can enjoy United elite perks — including, with a little luck, free upgrades to those extra legroom seats in the Economy Plus section of the airplane.
All you have to do is join the two companies' partnership program, RewardsPlus, by signing up online. If you have status with one of the participating programs, you'll get elevated status with the other.
Who's eligible
Marriott members: If you've earned Titanium Elite or Ambassador Elite status, you can match to Silver status on United. (To qualify for one of these Marriott tiers, you have to stay at least 75 nights at a participating Marriott property in one calendar year. If you have a Marriott-branded credit card, qualifying is a little easier because card perks include a jump-start on the nights you need to stay to achieve this status.)
United members: If you've earned Premier Gold status or higher, you can match to Gold Elite status with Marriott. (Earning Premier Gold on United requires amassing 50,000 qualifying miles or 60 qualifying segments and, in addition, spending $6,000 on flights. Short of spending $25,000 in a year on the United credit card for a waiver, there aren't any good ways around that.)
What you'll get
If you match to Marriott: Gold Elite status comes with free Wi-Fi, guaranteed late checkout and a 25% boost to Bonvoy points you earn by staying at Marriott properties.
If you match to United: The best benefit of Silver Elite, by far, is a chance to upgrade for free at check-in to an extra-legroom seat in Economy Plus, depending on availability. You also get a free checked bag and accelerated MileagePlus miles earnings when you buy United tickets.
For all members: You'll save 10% when converting Marriott points to United miles. For example, 50,000 United miles will cost you 140,000 Bonvoy points if you're not enrolled in RewardsPlus but just 126,000 points if you are. In the opposite direction, you can convert United miles to Marriott points at a 1:1 value, though this is generally a poor conversion rate. (NerdWallet values United points at 2.1 cents each, but Marriott points are only worth 0.8 cent each.)
What if I don't qualify?
Even if you can't join RewardsPlus, you can still enjoy a few benefits of United's partnership with Bonvoy. For example, all Bonvoy members get a 5,000-mile bonus when they convert 60,000 Bonvoy points to any of Marriott's airline partners, including United. And if you book a package with a United flight and a Marriott stay, you can earn bonus miles.