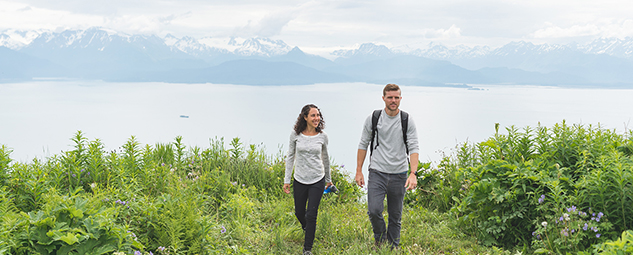 Summer vacations don't have to be summery. When it's 85 degrees and you've already spent a month reading pulp thrillers in the inflatable kiddie pool in the backyard, getting away from it all can mean going somewhere cool. And there's nothing cooler than using points and miles to pay for your dramatic change of climate.
Here are four destinations that will allow you to beat the heat, along with some ways you can use travel rewards to get there.
Cruise to Alaska
Is there anything less beachy than a glacier? You're likely to see one on board a cruise up the panhandle of Alaska. You can also take in sights like orcas, whales or the stunning Misty Fjords national monument.
But even airline miles could work. For example, United MileagePlus cruises lets you redeem your United miles for an Alaska cruise. Seven-night Alaskan cruise departing Vancouver on Holland America starts under 40,000 United MileagePlus miles per person, double occupancy, for an inside cabin.
Hit the slopes Down Under
While vacationers are water-skiing in the northern hemisphere, tourists in Australia and New Zealand are enjoying the full range of winter sports. You can see snow in the middle of August in Victoria, a 35-minute drive from Melbourne airport. But for world-class snow-skiing, fly into Sydney. From there, take a five-hour drive or a one-hour flight to Perisher Ski Resort in New South Wales.
If you're booking award flights through a U.S. airline, it'll generally cost at least 40,000 miles each way to get to Australia or New Zealand. In terms of accommodations, you won't find a lot of award redemption opportunities close to the slopes. Opt instead for a travel statement credit from a card like the Capital One® Venture® Rewards Credit Card. If you're headed to Australia, for example, you could reserve The Man From Snowy River Resort, where cash rates in mid-August start around $635 per night.
Chill in the mist in San Francisco
San Francisco is every kind of cool. Its famous fog brings some of the lowest summer temperatures anywhere on the U.S. mainland. Think average highs of just 67 degrees in July and lows dipping into the 50s at night.
Stroll the breathtakingly beautiful Golden Gate Park, crack some crab down at Fisherman's Wharf or set sail for a bone-chilling tour of Alcatraz.
You could depart from scorching hot Burbank this summer for as few as 5,200 Southwest Rapid Rewards points each way, then check in to the swanky St. Regis San Francisco for 60,000 Marriott Bonvoy points per night. Or use your American Airlines miles to fly at saver levels from anywhere in the U.S. for 12,500 miles each way.
Dive into ice in sweltering Vegas
If you're into contrasts, consider this: Las Vegas, where summer temps can soar past 110 degrees, has put a lot of thought into how to lure summertime tourists who aren't eager to drop dead of sunstroke. The result: some truly cool ways to cool off, like the Arctic Ice Room at the Qua Spa at Caesars Palace, where "snow" falls from the ceiling.
There's also the Minus5 Ice Bar at Mandalay Bay, where you don a borrowed parka before bellying up to a bar made of carved ice to order a frosty cold vodka drink.
Get there from virtually anywhere in the U.S. for 25,000 United MileagePlus miles round-trip, then check in to the Tropicana Las Vegas for just 19,000 Hilton Honors points per night.