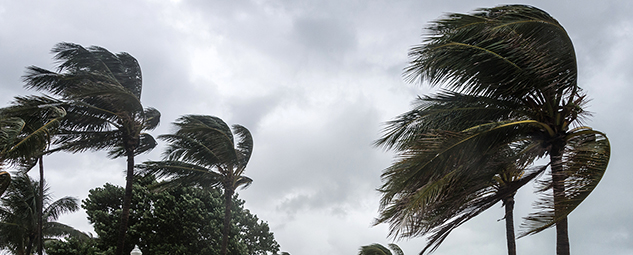 You found a great deal on your trip to the Caribbean, but you didn't realize that deal meant you'd be traveling during hurricane season. Now, there's a storm bearing down, ruining your vacation plans.
If an unexpected natural disaster affects your trip, chances are you can get at least some of your money back if you decide to bail. Here's how.
If you haven't left yet
If you're flying to your destination and Mother Nature is certain to disrupt your flight, contact your airline and ask about weather waivers. If such a waiver is available for your destination, you should be able to change your flights to a later date for no additional fee. There are often time limits on rebooking these flights. The airline representative will be able to provide that specific information for your weather waiver.
Even without a weather waiver, you can always try to reschedule your flight anyway. But be polite, as you're at the mercy of your airline representative when it comes to fees. Elite members usually get rebooking fees waived.
Consider seeing whether your airline will let you travel to another destination. If you're going to a resort with multiple locations, it's possible you can move your vacation to an area not being affected by the natural disaster at hand.
In the case of your hotel, unless you paid a nonrefundable rate, you can generally cancel a booking within 24 to 72 hours of your stay, whether or not natural disaster is involved.
If you're in the middle of travel
Even the best of us sometimes skip the weather report before we travel. If you're mid-layover and an impending storm leads to a cancellation of the rest of your journey, the best bet is to take a multi-pronged approach:
Immediately get in line at customer service.

In the (likely) event that the line is long, call your airline at the same time.

While you're waiting for both, try reaching a representative via Facebook or Twitter message. Flight carriers can be extremely active on social media and are trying to avoid the PR disasters that come with public (social media) shaming.
One tip to potentially get through faster on the phone, according to Scott Keyes, founder of Scott's Cheap Flights: Look up a list of your airline's international call centers. For example, if a flight between the U.S. and Puerto Rico was disrupted, try calling the Australian line to get faster service.
While you're waiting, try to proactively look up alternate flight options so you can feed them directly to the first agent you're able to reach.
Note that once you've begun traveling, it's highly unlikely you'll get your money back from the airline, though it may not be too late to cancel your hotel.
Before you book
A little bit of advanced planning can wind up saving you big time in a travel emergency.
When purchasing travel, read the fine print on cancellation policies for every element of your trip. Even hotels are beginning to adopt stricter cancellation policies. Rules and restrictions vary depending on carrier and location. For example, the European Union has more regulations to assist and protect consumers.
Also, consider not booking an airline's cheapest, no-frills fare (often known as "basic economy"). With main cabin economy, you can generally cancel or change your flight for a fee. However, a basic economy ticket tends to be set in stone after a 24-hour cancellation period. You're out the whole cost of your ticket if you need to cancel, unless there are exceptions, such as weather waivers.
Jeff Cain, senior vice president of specialty divisions at the travel management company Travel and Transport, recommends working with a travel advisor to plan your trip. In addition to their knowledge of the industry and potentially better access to suppliers, travel advisors may be able to help fix your vacation before you even know it's in peril.
Cain says, "We're proactive, so whenever we see an event taking place, we proactively reach out to travelers in case they haven't seen it. We try to be on the leading edge before suppliers get swamped."
What about travel insurance?
Even travel insurance isn't a guarantee in the case of a natural disaster. To ensure you can recoup losses for a canceled trip, you'll need "cancel for any reason" coverage, which comes with a higher premium. Read the fine print on any insurance coverage before purchasing to know what is included, and to what extent. Coverage may only amount to 50% to 75% of your costs, depending on the insurance.
Keyes recommends booking your trip with a credit card, like the Chase Sapphire Preferred® Card, the Chase Sapphire Reserve® or the Ink Business Preferred℠ Credit Card, all of which include some form of protection in the case of a travel disruption. "By far the most promising route [when faced with a canceled trip] is always checking the travel protections on the credit card you booked your flight with. Many credit cards automatically include protections such as compensation for delayed or canceled flights, delayed or lost bags, and other mishaps," Keyes says.
If you believe you're entitled to a refund from an airline, but are having difficulty obtaining it, file a complaint with the Department of Transportation. The airlines then have 30 days to acknowledge the complaint and 60 days within receipt to address these issues with the consumer.