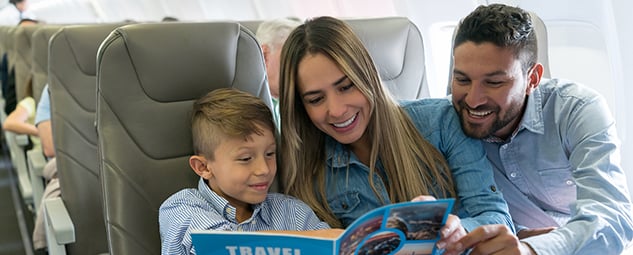 Everybody wants to find cheap flights, and dozens of apps and websites promise amazing flight deals. But when it comes to actually booking a specific ticket, many people end up paying too much.
Scoring cheap flights isn't a matter of luck. Nor does it require hours of research, poring through flight search results. All it takes is a few simple adjustments in how you think about planning travel.
Most people, when they plan a trip, follow a thought process like this:
"I want to visit Barcelona!"

"I've blocked the second week of August off for vacation."

"Let me look for flights to Barcelona during the second week of August."
This is a sure-fire way to spend a ton on airfare. Instead, try these three tricks for scoring cheap airfare:
1. Follow the deals
The first bullet above demonstrates where many people go wrong when looking for cheap flights. Picking a specific destination to visit, like Barcelona, is like picking a specific shoe at a shoe store and hoping it goes on sale. That's not (usually) the best way to score a deal.
Instead, come up with a list of possible destinations or even regions that you'd like to visit. Aim to book the next flight deal that matches your interests.
This will not only dramatically reduce the cost of your airfare, it can provide excitement and spontaneity in its own right. Maybe you were hoping to visit Costa Rica but end up finding an amazing deal to Cartagena, Colombia — an amazing destination you might never have thought to visit.
But to follow the deals, you first need to find the deals…
2. Set up deal alerts
Online travel tools like Kayak and Expedia are great for finding specific flights, but they won't tell you when the really amazing deals pop up. Other sites like The Flight Deal and Secret Flying offer lists of great deals, but don't alert you of deals from your home airport.
The best option is to get alerted about deals you care about. Here are a couple of our favorite options:
IFTTT ("If This Then That") is an app that can be customized to get alerts for almost anything. It takes a little setting up, but it's well worth the hassle you'll save by not manually checking flight deal sites. Simply set up an alert for a flight deal containing your home airport and you'll receive an alert when a match is found.
There are many email-based flight deal services, but look for ones like Dollar Flight Club that let you set your home airport. Simply provide your home airport and Dollar Flight Club will send you an email alert when it finds deals 60% to 90% below the average price. You can sign up for free, though a paid version offers more options and deals.
3. Embrace shoulder season
You want to visit Barcelona in the summer? So does everybody else — and airfare prices will reflect this demand.
High-season deals are not unheard of, but in general you're much more likely to find cheap flights during the so-called "shoulder seasons" that immediately precede and follow peak travel times.
Not only are flights cheaper during shoulder season, but so are hotels, car rentals and tours. Shoulder season is a budget traveler's best friend.
The bottom line
Many people think finding cheap flights requires either luck or obsession. In fact, you don't need either. Simply change your approach to travel planning from this:
"I want to visit Barcelona!"

"I've blocked the second week of August off for vacation."

"Let me look for flights to Barcelona during the second week of August."
"I want to visit somewhere cool!"

"Let me see what deals come up on my custom alert."

"I plan to visit during the shoulder season."