At NerdWallet, we strive to help you make financial decisions with confidence. To do this, many or all of the products featured here are from our partners. However, this doesn't influence our evaluations. Our opinions are our own.
Brex recently announced some exciting airline transfer partners. Brex cardholders can now transfer their points to:
Singapore Airlines.
Cathay Pacific.
Avianca.
Air France/KLM.
Aeromexico.
Qantas.
For those unfamiliar with Brex, it's a startup-focused company that has partnered with Barclays on two rewards credit cards: Brex Card for Startups and Brex Card for Ecommerce
» Learn more: Review: Brex Card for Startups
Brex Exclusive members (who do not use another card) can transfer their points to these programs at a 1:1 ratio, meaning 1,000 Brex points can become 1,000 airline miles. For other members, the ratio is 1.5:1, which means 1,500 Brex points would translate to 1,000 airline miles.
Brex points can still be redeemed for 1 cent each when used to book travel directly, but transferring to these partners can unlock much better value. Here are some tips and sweet spots for getting the most from Brex's new airline partners.
Fly round-trip to Hawaii for 35,000 Singapore miles
Hawaii is a popular vacation destination, but also quite expensive, even if you're using points. United Airlines, for example, requires 45,000 miles roundtrip for an economy-class flight. You can save 10,000 miles by redeeming through United's Star Alliance partner, Singapore Airlines, instead.
Singapore Airlines charges just 35,000 miles round-trip for a United ticket between North America (mainland U.S. and Canada) and Hawaii. As a Brex transfer partner, redeeming through Singapore can represent an excellent use of points.
Fly round-trip to Europe for 55,000 Singapore miles
Singapore Airlines has some of the most luxurious premium cabin seats in the air. Many "Best Ways to Use Singapore Miles" articles promote booking these high-end experiences. However, the availability of first class "suites" is abysmal, so we recommend a more pragmatic approach.
Singapore KrisFlyer miles can be used to book flights on Star Alliance partners. Economy tickets to Europe, for example, start at 27,500 miles each way with minimal fuel surcharges. We found a round-trip flight from San Diego to London on United for 55,000 miles plus $11.20 in surcharges. The same flight cost $1,237 when paying cash. That comes out to 2.2 cents per Singapore mile — far better than the 1 cent per mile when used to book the flight directly.
Fly Cathay Pacific first class to Asia for 110,000 miles each way
Another airline with outstanding business and first-class experiences, Hong Kong-based Cathay Pacific offers good value with their Asia Miles program. For example, you can fly from North America to much of Asia in their renowned first-class cabin for 110,000 miles each way. That's a lot of miles, but it could be worthwhile if you're looking to splurge on a once-in-a-lifetime experience.
A relatively easy way to search for availability is through the British Airways reward search tool.

Once you've found first-class availability on British Airways, transfer your Brex points to Cathay's Asia Miles program and book the flight there.
Cathay generally opens first-class availability either far in the future or within a few weeks of travel.
» Learn more: Review: Cathay Pacific first class, L.A. to Hong Kong
Fly last-minute to Europe in Lufthansa first class for 87,000 Avianca miles (or less)
Colombia-based Avianca is another Brex partner in the Star Alliance, and its LifeMiles can be used to book flights around the world. What's more, Avianca doesn't charge fuel surcharges for partner flights, which can save you hundreds of dollars.
If you're flexible enough to book your travel within a week or two, you can often snag Lufthansa first class tickets directly to Munich or Frankfurt for 87,000 Avianca LifeMiles each way, plus minimal fees. But get this: If you add a non-first-class leg to another Lufthansa destination in Europe, you'll actually pay fewer total miles than the direct flight.
For example, we found a flight from New York-JFK to Budapest via Munich for only 86,070 LifeMiles.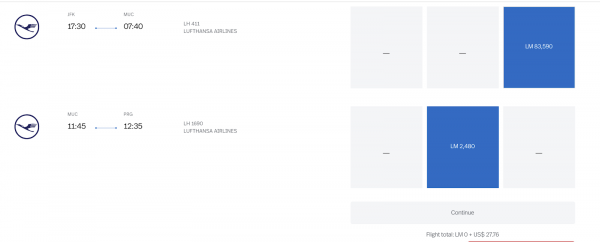 The first (long) leg is in first class; the second is in business class. The total is (slightly) less in LifeMiles than the first-class direct flight.
The same last-minute summer ticket cost a whopping $11,092 round-trip, or $5,546 each way. So this award booking equates to a value of a whopping 6.4 cents per mile.
The bottom line
With a foot in each major airline alliance (Oneworld, Star Alliance and SkyTeam), Brex points can now be used to travel almost anywhere in the world. We've only touched on a few ways they can be transferred and redeemed for more than their baseline value of 1 cent per point, but the possibilities are almost endless.
That said, if wading through award search results isn't your cup of tea, you can still use Brex points as "cash" and avoid these complications.
Planning a trip? Check out these articles for more inspiration and advice:
Find the best travel credit card for you
Brex Card rolls out big travel rewards for small businesses
Brex launches card geared toward e-commerce companies