At NerdWallet, we strive to help you make financial decisions with confidence. To do this, many or all of the products featured here are from our partners. However, this doesn't influence our evaluations. Our opinions are our own.
The Federal Trade Commission offered some advice Wednesday to people affected by the Equifax data breach who were hoping to get $125 cash: Take the free credit monitoring instead.
Yes, you still have a choice between a cash payment and four years of three-bureau credit monitoring — but the sobering reality is that the payment is "up to" $125, not a flat $125.
The FTC said in a press release that "millions of people" have filed claims in the past week, and noted: "The pot of money that pays for that part of the settlement is $31 million. A large number of claims for cash instead of credit monitoring means only one thing: Each person who takes the money option will wind up only getting a small amount of money. Nowhere near the $125 they could have gotten if there hadn't been such an enormous number of claims filed."
It said the credit monitoring option is worth hundreds of dollars and a better choice than the cash. Privacy expert and CyberScout founder Adam Levin agrees. He said if you were a victim of identity theft, even the full $125 would be "couch lint."
Why the confusion?
The settlement website's homepage gives affected consumers a high-level summary of remedies they can claim. It presents the first choice as "free credit monitoring or $125 cash payment" — and only those who read the FAQs would learn that a high number of cash claims would proportionately reduce what each consumer received.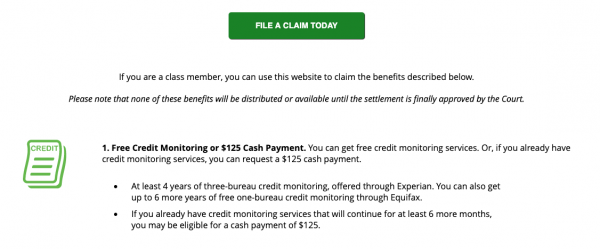 As of early Wednesday afternoon, the website, administered by JND Legal Administration, still used that wording with no "up to" or asterisk for consumers affected by the 2017 breach.
The FTC webpage explaining the settlement now downplays mention of the cash payment in its overview, but explains in the FAQs that it's still available as a choice — with the warning that you're likely to get much less.
I already filed, what should I do?
The option to revise your choice between credit monitoring and cash came after the settlement site was flooded with claims. The $31 million to cover the cash payments is enough to pay the full $125 only if 248,000 people opted for it — that is less than one-fifth of 1% of the 147 million victims. If more people apply, the per-person amount goes down.
If you chose the cash payment, look for an email from the settlement administrator, the FTC said. You'll be given the opportunity to choose credit monitoring instead of the check or prepaid card you initially signed up for. If you don't want to wait for an email, you can reach out to JND at [email protected].
If you want the cash, no matter the amount, you will still need to respond to the email because you will need to provide the name of your credit monitoring service.
If you haven't yet filed, you still have plenty of time: The deadline is Jan. 22, 2020. But do set up a reminder for yourself so that you don't forget.
The settlement website still appears to have some issues, and the Identity Theft Resource Center, a nonprofit that helps identity theft victims recover, says it's wise to take your time.
"Filing without thinking through all of the possibilities or having all the supporting documentation could shortchange your identity hygiene in the long run," a post on its website warns.
The FTC press release noted that the other forms of relief are still available. There are separate pots of money to pay for time spent responding to the data breach, or to cover money you paid out of pocket for credit monitoring or breach-related professional services.
No matter what selection you make — and even if you were not affected by this data breach — the best protection is to proactively freeze your credit. A freeze blocks access to your credit records, which is an effective barrier if scammers try to open credit in your name.