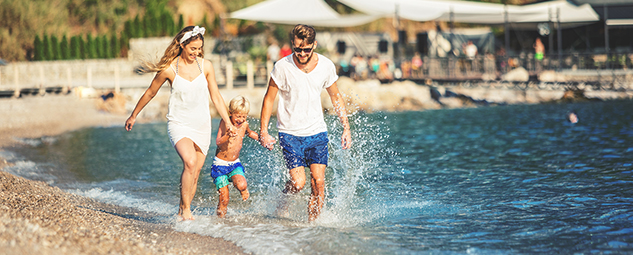 Summer's halfway gone, but if you haven't yet had a chance to enjoy some time in the sand and surf, it's not too late.
Here are three places where you can use points and miles to close out your summer with a Labor Day weekend beach getaway.
A private beach on Florida's Gulf Coast with Hyatt points
Ft. Myers, Florida, is known for its beautiful beaches, and Naples for its pier and shopping, but the lesser known Bonita Springs is about a half-hour from both and is home to the Hyatt Regency Coconut Point Resort and Spa, where you can stay for 20,000 points a night. The average room rate over Labor Day weekend was $231 when we checked, plus taxes and a $30 daily resort fee.
This resort has a free ferry that takes you out to a private beach. There are also pools with waterslides on site, and a lazy river at a sister property you can access by courtesy shuttle.
If your Hyatt balance is low, you can transfer points from the Chase Ultimate Rewards® program to World of Hyatt to book the Coconut Point resort. Or if you're willing to forgo the resort experience, you can stay at the lower-priced Hyatt Place Coconut Point a couple of miles inland for 12,000 points or around $114 a night plus tax.
While you're in the area, if you're looking for a beach on a barrier island, check out Sanibel (near Ft. Myers) or Marco Island (just south of Naples).
Thrills and chills using Radisson points near Virginia Beach
The hotel is near Busch Gardens and Water Country theme parks, though you'll have to drive a half-hour or so to get to the ocean.
Rooms were priced at 28,000 Radisson Rewards points per night, or $127 plus tax, over Labor Day weekend when we checked.
Harbor views in San Diego on Marriott points
West Coasters, we haven't forgotten about you: Labor Day weekend almost guarantees you slam-dunk-gorgeous weather in Southern California.
For 35,000 Marriott points per night (or an average base rate of $223 per night when we checked), enjoy harbor or city views at the Sheraton San Diego Hotel & Marina. The hotel is a short 5-minute drive from downtown San Diego and about 10 minutes in the opposite direction to Mission Beach, where you can rent bikes on the boardwalk or just enjoy the sound of the surf.
As with Hyatt, you can transfer Chase Ultimate Rewards® points directly to Marriott if your balance is low — or you can book the room outright through the Ultimate Rewards® travel portal, which may represent a better value.
The bottom line
No matter where you're staying, if you want to get away for Labor Day weekend and haven't already booked your hotel, act fast, as inventory is sure to go quickly (especially if you're using points). If you change your mind, most chains will let you cancel as late as 24 to 48 hours in advance of your stay, but always read the cancellation policy before booking just to be sure.