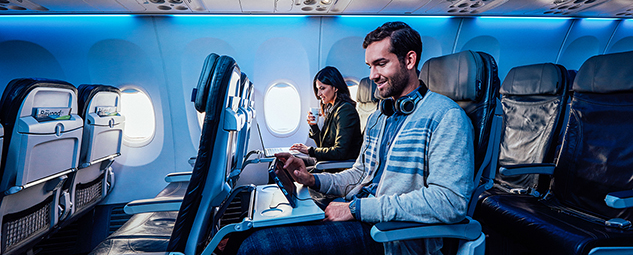 As business travel rewards credit cards have become more popular, the perks and bonuses extended to cardholders have expanded. Generous point bonuses are standard, so additional benefits are the way to stand out.
Alaska Airlines is making a play to be the loyalty card of choice for West Coast travelers, with two new benefits on the Alaska Airlines Credit Card – Business. This makes an already generous business travel card even more enticing. So what's new?
50% off day passes at Alaska Lounge locations
A 50% discount on Alaska Lounge day passes is the first big new addition to the card. Airport lounges have long served as a refuge from busy airport terminals for discerning travelers. Some credit cards offer access to airport lounges, but these cards often carry high annual fees. Think upward of $595.
Most lounges also tend to have restrictions on who can access them, like requiring a ticket on the corresponding airline. Alaska Lounge day passes are available for same-day ticketed travel on any airline. This opens up a world of opportunity for travelers to take advantage of Alaska lounges at some of the busiest airports in the United States. There are active Alaska lounges at the following airports, with an eighth under construction in San Francisco:
Anchorage, Alaska.

New York-JFK.

Los Angeles.

Portland, Oregon.

Seattle (three lounges).
These airports can be incredibly busy. Lounge access provides a getaway with food and drinks, productivity tools and ways to relax before your flight. A single day pass to these lounges normally costs $50, but the new benefit for Alaska Airlines Credit Card – Businessholders cuts that down to $25.
20% back on in-flight food, beverages and Wi-Fi
The card now provides a flat 20% statement credit for inflight food, beverage and Wi-Fi purchases. This is great for Wi-Fi use on the flight home. Catching up on email, following up with new contacts and just being accessible can mean the difference between being buried under emails during the next workday and slipping back into a normal work rhythm.
Legacy benefits are still great
The two new perks listed above are in addition to the plethora of longtime benefits that cardholders continue to enjoy. With a low annual fee of $50 for the company and $25 per card, this is an affordable travel card for businesses of every stripe.
New cardholders can receive a sign-up bonus of 40,000 miles and access to a companion fare by making purchases of $2,000 or more within the first 90 days. That's a relatively low initial spend bonus that can be easily met by most small businesses. Cardholders receive a free checked bag for themselves and up to six guests on the same reservation, making travel cheaper for large groups.
The companion fare is issued annually on the account anniversary. It allows you to bring a companion with you on the same flight in coach for as little as $121 ($99 plus taxes and fees) when you book through Alaska.
The new benefits for the Alaska Airlines Credit Card – Business make it desirable for West Coast travelers — even those who aren't regularly flying on Alaska Airlines. Lounge access can be tricky to navigate, and the 50% discount on Alaska Lounge day passes is a great way for employees and business owners to make travel more relaxing. The benefits multiply when using the card while traveling on Alaska Airlines, with 3 miles per $1 spent directly on Alaska Airlines purchases.