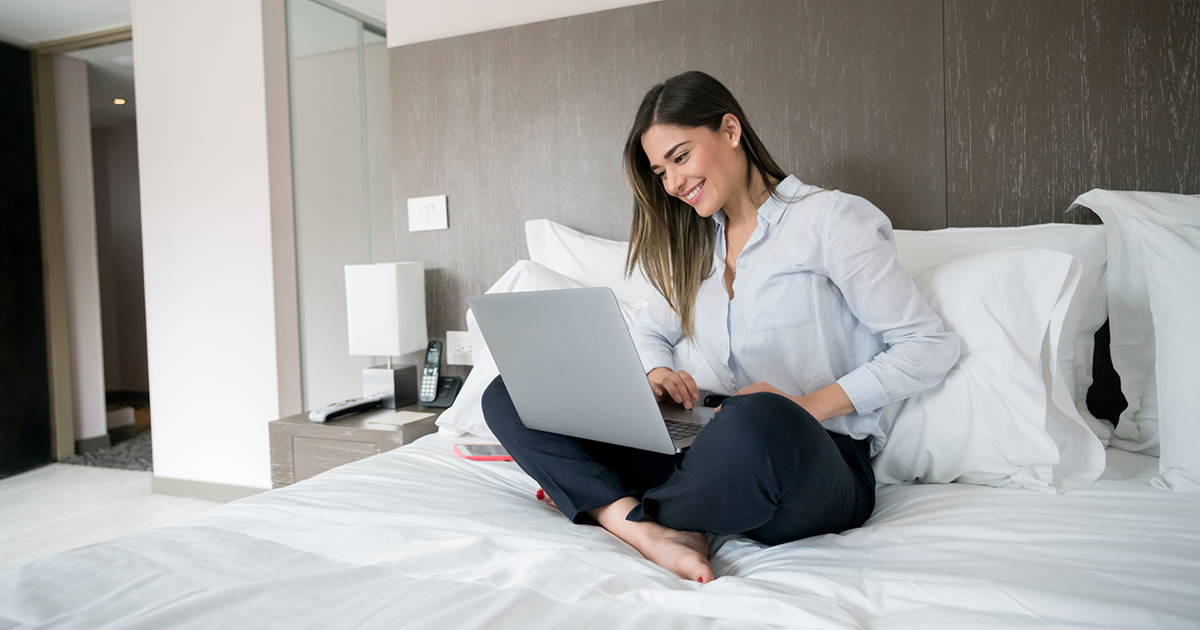 At NerdWallet, we strive to help you make financial decisions with confidence. To do this, many or all of the products featured here are from our partners. However, this doesn't influence our evaluations. Our opinions are our own.
Is hotel loyalty even worth it anymore? That's a question many frequent travelers have asked as major hotel brands devalue their programs and make earning and redeeming points more difficult.
For some, the perks offered at lower elite tiers from major hotel chains like Hilton, Hyatt, IHG and Marriott are underwhelming. Do the extra points, occasional upgrades and free bottles of water really make up for the inconvenience of narrowing your hotel searches to a single brand?
If the answer is "no" for you, consider switching loyalty to the Hotels.com rewards program. The online booking giant's wide availability and straightforward stay-10-nights-get-one-free reward structure make it compelling in its own right. And combining it with the fantastic 10x miles per dollar spent through Hotels.com/venture with the Capital One® Venture® Rewards Credit Card makes it almost a no-brainer for reward-savvy travelers.
» Learn more: Capital One® Venture® Rewards Credit Card review: Stress-free 2% travel rewards
Here are a few reasons the Hotels.com rewards program is worth considering.
Simplicity
The biggest selling point of the Hotels.com rewards program is its simplicity. You don't have to track elite-qualifying stays, scramble to meet status challenges or try to find ways to "maximize" your points. You simply get one free night on any eligible property for every ten nights you book.
The value of the free night is determined by the average of the ten paid nights. You also have to pay taxes and fees, which makes the free night less valuable than it seems at first blush. For example, I recently stayed at the TWA Hotel at JFK and paid $243 total, $44 of which was taxes and fees. That's not an insignificant amount for a "free" stay.
Still, knowing you have a Hotels.com credit worth a certain amount is much simpler than knowing you have 20,000 Marriott Bonvoy points.
Availability
The Hotels.com rewards program offers more options and wider availability than any traditional hotel loyalty program.
Hotels.com boasts more than 500,000 hotels and growing. By contrast, the relatively enormous Marriott portfolio has only 7,542 hotels. So the Hotels.com program offers more than 66 times the redemption options.
What's more, Hotels.com "reward nights" aren't subject to the blackout dates and inconsistent availability of standard hotel reward nights, because they're effectively cash bookings. If a room is available on Hotels.com, you can book it with your free night.
» Learn more: Travel loyalty program reviews
Return for your money
The Hotels.com rewards program offers a decent payback on its own. For example, a 10-night stay at the TWA Hotel mentioned above would cost $2,430 ($243 x 10) and yield a free Hotels.com night worth $199 (the average cost of each night, minus taxes and fees). That's an almost 8.2% return.
When you combine the free night with the 10 miles you get for every dollar spent with the Capital One® Venture® Rewards Credit Card on Hotels.com/venture, the payoff is unparalleled. Those 10 points per dollar are earned on entire cost of the booking, not just the base room cost. Since Capital One miles can be redeemed for travel for one cent each, that's an additional return of 10% on the cost of the booking. That brings the total return to 18.2% when combined with the free night.
In other words, if you spend $3,000 on hotels in a given year, you'll get roughly $546 in rewards back. Put simply, that beats other hotel loyalty program and credit card combinations.
Drawbacks
The Hotels.com rewards/Capital One® Venture® Rewards Credit Card duo isn't for everyone. Despite its advantages in terms of simplicity, availability and payback, it lacks features of standard hotel loyalty programs that some travelers value highly.
This combo doesn't entitle you to any of the elite perks you might otherwise get with hotel chains, such as late check-out, suite upgrades and free breakfast. Those can be hugely valuable for some travelers, and the perks only increase the higher your status climbs.
The 10x miles promotion with the Capital One® Venture® Rewards Credit Card ends in January 2020 and may not be renewed. It's technically a promotion, not a built-in feature of the card. So your "loyalty" might not be rewarded in the long-term.
It kills the fun of points maximization. Some of us enjoy the game of finding ways to maximize our hotel points, even if it's inconvenient.
Additionally, you'll pay an annual fee of $0 for the first year, then $95, to carry the Capital One® Venture® Rewards Credit Card. That might take a bit of a bite out of the value of the partnership, though the card's annual fee also entitles you to a range of other perks.
The bottom line
Feel like you're not getting much from your current hotel loyalty program? Interested in testing the hotel loyalty waters and not sure where to start? The combination of the Hotels.com rewards program with the Capital One® Venture® Rewards Credit Card offers a hard-to-beat value for those who prefer payback over VIP treatment.
How to maximize your rewards
You want a travel credit card that prioritizes what's important to you. Here are our picks for the best travel credit cards of 2019, including those best for:

Planning a trip? Check out these articles for more inspiration and advice:
Find the best travel credit card for you
A free night in Barbados with a Hotels.com bonus
Is the Capital One Venture Credit Card Worth Its Annual Fee?