At NerdWallet, we strive to help you make financial decisions with confidence. To do this, many or all of the products featured here are from our partners. However, this doesn't influence our evaluations. Our opinions are our own.
Maybe you want the free upgrades. Or you're in it for the bonus frequent flyer miles. Or maybe you just covet those little ramekins of warm nuts.
Whether you fly often already with Alaska Airlines or are considering switching loyalty from another airline, MVP Elite status can be hugely rewarding. It can also feel overwhelming. In this guide, we break down how to earn MVP status with Alaska, the benefits you'll get from the three elite tiers and details on upgrading to first class.
How MVP status works
Alaska Mileage Plan members earn MVP status either by flying on Alaska and its partners or via status matching (explained below).
You keep your status for the remainder of the year in which you earn it, as well as the following calendar year. For example, if you reach MVP Gold status in April 2020, you'll enjoy the benefits of that status through December 2021.
You can even keep your status indefinitely by becoming a Million Miler. The requirement (you guessed it) is flying 1 million miles on Alaska-operated flights. That will earn you lifetime MVP Gold status. If your goal is lifetime MVP Gold 75K status, 2 million miles will get you there.
» Learn more: Alaska Airlines Mileage Plan: Your complete guide
The three tiers explained
Alaska offers three tiers of elite status:
MVP
MVP Gold
MVP Gold 75K
Each tier provides bonus frequent flyer miles, the opportunity for upgrades to premium and first class, free checked bags and other benefits. The higher tiers receive even better benefits. Here's the full breakdown:
Mileage bonus: Alaska elite members earn extra frequent flyer miles for flying. For example, if you have MVP Gold status and receive a 100% mileage bonus, you'll earn a total of 2,000 miles for a 1,000-mile-long flight. Note that this bonus only applies to miles flown, not those earned through credit cards or other means. Additionally, the bonus does not apply to elite-qualifying miles (see below).
Earning MVP Status
Alaska elite status is earned in one of three ways:
Earning enough elite-qualifying miles within a calendar year
Earning enough elite-qualifying segments within a calendar year
Matching status from another airline (see "status matching" below)
An important note: The number of elite-qualifying miles earned on qualifying partner airlines needed for each tier is higher than those flown on Alaska Airlines. For example, to earn MVP status, you'll need 20,000 elite-qualifying miles earned on Alaska flights or 25,000 miles earned on any combination of Alaska and elite-qualifying partner flights. The table below outlines the difference for the other tiers.
Elite-qualifying miles are miles earned by flying on Alaska and its qualifying partners. They do not include:
Bonuses earned from loyalty status.
Miles earned on co-branded credit cards.
Award tickets (which do not earn any miles).
Elite-qualifying segments are the individual portions of a given itinerary. So a roundtrip flight with a stop in each direction would earn four qualifying segments.
» Learn more: Review: Alaska Airlines Visa Signature® credit card
First-class upgrades
One of the most compelling — and confusing — benefits of Alaska MVP elite status is the opportunity to receive upgrades from the main cabin to first class.
There are three ways to leverage your elite status to get yourself in front of the curtain:
Instantly upgrade to first class by purchasing an appropriate "First Upgrade" ticket
Join the waiting list for complimentary upgrades
Use an MVP Guest Gold guest upgrade
Buy an appropriate 'First Upgrade' ticket
Each flight has a certain number of "First Upgrade" fares available. As an Alaska elite, you can buy these fares directly at a lower price than the full first-class fare. You have to use the Alaska search tool.
To see these fares, click the "all search options" below the flight search tool on the Alaska homepage.

Then select the "Upgrade Type" dropdown and select your own elite status tier.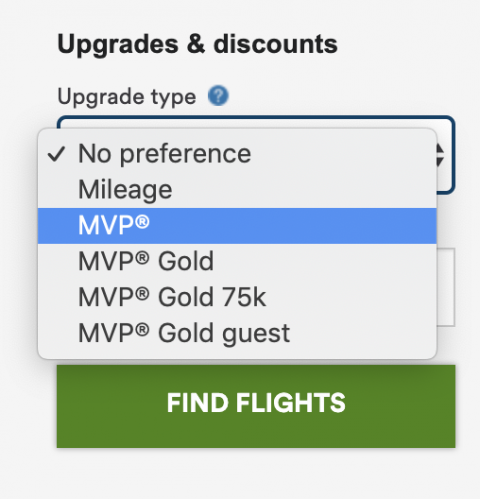 You'll be presented with a search result that looks like this:

Note the all-important "F" box to the right of the departure time. A blue box indicates that the fare is available for immediate upgrade. A white box indicates that it isn't. In general, you'll only want to select the available blue fares. As you can see above, the MVP Gold upgrade fare is only $444 compared to $649 for the normal first class ticket.
These upgrades do not apply to companions on the same itinerary who do not have the same MVP status.
Note: Alaska's basic economy "saver fares" are not eligible for upgrades.
Join the waitlist for complimentary upgrades
If you don't want to shell out extra for an instant upgrade, you can always roll the dice and hope for a complimentary one. If you have elite status with Alaska, you'll automatically qualifying for a complimentary upgrade, unless you opt out.

Your chances of scoring a free upgrade depends on a number of factors:
The availability of first class seats.
Your elite status tier.
The number of Alaska elites on the same flight.
The "fare class" of your ticket (generally, how expensive it was).
When your ticket was purchased.
Complimentary upgrades begin clearing 120 hours prior to departure for MVP Gold 75K members, though the upgrade waitlist is only viewable 24 hours prior to departure.
Overwhelmed? Don't worry — Alaska will handle everything after you opt in for the upgrade.
Use an MVP Guest Gold guest upgrade
MVP Gold and Gold 75K members receive four Gold guest upgrades per year. The term "guest" here is a little misleading since they can be used to upgrade your own travel, as well as anyone else flying on Alaska.
The upgrades can be applied to any Alaska flight with available first class availability, except tickets in the G, T, R, or X classes of service. Basically, you should use the "MVP Gold Guest" selection in the search dropdown when looking for a qualifying ticket.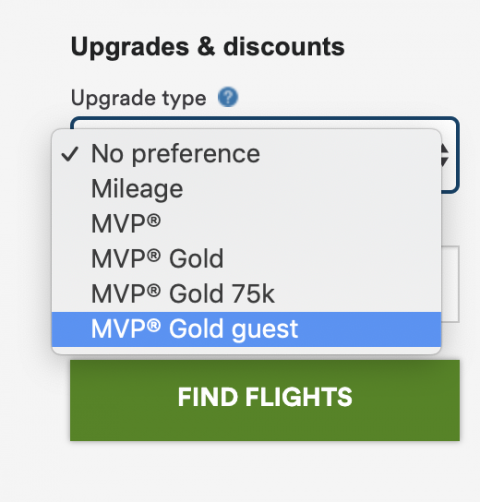 Again, look for flights with the blue "F" and avoid those with a white "F."
Premium class upgrades
Alaska's premium class at the front of the main cabin offers extra legroom and perks such as a free alcoholic drinks. Cash upgrades start at $15 per leg and vary based on the length of the flight. Alaska elite flyers are eligible for free upgrades. The process for premium class upgrades are similar to first class, with a few differences.
Some fares are eligible for instant upgrades, depending on your MVP tier. When searching on the Alaska tool, enter your tier in the "upgrade type" field. The price of a premium class fare will appear in a separate column.

Note: You can ignore the "F" boxes when researching premium class upgrades.
Similar to first class upgrades, main cabin fares are eligible for complimentary upgrades based on availability and your elite tier. Keep in mind that Saver fares are not eligible for premium-class upgrades.
» Learn more: You can now use AmEx points to bid on flight upgrades
Partner earning and benefits
Alaska's 18 airline partners offer a good way to earn elite-qualifying miles, especially when flying internationally.
Earning on partners
Before you book an around-the-world flight hoping to score MVP Gold 75K status, keep in mind:
The number of elite-qualifying miles needed to reach each tier is higher when partner flights are included.
Flying economy class on most partners may result in earning just 25% of the actual miles flown.
The number of miles earned varies by partner and fare class. Check each partner page to calculate how many elite-qualifying you'll receive from a given flight.
Some sweet spots:
All economy flights on Qantas earn 100% of flown miles. Given the distance of all Qantas flights from North America, this can be a great option for earning status.
First-class and business-class tickets on British Airways offer "class of service" bonuses up to 200% of flown miles. A 10,000-mile flight in first class (F) will earn 30,000 elite-qualifying miles (10,000 miles + 20,000 class of service miles), enough for instant MVP status.
Partner benefits
Some of Alaska's partners extend lounge access to MVP Gold and Gold 75K members when flying through their hubs. These include:
British Airways (London-Heathrow).
Icelandair (Keflavik).
Hainan airlines (multiple airports in mainland China).
Qantas (multiple airports in Australia).
Status matching
Already have status with another domestic airline and are interested in switching to (or testing out) the MVP program? Alaska offers one of the most generous and straightforward status matching programs out there.
To see which MVP tier you qualify for based on your current airline elite tier, check this page.
To receive the status match, you'll need to prove your current elite status through Alaska's status match tool. All you'll need is a screenshot of your current status membership page.
Note:
You'll only receive the corresponding status until the end of the calendar year, it will not extend into the following year. Therefore it's generally best to do your status match as early in the year as possible.
You can only status match once.
The bottom line
Alaska's MVP elite status program is a great way to improve your flying experience. The details of the program can feel overwhelming at first, but compared to many other domestic programs, it's actually fairly straightforward. The only thing you need to do to earn MVP status is fly a bunch on Alaska and its partners.
Want to learn more about earning and redeeming miles on Alaska? Check out our guide to the Alaska rewards program.
How to maximize your rewards
You want a travel credit card that prioritizes what's important to you. Here are our picks for the best travel credit cards of 2019, including those best for:

Planning a trip? Check out these articles for more inspiration and advice:
Find the best travel credit card for you
How to get the most from the Alaska Airlines Companion Fare
5 surprisingly affordable Alaska Airlines destinations