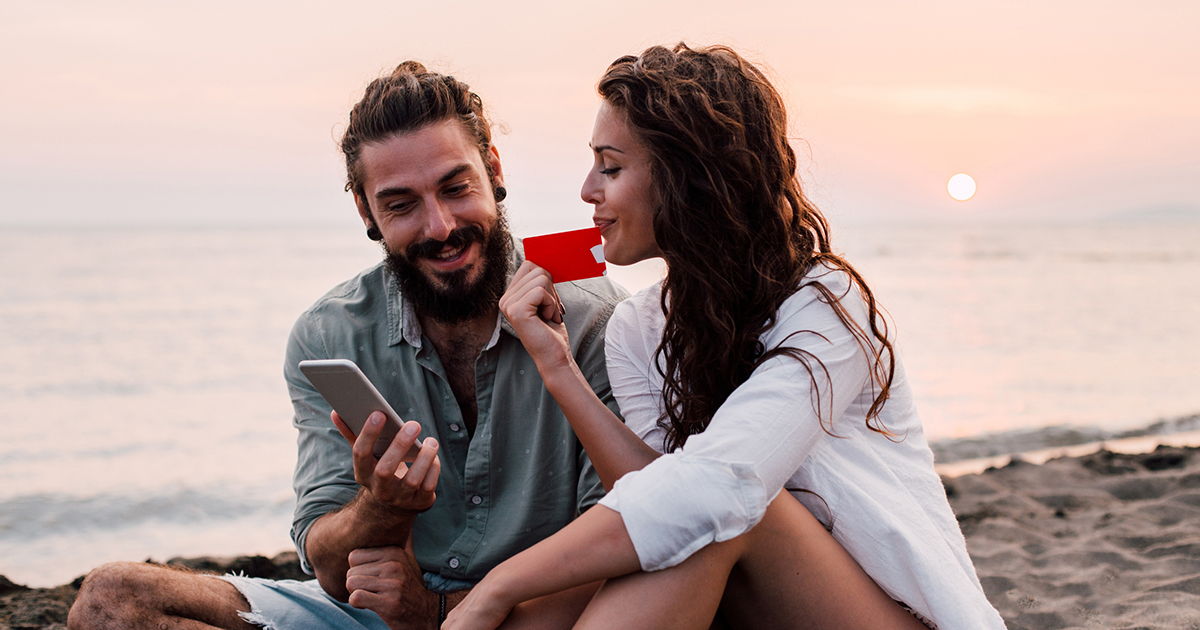 At NerdWallet, we strive to help you make financial decisions with confidence. To do this, many or all of the products featured here are from our partners. However, this doesn't influence our evaluations. Our opinions are our own.
With a sign-up bonus, a 50% companion discount, free checked bag and lots more nice benefits, there's plenty to like about the Hawaiian Airlines® World Elite Mastercard®. But it's not for everyone. Like any travel rewards card, it's better suited for some travelers than for others. Here's how to know if this Hawaiian Airlines-branded card is for you.
You plan to fly Hawaiian's routes
The bonus you'll earn if you hit the card's minimum spend can be redeemed many ways. The current sign-up bonus is as follows: Limited Time Offer: Earn 60,000 bonus miles after spending $2,000 on purchases in the first 90 days
Hotel stays, flights on JetBlue and car rentals are just a few of the redemption options. But that flexibility obscures an important fact: Hawaiian miles go farthest when you use them for travel on Hawaiian Airlines.
» Learn more: 5 things to know about the Hawaiian Airlines® World Elite Mastercard®
For example, a JetBlue flight that would cost $340 in cash can be had for an estimated 45,000 Hawaiian Miles, getting you 0.7 cent for every mile. Compare that to a redemption on a Hawaiian flight, like a mid-September round trip from Seattle to Honolulu that costs $402 in cash but just 35,000 Hawaiian Miles. That comes out to 1.1 cent per mile. That's almost 60% more value for the same miles.
So for anyone considering this card, the biggest question is how often you want to travel on Hawaiian Airlines. From North America, there are four nonstop destinations: Oahu, Maui, Kauai and the Big Island. Hawaiian also offers connecting service to Lanai and Molokai.
You live in a city Hawaiian serves
Thirteen airports in North America are served by Hawaiian Airlines. Most of them are on or near the West Coast, but Hawaiian also flies to Boston and New York. You'll get a lot more out of this card if you live in or near one of these cities.
You plan to purchase travel from Hawaiian Airlines
The Hawaiian Airlines® World Elite Mastercard®, which has an annual fee of $0 intro for the first year, then $99, gives you miles for everyday purchases. But, again, regular flyers on Hawaiian Airlines get more. When you use the card to make a purchase from Hawaiian Airlines, you'll earn 3 miles per $1 spent. You'll also earn 2 miles per $1 spent on gas, dining and groceries, and 1 mile per $1 on all other purchases.
» Learn more: Baffled by points and miles? Let the 80/20 rule guide you
You can buy two round-trip Hawaii fares within 13 months
New cardmembers get a pass for 50% off a companion's round-trip fare from the mainland U.S. to the islands on Hawaiian Airlines when purchasing two tickets with cash. The companion discount is good for 13 months — all the while, those 60,000 bonus miles are burning a hole in your pocket. If you're willing to let those miles sit in your account as you pay cash for your next trip to Hawaii, that 50% off is valuable. But if you can't put two Hawaii trips on your horizon — a cash fare to get the discount followed by a mileage redemption — this perk might not be as good as it first seems.
You have a family member or travel companion who also has the card
The Hawaiian Airlines® World Elite Mastercard® lets you transfer miles back and forth with another cardholder for free. Compare that to an airline program like American AAdvantage, where sharing your miles with a friend can cost hundreds of dollars. The ability to share miles without paying a fee can help you redeem rewards faster.
You'll make use of the card's other perks
A few more cardmember benefits sweeten the deal. For example, this card carries no foreign transaction fees. This is a must-have feature for any card you plan to use out of the country, as it can save you around 3% percent on every purchase you make abroad.
And don't ignore those two little words right on the front of the card: "World Elite." This category of Mastercard comes with a whole range of travel perks, from incentives on Lyft rides to discounts on Postmates food delivery to global emergency services.
How to maximize your rewards
You want a travel credit card that prioritizes what's important to you. Here are our picks for the best travel credit cards of 2019, including those best for:
Planning a trip? Check out these articles for more inspiration and advice:
Find the best travel credit card for you
How to sidestep the potential pitfalls of travel credit cards
Earn more points and miles with these 6 strategies