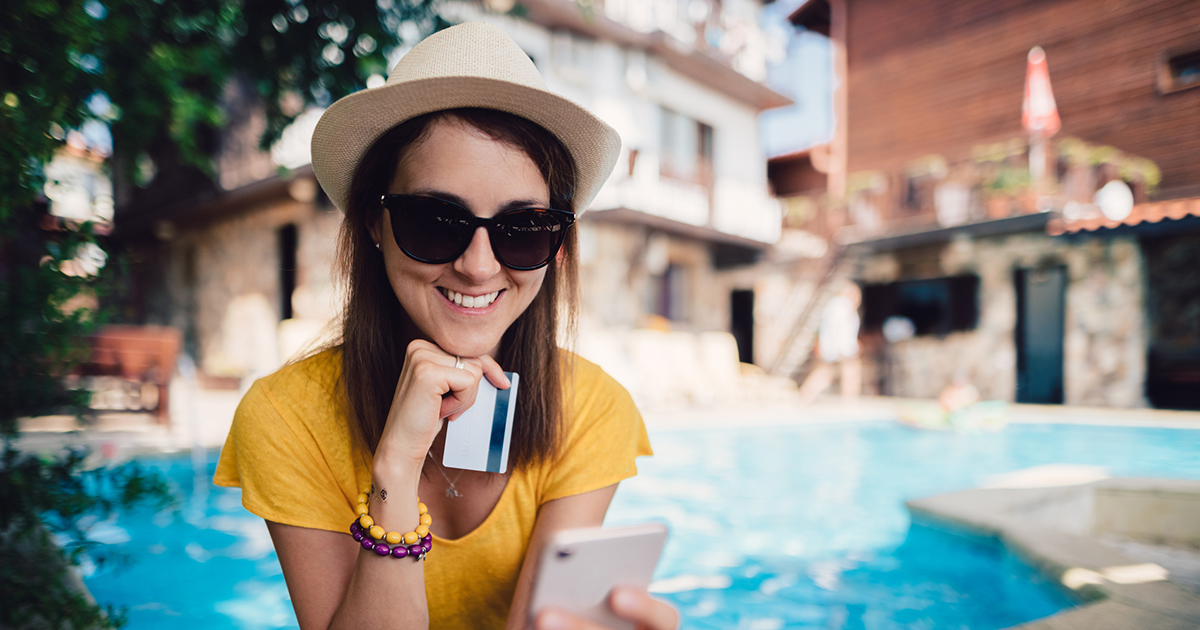 At NerdWallet, we strive to help you make financial decisions with confidence. To do this, many or all of the products featured here are from our partners. However, this doesn't influence our evaluations. Our opinions are our own.
The Bank of America® Travel Rewards credit card is a solid choice for cost-conscious travelers of all stripes, but if you meet any or all of the following criteria, the card could be a particular sweet spot for you.
1. Bank of America customers with large balances
The Bank of America® Travel Rewards credit card earns a flat 1.5 points per dollar spent on anything. Bank of America customers get a 10% earnings boost if either the applicant or co-applicant has an eligible account with the bank.
Looking for an even bigger boost? Those with Bank of America®, Merrill Lynch, or Merrill Edge accounts who are also members of the Bank of America Preferred Rewards program are eligible for even greater rewards.
Those with a $20,000 cumulative balance in those accounts get a 25% points boost. A $50,000 balance will net a 50% boost. A balance of $100,000 will earn you a 75% bonus. That 75% bonus would increase your standard earning rate to 2.625 points per dollar spent, an impressive rate for a card with an annual fee of $0.
If you have an eligible account with an average combined balance of $20,000 or greater, you can easily enroll in Preferred Rewards online. You'll maintain your tier status for 12 months after. If you reach the requirements for the next tier, Bank of America® will automatically upgrade your account to the higher level.
2. People who frequently use other credit cards or are on a budget
Those living frugally or just beginning their financial journey know the potential danger of credit cards with annual fees. There's always a risk the cardholder won't get enough use out of the perks to justify the cost. That is not a factor with the Bank of America® Travel Rewards credit card, since the annual fee is $0.
Even the requirements for the welcome bonus are relatively manageable. New cardholders are eligible for 25,000 online bonus points after you make at least $1,000 in purchases in the first 90 days of account opening – that can be a $250 statement credit toward travel purchases.
The low spending requirement makes it possible to obtain the sign-up bonus while maintaining responsible spending habits. That makes the Bank of America® Travel Rewards credit card potentially ideal for those on a budget.
» Learn more: 7 budgeting tips for every type of budgeter
3. People who forget to use their rewards
The redemption mechanism for the Bank of America® Travel Rewards credit card can be good for those who want to keep things easy. There are no transfers to other programs or complicated points-per-dollar arithmetic to think about.
It's a simple redemption process. You accumulate points, then redeem them for purchases with your Bank of America® Travel Rewards credit card that are coded as travel. On your online account, there will be an option to use your points to credit your account for travel purchases.
The biggest benefit to this method? You can retroactively apply those credits for up to 12 months after the purchases post to your account. If you get to the end of a year, you can simply flip through your transaction history for any redemption opportunities you may have missed originally.
If you aren't traveling, you can also deposit your points as cash back or redeem them for gift cards, though at a less attractive value.
» Learn more: When do your frequent flyer miles expire?
4. Leisure travelers
When using the card to book paid travel on the Bank of America® Travel Center, you'll earn 3 points per dollar spent, making this card a great option for frequent travelers looking for a fee-free card that can deliver outsized rewards.
In terms of redeeming your points, Bank of America® has one of the wider definitions of "travel" among major credit card issuers. You can use your points for amusement parks, zoos and even toll fees, for example.
International travelers will appreciate that the Bank of America® Travel Rewards credit card comes with no foreign transaction fees.
Not sure the Bank of America® Travel Rewards credit card is for you? Check out our credit card reviews for other options.
How to maximize your rewards
You want a travel credit card that prioritizes what's important to you. Here are our picks for the best travel credit cards of 2019, including those best for:
Find the best travel credit card for you
The best bBnk of America credit cards
How to choose the right credit cards