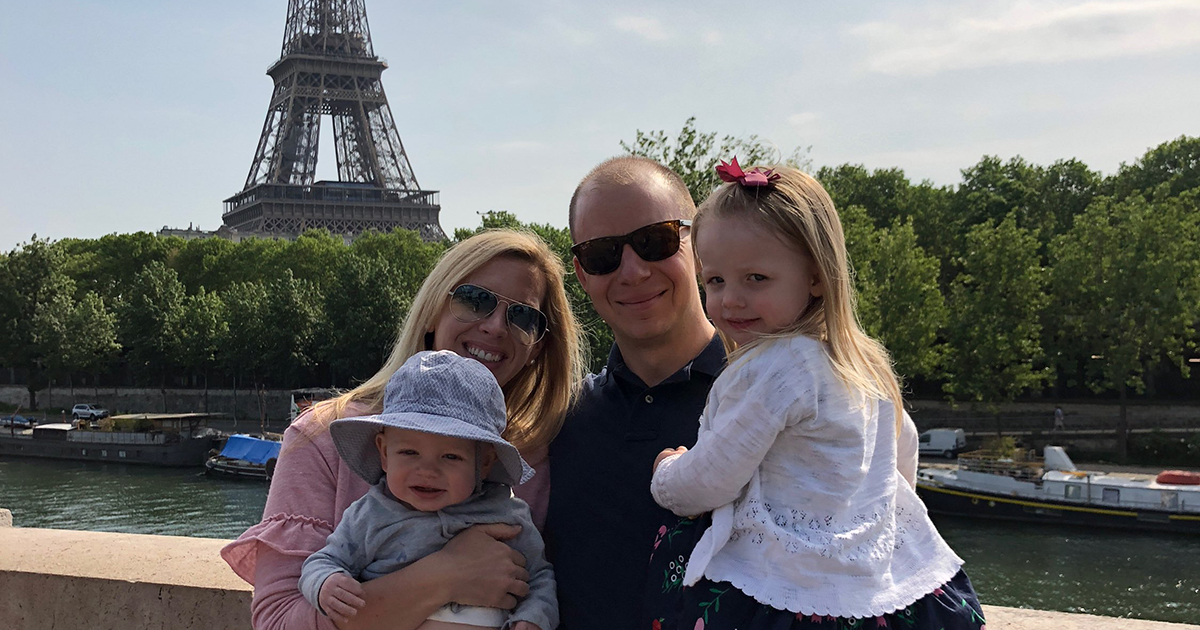 At NerdWallet, we strive to help you make financial decisions with confidence. To do this, many or all of the products featured here are from our partners. However, this doesn't influence our evaluations. Our opinions are our own.
Once Erin Hurd found the perfect hotel, she had two options to book it with her Chase Ultimate Rewards® points. She could transfer them directly to Marriott and get a free night, or use them through the Chase travel portal via her Chase Sapphire Reserve® and get a 50% booking bonus. The latter turned out to be the better bargain, saving her over 75,000 points. Here's how she did it.
» Learn more: Chase Sapphire Reserve® review: A first-class premium travel card
The cardholder
Name: Erin Hurd
Age: 38
Occupation: Marketing
Home: Baltimore
Loyalty program: Chase Ultimate Rewards®
Earning strategy
How did you earn points for the free stay?
I signed up for the Chase Sapphire Reserve® when it debuted and got the welcome bonus. (The current bonus is as follows: Earn 50K bonus points after you spend $4,000 on purchases in the first 3 months from account opening. That's $750 toward travel when you redeem through Chase Ultimate Rewards® .) I quickly grew my Chase Ultimate Rewards® balance by using the card for everyday spending and receiving 3x on dining and travel purchases.
Did you use points in conjunction with a promotion?
No
» Learn more: 10 great ways to use 50,000 Bonvoy points
How long did you save for?
I accrued points for close to two years before redeeming and still have a large stash leftover.
The redemption
Hotel: Paris Marriott Rive Gauche Hotel
Dates of travel: October 2018, 7 nights
Room type: Family suite
Total points or miles used: 133,840
How did you book, and did you run into any surprises or hassles?
Europe is notorious for being very strict with room occupancy rules, especially in Paris. In many cases, we would have had to book a second room for our two very small kids (ages 1 and 2).
After doing some research, I found the Paris Marriott Rive Gauche to be a great option. They offered family suites at reasonable rates in a quiet neighborhood. We were located directly across from a Metro and within walking distance of many shops and restaurants.
This is a Category 5 Marriott property, so a standard room costs 35,000 points per night. We stayed for seven nights. Had we booked directly through Marriott, we could have gotten the fifth night free, but it still would have cost 210,000 points total for a standard room.
We didn't have enough Marriott points, so I was going to transfer Chase Ultimate Rewards® points to cover the balance. But when I looked at that same property through the Chase Ultimate Rewards® portal, I found the price was only 19,120 points per night for a family suite because of the 50% booking bonus I got with the Chase Sapphire Reserve®. The room for a week cost us a total of 133,840 Chase Ultimate Rewards® points instead of 210,000 Marriott points.
What amenities did you take advantage of at the hotel?
The family suite came with a mini-fridge fully stocked with complimentary water, soft drinks, beer, juice and snacks for the kids. It was refreshed each day at no charge.
» Learn more: Baffled by points and miles? Let the 80/20 rule guide you
The pros and cons
Favorite perk of the program?
Chase Ultimate Rewards® are extremely flexible and easy to use. I love that the points are worth 50% more when I book through the portal. It's wise to check prices for transferring points directly to partners vs. booking through the portal. It's great to have options.
Least favorite feature of the card?
The 3x earning on dining and travel on the Chase Sapphire Reserve® is great, but 1x on all other categories of spend is underwhelming compared to some other cards with lower annual fees. (The Chase Sapphire Reserve® has an annual fee of $450.)
What would you recommend to others trying to save for free flights or stays?
Set a goal and calculate how many points or miles you'll need to achieve it. Programs get devalued, so stay on top of program changes while you're working toward your goal.
What's your next travel rewards goal?
Saving up for a family trip to Japan next year, preferably flying at least one way in business class.
Best advice for those new to travel rewards?
Set a realistic goal that works for your travel style and desires. Some people are very focused on aspirational redemptions like visiting the Maldives or flying first class. If that's not your thing, don't be afraid to use your points for trips that make sense for you and your family.
Photo by Erin Hurd
How to maximize your rewards
You want a travel credit card that prioritizes what's important to you. Here are our picks for the best travel credit cards of 2019, including those best for:

Planning a trip? Check out these articles for more inspiration and advice:
Find the best travel credit card for you
Travelers can soon book vacation rentals through Marriott
Marriott Rewards Premier Plus review: Prime perks and choices