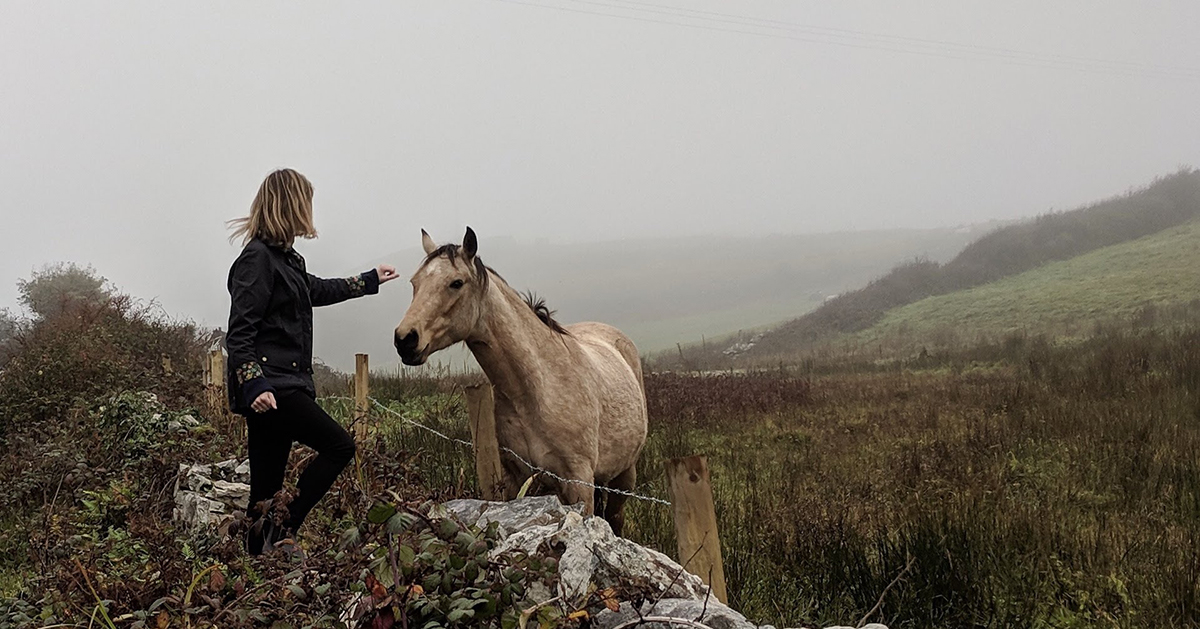 At NerdWallet, we strive to help you make financial decisions with confidence. To do this, many or all of the products featured here are from our partners. However, this doesn't influence our evaluations. Our opinions are our own.
Caitlin Plunkett pays for almost everything with her credit cards, but charges for her wedding reception last year added a ton of points to her Chase Ultimate Rewards® program balance. It was enough to cover round-trip tickets for her and her new husband to get to the Emerald Isle.
The cardholder
Name: Caitlin Plunkett
Age: 35
Occupation: Cyber underwriting product manager
Home: New York City
Card/loyalty program: Chase Sapphire Reserve®. I've been a cardholder for 2.5 years
» Learn more: Chase Sapphire Reserve® review: A first-class travel card
Earning strategy
How did you earn points for the free flights?
I use my Chase Sapphire Reserve® for all of my dining and travel expenses. My husband and I were able to save points for this trip extra quickly by using this card to pay for our restaurant-based wedding reception.
Did you use them in conjunction with a promotion?
No
How long did you save for?
Three months
The redemption
Flight info: Aer Lingus flights EI 110 and EI 111
Dates of travel: Oct. 18 – 22, 2018
Class of flight: Round-trip economy seats for both myself and my husband. We maximized points and saved money by flying economy!
Total points or miles used: 70,370 Chase Ultimate Rewards® points
How did you book and did you run into any surprises or hassles?
Booked through Chase Ultimate Rewards® booking portal. No surprises or hassles. I also used points to book a rental car for the trip to explore beautiful Connemara.
What amenities did you take advantage of in-flight or at the airport?
I took advantage of Global Entry to speed through US Immigration while still in Shannon. It's so exciting that it's possible to use Global Entry in Ireland. I typically use my Priority Pass for lounge access (a card benefit), but didn't have the opportunity on these flights.
» Learn more: TSA Precheck vs. Global Entry: Which Is right for you?
The pros and cons
Favorite perk of the program/card used?
Free travel, an easy booking portal and excellent customer service.
Least favorite?
The card's annual fee is $450, but it's still 100% worth it if you use your card for all dining and travel expenses (even Lyfts and taxis count) and allocate all your points for travel.
What would you recommend to others trying to save for free flights or stays?
I like to use points frequently, instead of trying to save hundreds of thousands of points for a massive trip. I end up with free travel opportunities every few months!
What's your next travel rewards goal?
I'm enjoying U.S. domestic travel lately, so I used Chase Ultimate Rewards® points to book a hotel stay in Philadelphia in June and flights to Portland, Oregon, in July. I'm planning a trip to Japan in the fall — hopefully I'll have points saved up for that flight soon!
Best advice for those new to travel rewards?
Use your cards for the right expenses. I use the Chase Sapphire Reserve® for travel and the Amazon Prime Rewards Visa Signature Card for groceries and household costs. This helps to strategically maximize points value.
Photo by Caitlin Plunkett.
How to maximize your rewards
You want a travel credit card that prioritizes what's important to you. Here are our picks for the best travel credit cards of 2019, including those best for:

Planning a trip? Check out these articles for more inspiration and advice:
Find the best travel credit card for you
Amazon Prime Rewards review: Perhaps the Ultimate store card
Flight Deals: Get to Europe for cheap with Air France