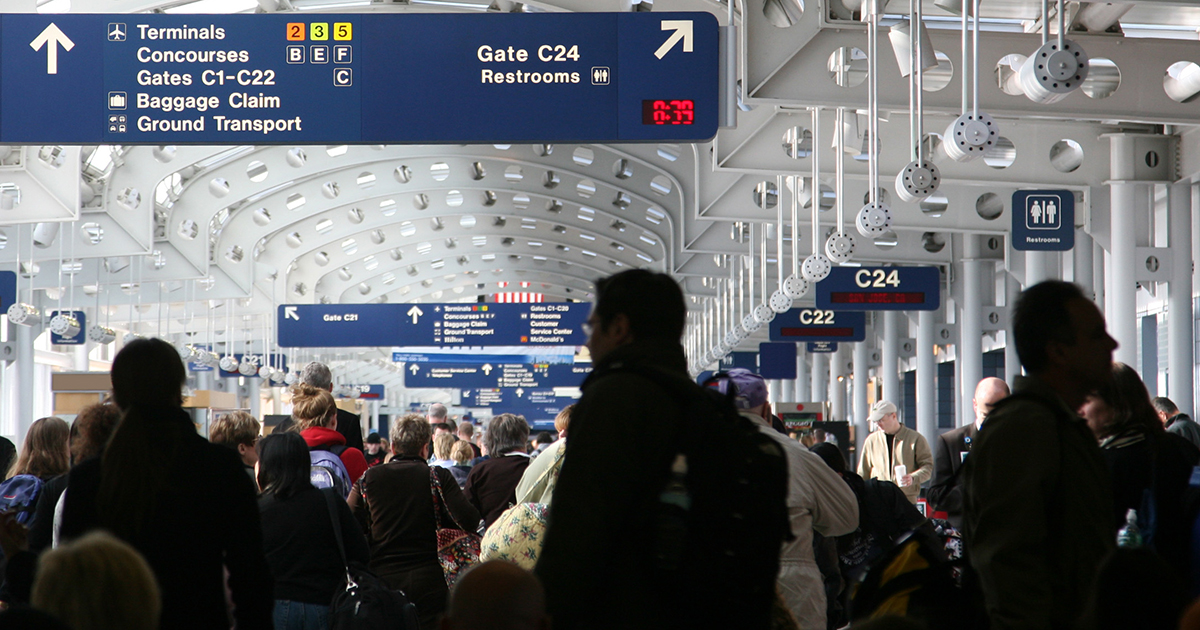 At NerdWallet, we strive to help you make financial decisions with confidence. To do this, many or all of the products featured here are from our partners. However, this doesn't influence our evaluations. Our opinions are our own.
As a world traveler, you may occasionally run into a situation that makes you question the safety of your destination. While you probably don't anticipate landing in an active conflict zone, it's possible that protests and unrest could upset your travel plans.
A recent example is the current situation in Hong Kong. Historically choppy at best, tensions and policies between Britain, Hong Kong and mainland China have ebbed and flowed. Currently, China wants the right to extradite Hong Kong residents back to the mainland — a demand that sets the stage for more dramatic change in the future. In short, Hong Kong is angry.
Protesters recently stormed the Hong Kong airport, causing all departing flights to be grounded and some incoming flights to be stopped. It's not clear how long these protests will last or how much of an impact they'll have on travel, but it may be wise to consider alternatives when planning flights to or through Hong Kong.
So, what do protests like this mean for outsiders? And more generally, what do instances of political unrest mean for travelers worldwide? While you may be able to navigate your trip without much interruption at all, it's always good to prepare for disruptions and understand how best to protect your trip.
Register your travel plans
If you're traveling in a region that suddenly experiences conflict (or are getting ready to travel to one), the U.S. Department of State is there to advocate for you as a U.S. citizen. To make sure you have all the necessary updates and emergency resources, sign up for the Smart Traveler Enrollment Program (STEP), which is a free program run by the State Department. It allows you to register your travel plans so you can receive alerts about your destination, be contacted by the local U.S. Embassy if necessary and have a chosen contact alerted in the event of an emergency.
To get started, simply register with STEP and enroll your itinerary. Once you select your destination, you'll be given updated travel alerts and your trip will be registered. This way, you will be aware of any recommendations from the U.S. government, and your information will be stored in case the U.S. Embassy needs to get in touch.
Know what insurance will cover
This is an important one. Whether you purchased travel insurance outright through a travel insurance company or are insured through a travel credit card, you may not be covered for civil unrest. This is the same way insurance companies deal with major hurricanes or strikes; at some point, the company can decide those events were "known and foreseeable." Basically, this implies you knew what you were getting into and the company can't be held responsible.
Let's take Allianz, for example. Allianz is a relatively well-known company and a big name in the insurance industry, which to some (unsatisfied) customers means they can be exceptionally proficient at avoiding liabilities. While this may or may not be true depending on the specifics, it's true that insurance won't always help you in certain situations.
For customer convenience, Allianz has a list of events that the company has deemed "known and foreseeable" along with the effective date. The list includes events such as:
Grounding of Boeing 737 Max 8 aircraft.
Natural disasters and storms.
Airline strikes and bankruptcies.
Civil unrest and terrorism.
Having a list in place implies there is a firm cut-off date when the company ceases to be responsible for honoring your claim if it results from any of these events.
But it also gives you a way out if you purchased your policy before the listed event became "known and foreseeable." If you planned well in advance, you may still be entitled to file a rightful claim with your insurance company.
If you do decide to cancel your trip and you purchased an insurance policy before the "known and foreseeable" date, you are certainly free to cancel and file a claim. Note that it could take months for your claim to process, leaving you to swallow the cost for the time being. However, you stand a decent chance of regaining at least some of your travel investment, depending on your policy.
Stay flexible if you can
If you haven't purchased a ticket and you become aware of unrest that could possibly interrupt your trip, consider whether this is an ideal time to go. Keep in mind that you might not be able to get insurance for your trip, and that civil unrest can often affect the way you get around via train, bus, taxi or other ground transportation. It can also affect queues at the airport, and in the worst cases it can put you in danger. If you have the option, it may be advisable to wait until tensions are rectified.
We're not suggesting you live in fear and just stay home. Instead, be conscious and aware of the world around you in order to make wise and informed decisions. By doing your research, enrolling in STEP and understanding your insurance policy, you'll be able to do just that.
How to maximize your rewards
You want a travel credit card that prioritizes what's important to you. Here are our picks for the best travel credit cards of 2019, including those best for:
Planning a trip? Check out these articles for more inspiration and advice:
Find the best travel credit card for you
How to sidestep the potential pitfalls of travel credit cards
Earn more points and miles with these 6 strategies