At NerdWallet, we strive to help you make financial decisions with confidence. To do this, many or all of the products featured here are from our partners. However, this doesn't influence our evaluations. Our opinions are our own.
With dozens of partners and no award chart, the Delta SkyMiles program can feel overwhelming. But cutting through these complications doesn't require a Ph.D. in travel rewards. A few simple tricks can save you loads of time and wasted points.
» Learn more: Baffled by points and miles? Let the 80/20 rule guide you
Here are three simple ways to get better-than-average value from your SkyMiles without spending hours researching or searching. They represent only a handful of the many ways to use SkyMiles effectively, so use them as inspiration for your own award travel.
1. Follow SkyMiles deals
Delta doesn't publish a chart for award flights, which means they can change the cost of a given flight at any time. However, they do regularly publish SkyMiles sales that can offer great value per mile. These award sales come in two flavors:
SkyMiles Deals is a permanent list of high-quality redemptions, updated weekly. Some of these deals are much better than others, so make sure to compare the cost in miles to the equivalent cash fare to ensure you're getting the most bang from your miles. For example, we found a round-trip deal from Atlanta to Tokyo Narita for 70,000 SkyMiles + $62 in fees. A cash ticket for the same dates was $1,656, so the award redemption nets 2.3 cents per SkyMile — a very good (and straightforward) use.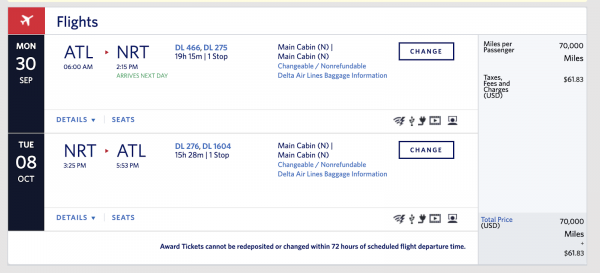 SkyMiles flash sales are what they sound like: short-lived award discounts. They only last for a few days and can be very limited in which domestic airports are served, but they frequently offer very good value. Jump quickly on these deals when they match your travel plans.
If you're not looking to fly somewhere specific with your miles, check out Delta's award sales for inspiration.
2. Short-haul domestic flights
Short flights within the U.S. can be frustratingly expensive, especially between smaller airports. It's worth checking the equivalent cost in SkyMiles, which often provide great value.
For example, we found a last-minute summer flight from Seattle to Bozeman, Montana, for 8,000 miles + $6 in fees.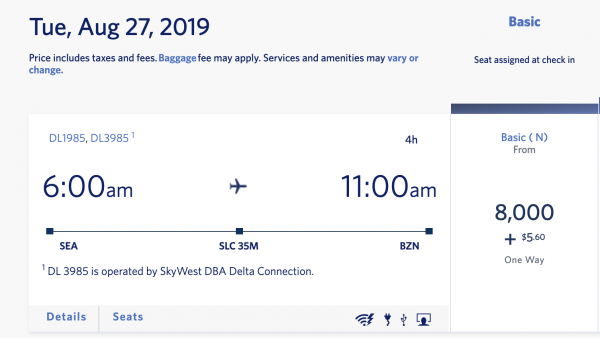 The cash fare on the same day was $114, yielding 1.4 cents per mile in value for the award ticket.
Unlike American Airlines, Delta does not charge a close-in booking fee for award tickets. For last-minute travel plans within the United States this can yield some especially valuable redemptions, since fares often double or triple when booking within a couple weeks of travel.
3. Air France business class to Europe and North Africa
Trying to fly in first and business class using miles is usually anything but simple. Finding the right combination of airline, low surcharges and availability can make it a huge commitment.
Delta's partnership with Air France provides a straightforward solution that checks all the boxes. Air France's premium cabin experiences are generally excellent, with low surcharges and decent availability.

We found a one-way flight from Seattle to Casablanca in business class for 75,000 SkyMiles plus $32 in fees. Compare that to $1,619 for half a round-trip cash flight, and you're looking at 2.1 cents per mile.
You're unlikely to find deals like this unless you look several months out. A good rule of thumb is to use SkyMiles for domestic flights you're taking soon or international premium flights you can plan well in advance.
The bottom line
You can easily find a dozen articles online for the "best ways to maximize" your Delta points. Many of these strategies require hours of research and only work for travelers with extreme flexibility and loads of miles.
But you can't go wrong by following Delta's regular SkyMiles deals, checking out short-haul domestic flights, or splurging on Air France's excellent business class product. In the end, the right redemption for you is the one you actually make. The only mistake would be to sit on your hard-won miles waiting for the "perfect" use.
How to maximize your rewards
You want a travel credit card that prioritizes what's important to you. Here are our picks for the best travel credit cards of 2019, including those best for:
Planning a trip? Check out these articles for more inspiration and advice:
Find the best travel credit card for you
How to sidestep the potential pitfalls of travel credit cards
Earn more points and miles with these 6 strategies