At NerdWallet, we strive to help you make financial decisions with confidence. To do this, many or all of the products featured here are from our partners. However, this doesn't influence our evaluations. Our opinions are our own.
The Hilton Honors American Express Aspire Card is great for those looking for a premium rewards card that really delivers on benefits. The $450 annual fee can be intimidating, but I received value exceeding that amount on a recent stay at the Waldorf Astoria Maldives. Below are five ways I saved over $2,000 thanks to my Hilton Honors American Express Aspire Card.
$1,800+ value from the annual free weekend night
The standard King Beach Villa at the Waldorf Astoria Maldives goes for around $1,800 per night … before taxes and fees. Award stays cost 120,000 points per night. While I used points for two nights, I got great value out of redeeming the free weekend night from the Hilton Honors American Express Aspire Card for the third night. (Terms apply.)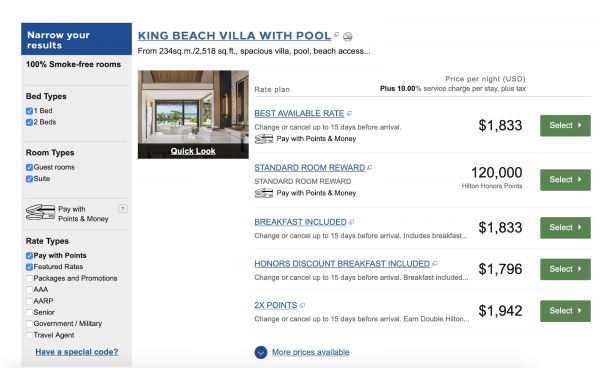 The free weekend night is issued via email, in the form of a code. You simply call Hilton customer service and provide the dates and code to redeem it. Keep in mind that free weekend night redemptions can't be refunded, so only redeem one when you know you won't have to cancel the reservation. Redeeming this was an easy process for me, and I was thrilled to put it to such good use.
» Learn more: 5 things to know about the Hilton Honors American Express Aspire Card
Early check-in and late checkout
I arrived at the resort around 7:30 a.m., which was over seven hours before check-in. In recognition of my Hilton Diamond status (courtesy of the my Hilton Honors American Express Aspire Card), I was offered early check-in. On my last day, checkout was extended to 5:30 p.m., over five hours past the normal time — free of charge.
I consulted with the resort afterward and found that they normally charge 50% of the room rate for early check-in. In my case, that's valued at over $900. Would I have paid that amount? Of course not. But it was a nice benefit that allowed me to get settled early and enjoy the incredible room for just a little longer.
Free daily breakfast worth over $160
The Hilton Honors American Express Aspire Card comes with free diamond status — no additional spending required. (Terms apply). Hilton Diamond status is incredibly valuable, especially when you're traveling to a place like the Maldives, where everything is super expensive.
Breakfast at the Waldorf Astoria cost around $40 per day, and I was supposed to receive it free of charge for three days. When I arrived at 7:30 a.m. the first morning, the staff offered me complimentary breakfast that day as well.
Over four days, the free breakfast benefit earned through my Hilton Honors American Express Aspire Card saved me at least $160. (And that doesn't include my morning latte, for which the menu didn't even include a price.) Considering I was stuck on an island with limited dining options, this was absolutely a charge I would have incurred on my own had it not been offered to me for free as a Diamond benefit.
$250 off my total bill
Traveling to the Maldives isn't cheap, even if you're using points for hotel bookings. There's the high cost of food and activities at the resort — and since most hotels are located on islands away from the capital of Malé, you'll need to pay for a boat or seaplane to get there.
At the Waldorf Astoria Maldives, the boat transfer costs an eye-popping $862.40 round-trip, per person. Yes, the "boat" is a luxury yacht with two bedrooms and four crew members, but that's still a lot of money for a 40-minute boat ride.
At the end of my stay, I ended up with a bill totaling over $1,700 for this boat ride and other incidentals like room service and activities. What took the sting out of it was the fact that two days later, I received a $250 statement credit from my Hilton Honors American Express Aspire Card.
The card's annual $250 resort credit is valid at participating Hilton resorts, including this Waldorf Astoria (terms apply). Since you're already paying a $450 annual fee to have this card, being able to take advantage of every single benefit is invaluable. In my case, I'd like to think I got more than my money's worth this year.
» Learn more: The complete guide to Hilton Honors
Over 16,000 bonus points
Hilton Honors members earn 10 base points per $1 spent on hotels. And Hilton Diamond members earn 100% bonus points, which doubled my earnings to 20 points per $1. Thanks to the Power Up promotion, I earned another 10 points per $1 on top of that, plus a 1,000-point Diamond member welcome amenity. That brought my initial earnings to 46,639 points on my out-of-pocket cost of $1,521.30 (for the yacht transfer, food and activities minus my $250 statement credit).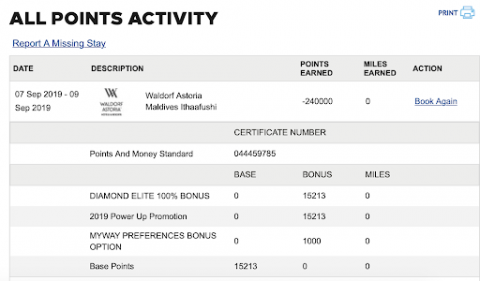 In addition, since I charged this to my Hilton Honors American Express Aspire Card, I will earn another 14 points per $1 spent, totaling 21,298. My grand total is a whopping 67,937 Hilton points. That's enough for a free night at a resort like the Hilton Waikoloa Village, which goes for over $300 per night in the summer.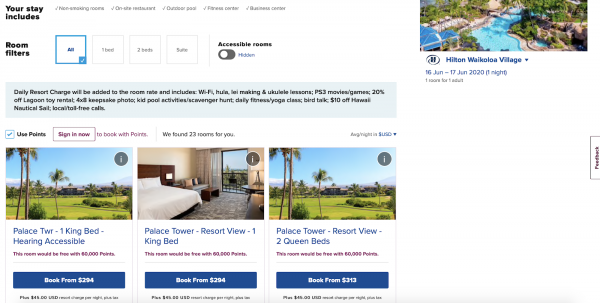 Of course, I plan on saving up my points for another adventure I can't normally afford (perhaps the Conrad Maldives Rangali Island).
Information related to the Hilton Honors American Express Aspire Card has been collected by NerdWallet and has not been reviewed or provided by the issuer of this card.
How to maximize your rewards
You want a travel credit card that prioritizes what's important to you. Here are our picks for the best travel credit cards of 2019, including those best for:
Planning a trip? Check out these articles for more inspiration and advice:
Find the best travel credit card for you
Hilton credit cards: Which one should you get?
Earn more points and miles with these 6 strategies