At NerdWallet, we strive to help you make financial decisions with confidence. To do this, many or all of the products featured here are from our partners. However, this doesn't influence our evaluations. Our opinions are our own.
One of the benefits of Marriott's credit cards is the yearly free night certificate, which is provided on the anniversary of when you opened the card and once a year thereafter. The value of this certificate ranges from 35,000 to 50,000 Bonvoy points depending on which card you have.
You could use your certificate in various ways: You can pay for one free standalone night, for example, or combine it with a longer Marriott reservation. If you're choosing the second option, Marriott has another valuable perk — you get a fifth night free on any four-night award stay. If you added the free night certificate to this type of trip, you would end up with a six-night stay for the price of four nights.
In this post, we'll focus on the best ways to redeem your 50,000-point free night certificate, which is included on the Marriott Bonvoy Brilliant™ American Express® Card. This 50,000-point certificate allows you to book a Category 1 through 6 stay at a standard rate, a Category 1 through 7 stay at an off-peak rate, or a Category 1 through 5 stay at a peak rate.
If you have the Marriott Bonvoy Boundless™ Credit Card or the Marriott Bonvoy Business™ American Express® Card, you will receive a free night certificate worth 35,000 points. With that value, you can generally book a night at properties in Category 1 through 5. Given that 90% of all of Marriott's properties fall into these categories, there are plenty of ways to use that certificate, too.
» Learn more: Which Marriott Bonvoy card should I get?
Marriott Bonvoy program overview
Marriott is one of the largest international hotel chains, with over 7,600 properties in 131 countries and 30 different brands ranging from mid-range to luxury. With 97% of all Marriott properties falling into Category 1 through 6, using the free night award is pretty easy.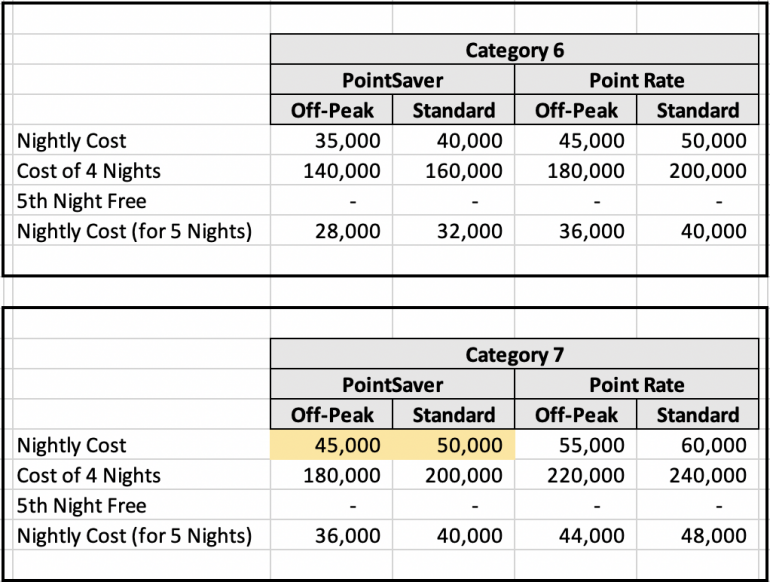 The chart above depicts the added value you get from the fifth free night at a Category 6 or 7 property. The 50,000-point certificate can be used on all Category 6 stays, and on PointsSaver stays at Category 7 properties.
» Learn more: Marriott Rewards program: The complete guide
Although this list is by no means exhaustive, we've narrowed down five great properties in the U.S., Caribbean, Europe and Asia that could be booked with the 50,000-point certificate.
Courtyard New York Manhattan/SoHo (Category 6)

Thinking about a trip to New York City? You could use your free night to stay in trendy SoHo at the Courtyard New York Manhattan/SoHo, which is a Category 6 hotel. New York City has many Marriott properties in midtown or the Upper East Side, but staying downtown can provide a more authentic New York experience. The hotel also has a gym that includes Peloton bikes and free Wi-Fi for all guests.
A scan of the calendar in the coming months shows rates between 35,000 and 50,000 points per night. Tip: if you stay for five nights, use your free night certificate for a night that costs 50,000 points. This way, your entire stay will only cost 140,000 Bonvoy points (assuming a 40,000-point rate per night).
Renaissance Paris Vendome Hotel (Category 7)

The Renaissance Paris Vendome Hotel is a Category 7 property with solid availability at the off-peak rate of 50,000 points over the next several months (even leading up to Christmas). This 5-star hotel is a block away from the Place Vendome and the Tuileries Garden, as well as a 10-minute walk to the Louvre museum and Opera Garnier.
Although winter is a cold time to be in Paris, it's still a beautiful city with a lot of history and culture to explore. So if the cold doesn't deter you, taking advantage of the off-peak rate at this property could be worthwhile. You could use the free night certificate to splurge if you have a layover in Paris, or add it onto a five-night award stay, which would cost 160,000 Bonvoy points.
The Cove at Atlantis (Category 7)

This luxurious Category 7 hotel is priced at the off-peak rate all of November through the last week of December. The Cove at Atlantis is on Paradise Island in the Bahamas, and all rooms are suites with either king- or queen-size beds. The hotel features private cabanas, so you can luxuriate all day at the beach or pool while sipping on some cocktails.
Whether you're here for one night or want to make a vacation out of your trip, the free night certificate would be valid at the 50,000 points rate during the dates mentioned above. If you were to add the certificate to a five-night award stay, it would cost 200,000 Bonvoy points.
Osaka Marriott Miyako Hotel (Category 6)

The Osaka Marriott Miyako Hotel is a 5-star Category 6 property on floors 38 through 57 of Japan's tallest building. If you're headed to Osaka for business and want to add on an extra day for personal time, this property could be a great option for using your free night certificate.
The hotel is near Universal Studios Japan, the famous Shinsaibashi shopping district and the Dotonbori district, which is popular for nightlife and entertainment.
Renaissance Hong Kong Harbour View Hotel (Category 6)

Hong Kong is a common overnight layover destination on long-distance flights from the U.S. to Southeast Asia. If you have a layover in Hong Kong, consider using your free night certificate at the Renaissance Hong Kong Harbour View Hotel. After such a long flight, pampering yourself at this fancy property could be exactly what you need.
The hotel is located in Wan Chai, which is close enough to nightlife and sightseeing, so it's a good option as a base for exploring. The rooms have views of the hotel's gardens, the outdoor pool or Victoria Harbour, which is truly beautiful. The property also has a tennis court and a 24-hour gym if you want to work out. Hong Kong's metro system is extremely efficient, so it's easy to get around and see a lot, especially if your layover is a long one.
The bottom line
The annual 50,000-point free night certificate that comes with your Marriott Bonvoy Brilliant™ American Express® Card is a huge perk. As long as you keep paying the annual fee, Marriott will deposit the free night certificate each year on your account opening anniversary.
Whether you choose to use your certificate for a single night or add it into a bigger vacation plan, you'll have plenty of hotel options to choose from.
How to maximize your rewards
You want a travel credit card that prioritizes what's important to you. Here are our picks for the best travel credit cards of 2019, including those best for:
Planning a trip? Check out these articles for more inspiration and advice:
Find the best hotel credit card for you
Snag these hotel loyalty perks, even if you're disloyal
Earn more points and miles with these 6 strategies