Note: NerdWallet strongly discourages traveling in the near future while the coronavirus continues to spread. Check the CDC and State Department websites for current guidance and travel restrictions. Please use the content of this article only to help inform future travel plans.
After spending two fun weeks in Thailand (Bangkok and then Koh Tao) in December, I had the dubious task of starting to plan my flight back to New York City during an early January travel week to visit family. I knew that a flight from Southeast Asia to the East Coast was going to be a long one, so I decided to use my hard-earned miles to fly first or business class.
My rule of thumb for flying is this: Because I tend to sleep well on overnight flights no matter the accommodations, I don't mind an economy seat for long durations. However, on super-long flights or flights during the day when sleeping is not natural, I prefer to be in first or business class because I want to be comfortable and enjoy the flight.
The booking process
Leaving Thailand
While vacationing in Koh Tao, I found out that leaving the island and flying to New York City wouldn't be an easy one-flight route, let alone on miles. There are several ways to go from Koh Tao to the nearest airport, but they all include a two-hour ferry from Koh Tao to either a seaside town in Thailand or the island of Koh Samui.
Award search
After a ton of time spent searching for an award ticket from nearby airports, I found a business-class award flight out of Singapore. The business-class seat I found was with Japan Airlines from Singapore to New York via Tokyo. I used 65,000 Alaska miles + $81 in taxes. The award search was pretty straightforward. Alaska shows JAL availability on its website, so I didn't need to call customer service.
JAL Business Class Review
My first flight was from Singapore to Tokyo-Narita (6 hours and 45 minutes) on the Boeing 777-200ER, which uses the JAL Sky Suite III seats. The focus of this post will dive into a review of these suites.
The second flight was from Tokyo-Narita to New York-JFK (12 hours and 40 minutes) on the Boeing 777-300ER, which uses the JAL Sky Suite seats.
Overall, I found JAL's business class on both legs to be decent but slightly underwhelming; from the check-in process, to the food options, Wi-Fi and baggage claim. The seat configuration and entertainment options were great though, which was very important to having an enjoyable flight.
Singapore to Tokyo Trip Details
Singapore Changi airport check-in process
I arrived at the airport by 6:45 a.m. for my 8:20 a.m. flight from Singapore to Tokyo-Narita. The agents at check-in seemed a bit bored, and there was no extra level of service that I typically see at business- or first-class counters. I don't often fly business or first, so when I do, I really appreciate and look forward to the entire experience: from arriving at the airport to picking up luggage at my destination.
I was also really looking forward to visiting a non-Priority Pass lounge for once. Since I'm a holder of the Chase Sapphire Reserve®, Priority Pass lounges are my go-to each time I fly. Unfortunately for me, the Qantas Singapore Lounge (which I would have been able to access because I was flying in business class) didn't open until 2:30 pm. The check-in agent directed me to the dnata Lounge. I noticed that this was a Priority Pass facility, so I was slightly bummed that I wouldn't get a more premium experience. However, once I arrived in the lounge, I realized that it was lovely, and the food options were great — including the Udon soup I ate for breakfast.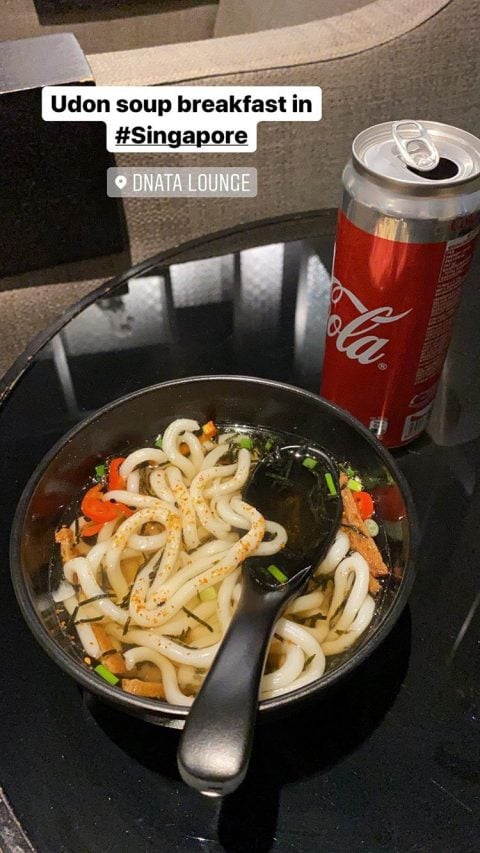 Seat and flight experience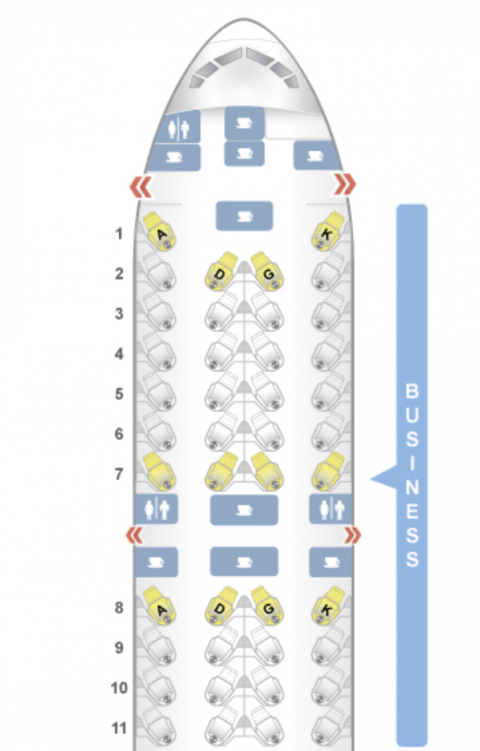 Luckily, I sat in seat 11K, which is the last row in the business class cabin. I think seats 11A and 11K are the best seats in business class because they receive the least amount of traffic, have the most privacy and have a window.
I had spent the day before sightseeing in Singapore until late in the evening. Coupled with the fact that I had to wake up early for my 8:20 a.m. flight, I planned to spend the majority of this flight sleeping. When the flight attendants came by to take my food order, I explained that I would just have a snack (fruit and cheese), sleep and have my meal service at the end. The flight attendant informed me that I would be woken up two and a half hours before landing for the meal service. I asked if meal service could start later, and they said two hours prior to landing was the absolute latest (though I would have preferred to sleep as long as possible).
Shortly after taking my order, the flight attendant brought over a hot towel and fruit and cheese, which were both simple and tasty. The seat reclined 180 degrees into a flat bed, and I fell asleep quickly. I slept for about four hours until the flight attendants woke me up for meal service.
I was hoping to do the recommended Japanese menu, but it had pork and duck, two foods that I don't eat. I explained this to the flight attendants, and they were kind enough to let me have the Japanese bento box appetizer and grilled white fish from the Western menu. I love Japanese food, but I thought the appetizer was just average and the miso soup was pretty bland. The grilled white fish was tasty, but nothing to write home about. For the dessert, the only option was chocolate cake, but since I don't like chocolate, I didn't love it either (and probably am not the best to judge it). Even with their kind accommodations to my requests, I didn't leave feeling very impressed with the food.
Flight video summary
The bottom line
I was really excited to try the JAL Sky Suite III business class experience on this flight. The seats were comfortable, and I slept almost the entire time. However, the check-in process and food options weren't the most memorable. Overall, it did not stand up to my favorite business class experiences so far, which have been with KLM and Cathay Pacific.
Have you ever flown business class with Japan Airlines in the Sky Suite III seats? What did you think? Let me know in the comments.
How to Maximize Your Rewards