Note: NerdWallet strongly discourages traveling in the near future while the coronavirus continues to spread. Check the CDC and State Department websites for current guidance and travel restrictions. Please use the content of this article only to help inform future travel plans.
Alaska Airlines may not be among the largest airlines in the U.S., but their Mileage Plan frequent flyer program offers plenty of value for travelers. Between the program's generous award routing rules and excellent airline partners, their miles are some of the most valuable available.
Some especially valuable aspects of Alaska's Mileage Plan are that you can book free stopovers on one-ways and you can fly on great partner airlines.
If you've been earning Alaska miles and want to know the ins and outs of redeeming them, you're in the right place. Here are some ways to get the most from your miles and some favorite redemption sweet spots.
How to get started using your points
It's easy when it comes to redeeming your Alaska Airline miles for award flights. You have the option to redeem miles for flights on Alaska Airlines, plus you can also book flights on any of Alaska's partner airlines.
Redeeming miles on Alaska Airlines flights
Alaska Airlines operates an extensive flight network primarily focused on the West Coast and Alaska. However, they also fly select routes across the U.S. as well as routes to Mexico and Costa Rica.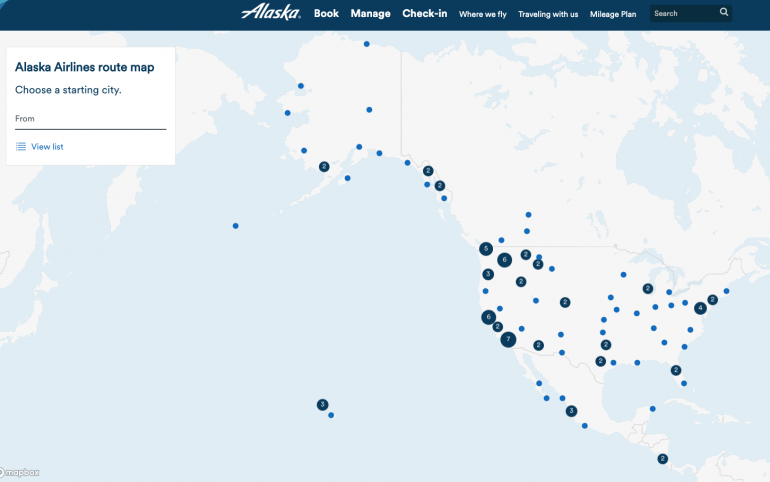 When you redeem miles for flights on Alaska Airlines, the price is based on the total distance flown.
Here is Alaska Airlines' award chart for flights on planes they operate: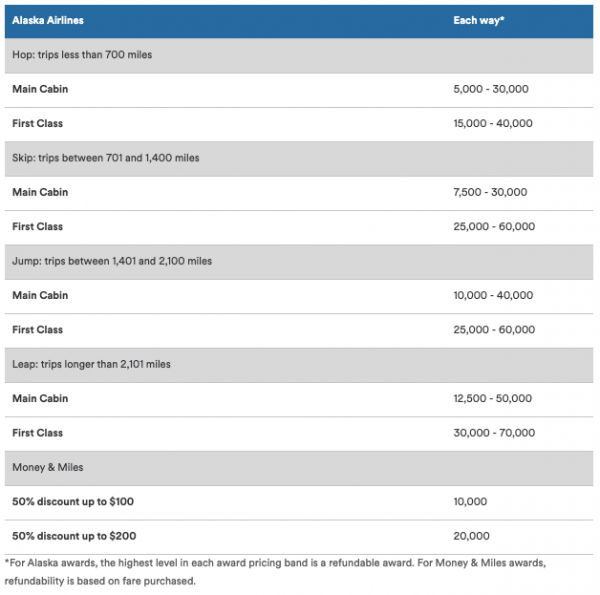 You'll notice that Alaska doesn't use a fixed price award chart, but instead publishes a range of the cost of the award ticket.
Ultimately, the price depends on award space availability and type of award fare. The lowest level is for flights with a high amount of availability, and the highest fare is for a refundable award.
Also, note that the main cabin and first-class award prices overlap. This makes it important to pay attention to the award prices when booking as a first-class award can actually cost less than a main cabin award, based on availability.
Redeeming miles on partner airlines
One of the best ways to use Alaska Airlines Mileage Plan miles is to redeem them for flights on Alaska's partner airlines.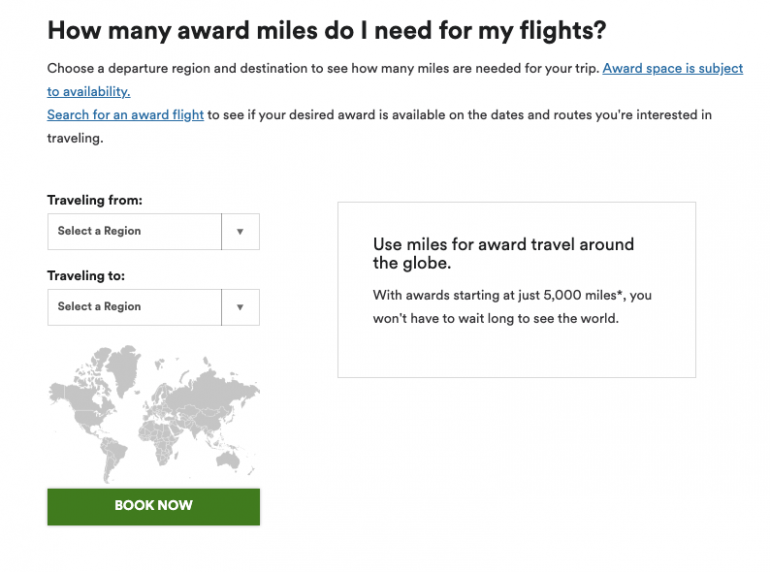 To do so, select which region you are traveling from and which region you are traveling to. The results will show all the partner airline options as well as their award charts.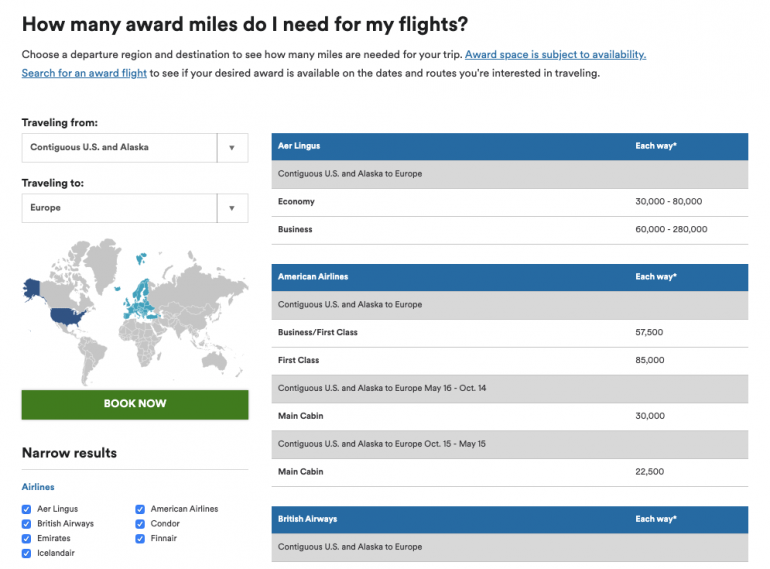 When it comes to searching for and booking partner award flights, most are available online using Alaska Airlines award engine. However, there are a select few partners that will not show in Alaska's award search tool and require you to call in to book over the phone.
To learn more advanced strategies for booking Alaska's partners, read this guide.
What to consider when redeeming
When redeeming miles, there are a few things to consider to make sure you're getting a good deal.
You can use NerdWallet's current valuation of Alaska Airlines Mileage Plan miles of
each as a starting point when comparing your redemption. As a guideline, you should always aim to redeem miles at or above this value.
To calculate your Alaska Airlines redemption value, use this easy formula:
Price of flight in cash / Price of flight in miles
For example, you have the option to book a flight from Portland to San Francisco for 20,000 miles or $150. That means you're getting a value of 0.75 cents per mile ($150 flight price / 20,000 miles). As this redemption falls below our valuation of
per mile, it's not a high-value redemption, but you'll also want to consider what you think will be the best use of your miles.
Add free stopovers for added value
Don't forget that Alaska Airlines Mileage Plan is one of the few airline programs that still allows free stopovers on their award tickets. The best part is you can add stopovers on one-way tickets. In addition to visiting more places, adding a stopover can be a great way to maximize the value of your miles.
A few program sweet spots
Now that you know the basics of booking award flights with Alaska miles, here's a look at some of the program's high-value redemption options.
Fly Cathay Pacific First Class
Booking a first-class flight on Cathay Pacific to Asia is one of the top redemption options in the program. For just 70,000 miles, you get to experience one of the best first-class products in the air.

Also, don't forget you can add a stopover in Hong Kong on the way to your final destination in Asia. During your stopover, you'll get to experience Cathay Pacific's excellent first-class "The Pier" lounge at their hub airport in Hong Kong.
Fly Japan Airlines First Class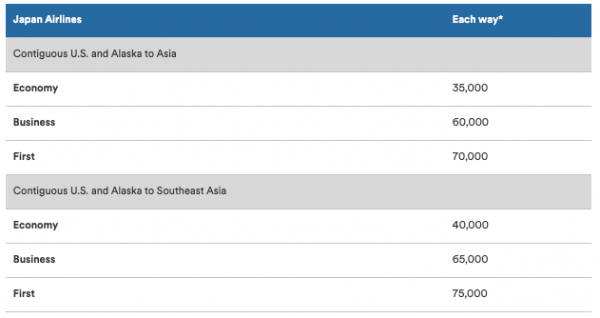 Japan Airlines offers one of the most refined in-flight first-class experiences in the world. You can also add a stopover in Tokyo, where you can enjoy the luxury of Japan Airlines's first-class lounge.
Fly Korean Airlines Business Class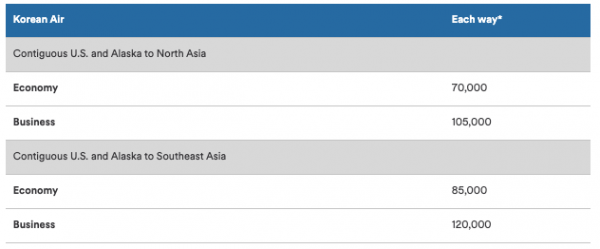 A round-trip business-class award from the U.S. to the North Asia region costs just 105,000 miles. You'll be hard-pressed to find a better award flight price flying business class to Asia and back. Not to mention, you can add a free stopover in Seoul on the way.
Just note that unlike Alaska's other partner airlines, you can only book roundtrip awards on Korean Airlines.
Cheap Domestic Flights Within the U.S.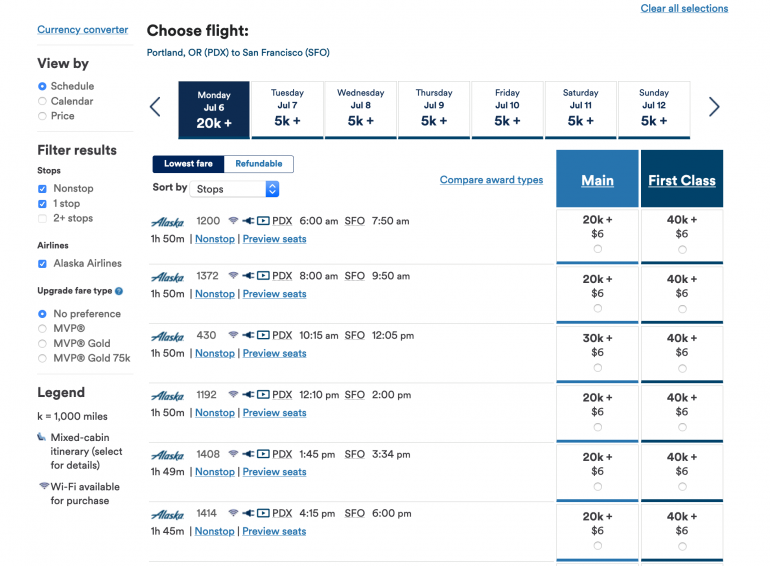 Although Alaska's domestic award chart is distance-based, you can still find great value when redeeming miles. The program has four award levels called the Hop, Skip, Jump and Leap (depending on the distance of the flight). A key to getting maximum value is to book awards in the upper-limit of each of these award levels.
Plus you can add a free stopover on one-way awards within the U.S., which can add extra value to your miles when planned out. No other U.S.-based airline program allows stopovers on one-ways.