Want to earn easy, extra Southwest Rapid Rewards points with just a few clicks? With the Rapid Rewards Dining program, it's simple.
The average American household spends close to $3,500 each year on dining out. When you pay for this expense with your credit card, you rack up rewards. By registering for a dining program, you also earn extra points. You don't even need a Southwest Airlines credit card — you can link any credit (or even debit) card you have.
Here's what you need to know about earning extra points with the Southwest Rapid Rewards Dining program.
How to register for Southwest Rapid Rewards Dining
Registering is easy. Just grab your favorite credit or debit card and head to the Rapid Rewards Dining website. Hit the Join Now button on the homepage, and then enter your name, zip code, email and your Southwest Rapid Rewards number.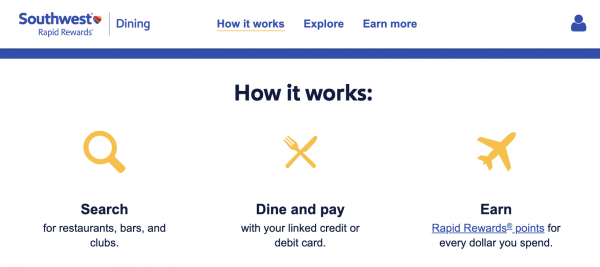 You'll need your wallet handy because you need to link your credit or debit card (or cards) to your Rapid Rewards dining account. Once your card is linked, just use it to pay at a restaurant in the dining program network, and you'll get Rapid Rewards points added automatically to your Southwest account. You don't need to do anything special with the receipt afterward — this is an easy "set it and forget it" way to rack up extra Southwest Rapid Rewards points.
Earnings basics
Once your Rapid Rewards Dining account has been set up, you'll earn up to 3 points per dollar at your local restaurants in the network. Search for your city or zip code, and when you click on the restaurant, you'll see how many points per dollar you'll earn.

Before you make plans to head out to the restaurant and earn points, take a quick look at the benefits calendar and details further down on that restaurant's page.
Some restaurants have no restrictions, and you'll earn dining points at any time. Other restaurants have blackout dates that you'll want to be aware of. In this example, you won't earn any Rapid Rewards Dining points if you order on Friday, Saturday or Sunday: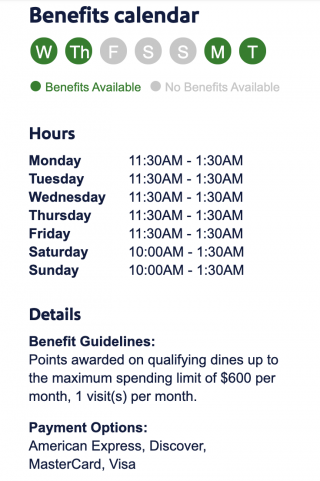 Each restaurant has limits on how many times you'll be able to earn points each month, and up to what dollar amount.
Earn extra bonus points
Beyond the standard points you'll earn at participating restaurants when you eat out, the Rapid Rewards Dining program also offers several ways to earn even more points.
When you first join the program, you'll have the opportunity to earn 1,000 bonus points. Just dine at a participating restaurant and spend at least $25 within 30 days of joining and complete an online review.
Additionally, once you've earned 1,500 dining reward points, you'll get an extra bonus of 500 points. After that, you'll earn an extra 300 bonus points for every 1,000 Rapid Rewards Dining points you earn.
Finally, each time you complete a short review of a restaurant after you dine, you'll earn an additional 10 points.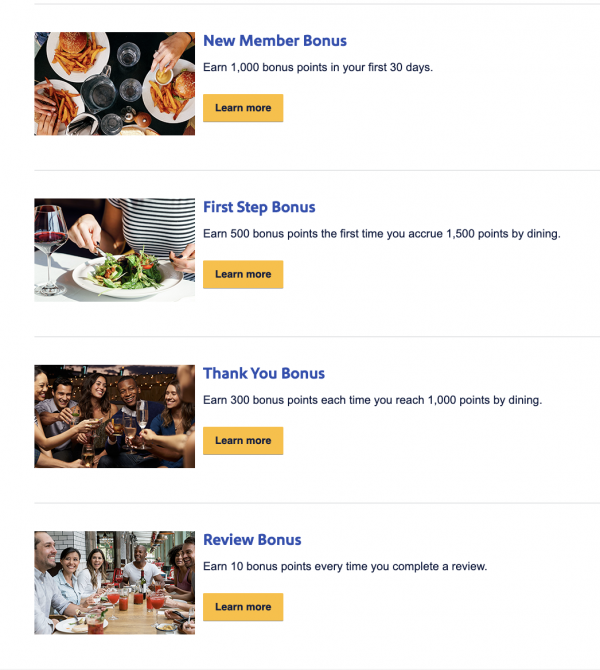 Can you stack rewards?
Unfortunately, you won't be able to earn points from multiple airline or hotel dining programs at the same time. Though different dining programs can earn different kinds of points, most of the programs are all managed by the same company called Rewards Network. That means that they can recognize the credit or debit card number that you link to your Rapid Rewards Dining program. So if you register a credit card in the Rapid Rewards Dining program that you already have registered in the Hilton Honors Dining program, for example, your card will be removed from Hilton. The new program you register for will replace the older account.
The good news is that you will still earn credit card points on your dining purchases, in addition to the dining rewards points. If you use your American Express® Gold Card to pay your bill at a restaurant in the Rapid Rewards Dining network, you'll earn 4x Membership Rewards points plus up to 3x Rapid Rewards points from the dining program. Terms apply.
If you have a coupon or savings offer for your favorite restaurant, you'll be able to use that, too, for extra savings on your bill.
The bottom line
You probably won't earn boatloads of points from joining the Rapid Rewards Dining program, but every little extra bit helps — especially when you can "set it and forget it" to earn easy extra points.
Make sure you look at any restricted days for the restaurant of your choice. And while you can't earn dining rewards from multiple programs at the same time, it's easy to change your program of choice if you'd rather earn something else instead of Southwest Rapid Rewards down the line.
All information about the American Express® Gold Card has been collected independently by NerdWallet. The American Express® Gold Card is no longer available through NerdWallet.
How to Maximize Your Rewards